Guide to the Best iPhone Themes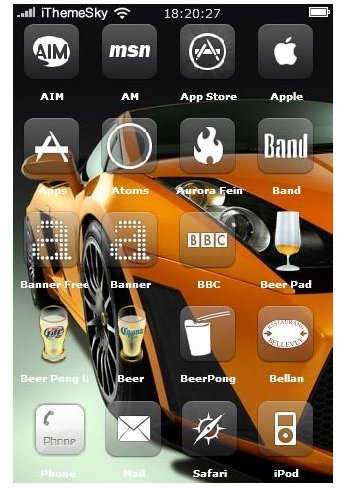 Pick of the Best
With the release of the iPhone it seemed Apple had spared no expense, however, on closer inspection a few tweaks here and there are needed to really make it complete, hence jailbreaking. The customization of jailbroken iPhones is virtually endless and to really personalize and make it your own you can install a theme which changes the whole look and feel of your iPhone or iPod Touch.
By default you have one theme on your iPhone which is default icons against a black background and you are unable to change this unless you jailbreak your iPhone. If you decide to do this the menu display, along with the icons for everything stored on your iPhone, including sound effects and lock screen, can be changed and revamped once you have installed Winterboard via Cydia Apps to activate your theme.
To reach its full potential we've found a selection of the best iPhone themes available and here's where to get them.
What you'll need
Jailbroken iPhone.
Winterboard installed via Cydia.
iThemeSky.com
ithemesky.com is no doubt the best source we've found offering iPhone themes for download. With each one categorised by theme or colour, you can search through hundreds of themes and download as many as you like for free. It does also offer you a free download of iSpirit which acts as a Windows iPhone manager, similar to iTunes, in that it allows you to manage your apps, download and install themes and it can also help fix any errors occurring using your iPhone.
If that wasn't enough, this site also has a software tool which allows you to modify any theme on the site to get it just right. This includes wallpaper, dock, status bar, icons and you can add your own icons. Once you're done it allows you to download the amended theme.
Here is a pick of the best iPhone themes on the site.
Aptly named 'Orange Lambo' this is a must for the boy toy lovers out there. Its transparent icons ensure the main focus is the beast of a car on your screen and it is easy to see why this theme has its 5 out of 5 star rating. With 49 icons included, it would be relatively easy to photoshop any icons for apps not included.
Iceman South Park Theme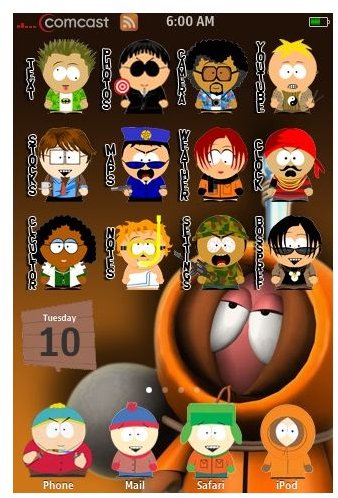 Don't be put off by the 3 star rating of Iceman South Park. This fun, albeit slightly deranged, theme has had the most downloads in the whole of its category and with the added software you can amend the icons for every app on your iPhone.
Cool Inset HD Theme
And finally, available on the iPhone 4 only Cool Inset HD is a simple but stylish theme taking advantage of the superior screen quality of the iPhone 4, showing the battery as a percentage which comes in much more useful than the default bar. With the textured background and simplified icons, 158 are included, it is easy to see why this theme has the most downloads of any theme currently on the site.
ModMyi.com
Modmyi.com is a vast source for iPhone themes to download. In short, you can download any individual settings such as signal bars, icons, lock screen and more, with 11 pages of excellent quality winterboard themes where you get the whole package as seen below. The members are free to design and upload designs, giving more option to ask questions, rate them and make requests.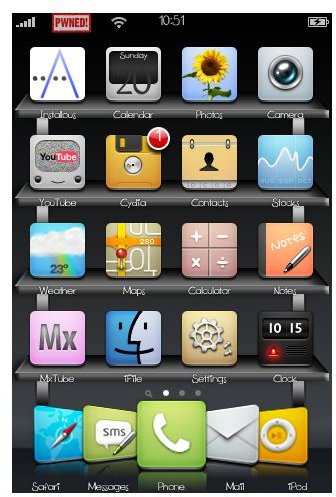 This sleek shelf theme with its chrome design and customized icons has been designed by one of the site's members which is common for almost every design on the site and as such has been updated with extra icons by popular demand.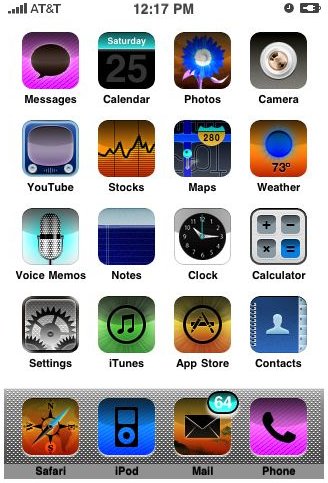 With a Grade A+ rating this springboard theme has a slight retro feel to it. Colourful, bold and simplistic it is one of the most popular designs. This does not include the lock screen but does have icons for all the popular apps and the designer seems to be updating them regularly on request.
iPhoneThemes.Info
Another great source for iPhone themes is iphonethemes.info with a wide range to choose from, everything from solid chrome to colourful canvas to seasonal. Here are the best iPhone themes they have to download.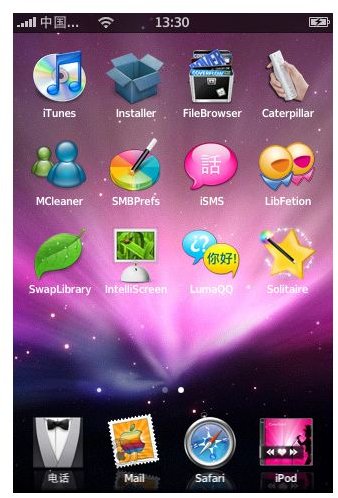 Apple Style theme is a twist on the classic theme, adding a clever array of colours and light this will brighten up your screen giving it a whole new style. It comes with 49 icons, with more available to download individually at modmyi.com.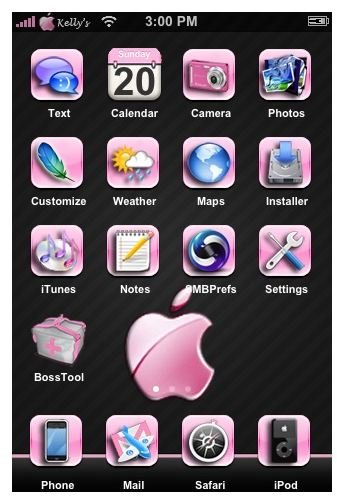 If you're a fan of the simplicity of the default theme on the iPhone but just want a change then the pink and black theme may be just what you're looking for. Simple icons for your apps and a slight textured background with Apple Wallpaper make this theme so attractive and easy to navigate. It has 74 app icons in total with the lock screen in keeping with the pink apple style.
If you have another favorite theme you want to recommend then post a comment.