iPhone Jailbreaking with Blackra1n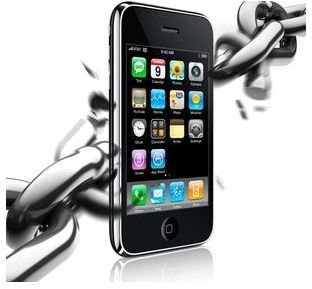 Jailbreaking iPhone
Jailbreaking an iPhone is no longer a difficult process. With the continued efforts of DEV team and other hackers, it has now become almost easy for any iPhone user to jailbreak his/her iPhone. The best part being that you don't have to be a tech savvy user in order to jailbreak the iPhone. With the recent news on jailbreaking being legal in the United States, a sense of happiness has spread among iPhone users. As a result, Mr. Steve Jobs, CEO, Apple Inc. has issued a statement, "I am trying my best to make it tougher for hackers to crack upcoming version of iPhone. It's a game of cat and mouse."
This article provides a detailed guide on jailbreaking 3.1.2 firmware based iPhone on Mac using third party software called Blackra1n. Blackra1n was developed by Geohot as a simple tool to jailbreak & unlock iPhone firmware 3.1.2. However, it doesn't support jailbreaking 3.1.3 firmware.
Here is a guide to Jailbreaking with Blackra1n on Windows, "Jailbreaking 3.1.2 firmware based iPhone with Blackra1n on Windows". To find out the process of Jailbreaking with Blackra1n on Mac, continue reading below.
Step by step guide to Jailbreaking with Blackra1n
Step 1: To download Blackra1n on Mac, open Safari browser and type this www.blackra1n.com in the address bar. Once the website appears, click on Mac logo present on the bottom of the website to download Blackra1n for Mac.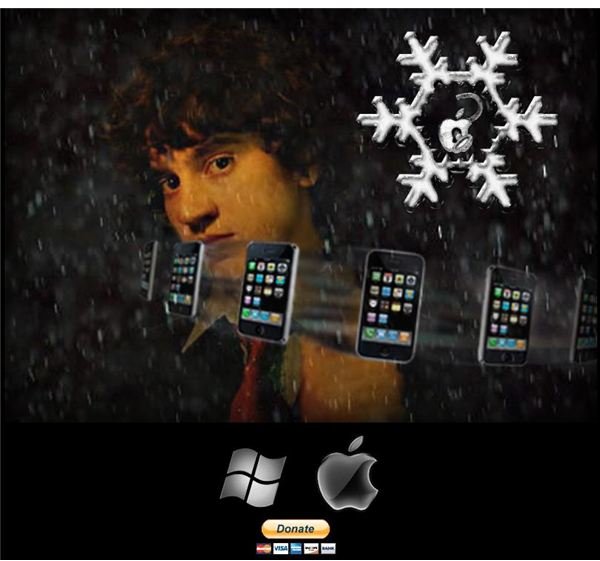 Step 2: The Blackra1n files comes in a zip format. Extract the zip file and double click the blackra1n application file to launch blackra1n. While your iPhone is connected to your computer, press the "make it rain" button on Blackra1n application.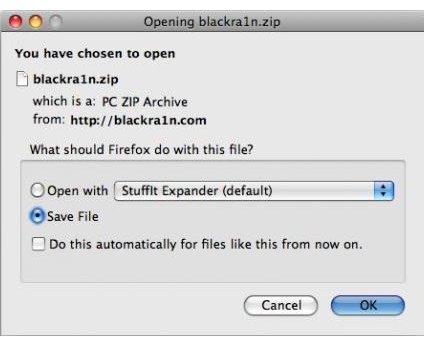 Step 3: After a while, the message on the Blackra1n application will change to entering recovery. Once your iPhone enters into the recovery mode, you can see a new image on the iPhone.

Step 4: After a while, a message will appear "Enjoy your jailbroken iPhone. If you truly realize the efforts of Geohot in developing this application, please feel free to donate."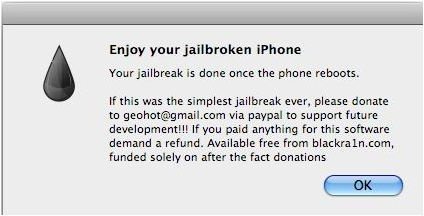 Step 5: When you press the Ok button, your iPhone will reboot. This completes the Blackrain iPhone jailbreaking process with a Blackrain icon present on Springboard.

Now, launch the Blackra1n application by pressing the Blackra1n icon on the iPhone springboard. Next, choose Cydia to install the Cydia application on your iPhone. Cydia allows you to use and run both free and paid applications not allowed by Apple. To install Cydia, tap the Install button.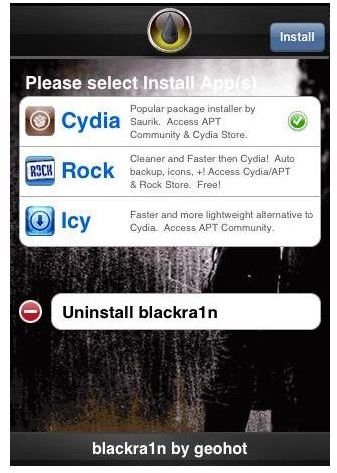 Step 6: After the installation gets complete, your iPhone will automatically re-spring. A Cydia icon will now appear on the screen. Launch Blackra1n application again and choose "Uninstall Blackra1n" to remove blackra1n icon from Springboard.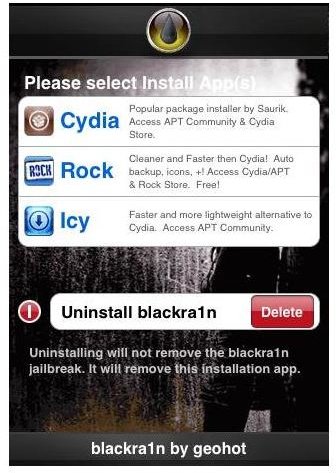 Congratulations! You have successfully completed the guide for jailbreaking with Blackra1n. Contact me for any questions and queries related to this jailbreak or any other jailbreak.
Note: Do not follow this process for unlocking your 3.1.3 firmware based iPhone. Since, Blackra1n has not launched a jailbreak for 3.1.3 firmware, if you do so, do it at your own risk as this guide has not been tested for 3.1.3 firmware and you will be held responsible for your losses.
Images Credit
iPhone screenshots by Apple
Blackra1n screenshots by Geohot
Mac Application Screenshots by Apple