The Top Audio Book Applications for the iPhone at the iTunes App Store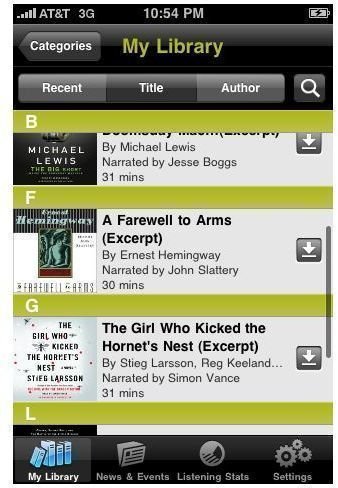 Listen Up
Audio books took a major step forward with the incredible surge of popularity around the iPod. The iPod allowed you to download audio books in the same way as music tracks and listen to them wherever you were, which was much easier than lugging around a bunch of CDs. With the inclusion of apps into the iPhone, it seems as though this has shifted toward being software centered as it is even easier to get spoken word audio tracks right onto your phone, often in huge numbers for the avid listener. Here is a look at some of the best new iPhone audio book apps that will let you browse, buy, and listen.
Audible
Audible is one of the most well known iPhone audio book apps, especially since it is one of the most popular free iPhone apps in the Books section right under iBooks. The basic shopping design of Audible is fantastic as it extends from just looking at audio books all the way to seeing Audible on YouTube, using Audible with social networking tools, and implementing different types of customer interaction. Audible will require you to conform your iPhone settings for audio books, but this is some thing that happens easily in the Audible app. After you create an Audible account you will have to transfer your library from the account to your iPhone using Wi-Fi. This becomes pretty easy once you get the flow of it and can be a great way to get audio books on a regular basis.
Audiobooks
Audiobooks, which is the one of the most simple of all of the best iPhone audio book apps, is one of the first places where iPhone users should go to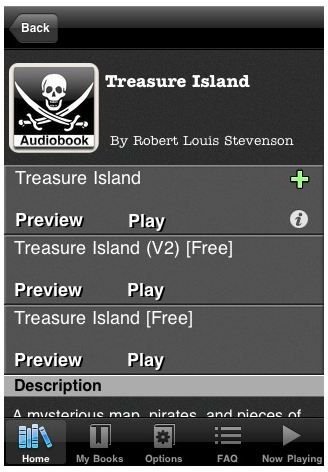 try out the audio book format. They have a large number of great classics available for basically free. With the fully free version of Audiobooks you can get over three thousand audiobooks without any money, and this is not with a lack of format. When listening to your audio books you have the ability to skip through sections, adjust volume, go to the table of contents, and basically have almost full audio book control. This is nice for the times you want to read Treasure Island on an airplane but do not feel like going through the trouble of searching it out on a download store and then paying a large fee. There is also a premium version of Audiobooks that you can get for $0.99 to gain access to some more titles and features.
Free Audiobooks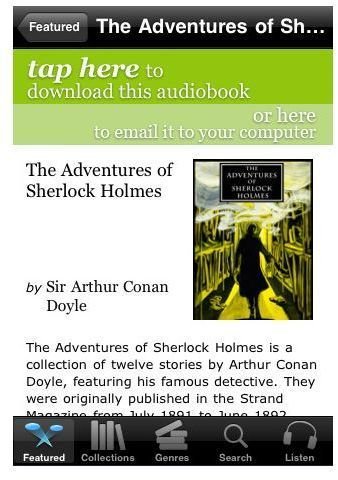 Free Audiobooks is, ironically, not a free iPhone application. Free Audiobooks costs $1.99 and includes 2,947 classics on audio book for "less than a cup of coffee." Though Free Audiobooks was obviously created as a way to exploit the keyword and hype potential of the phrase "free audiobooks," it still has a nice catalogue of books. Over all, what you want out of this is the ability to just listen to a volume of titles with instant access right from your iPhone. At the same time you will also get a nice format for listening where you get book information and a generally impressive library system that you can scroll through. You will have to actually download the titles themselves, but it is for free and you have different options for downloading and syncing.