How to Transfer Voice Memos from iPhone to Computer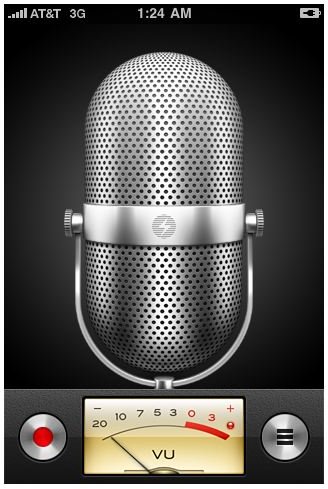 iPhone Voice Memos
Since iPhone voice memos are essentially audio tracks it makes sense that you should be able to easily port them over to your computer. The iPhone is a media phone that has frequent communication with iTunes, which holds its primary function as an audio playback program. Unfortunately, you do not have the easy option of just syncing your iPhone to iTunes and bringing your iPhone voice memos into your regular library. Instead you have to go through a different process to get them onto your iTunes library for later listening.
Recording Your Voice Memo
Begin by opening up your iPhone's Voice Memo application from your desktop. Record your voice memo by hitting the record button to the left of the microphone image and when you are done recording hit the stop button that appears to the right of the microphone. One it has been recorded you can go to the right of the microphone, where the stop button was during recording, and find a button with three lines on it. Go ahead and select this and you will find a list of the voice memos that you have recorded. Find the voice memo that you want to bring onto your iTunes go ahead and select it. Go to the bottom of the screen and you will see two buttons: Share and Delete. Hit the Share button and then choose Email. When your email prompt comes up go ahead and enter in your email account information and send it to yourself from your iPhone.
Bringing it Into iTunes
When you receive the email you will find your audio track as an MPEG-4 Audio File under a Memo title. Open up this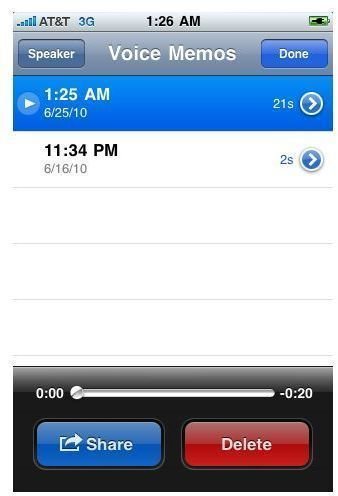 Memo file and then choose to Save the file. Once you do save it open up iTunes and drag and drop the Memo file onto the Library. Once you do this it will be part of the regular listing and will be able to act in the same way as the rest of your audio tracks.
Bringing it Back Onto Your iPhone
From here you can go ahead and sync it back to your iPhone for mobile listening. Go ahead and make sure that the audio track is checked, and you may want to alter artist information so that it is identified easier. This way it can be synced in the same way that normal music tracks are and will be identified in the iPod section of your iPhone. Check the Memo file's Info page first and make sure that it has appropriate track, album, and artist names so that it will not get lost when ported over to the iPod classification system.
Practical Use
The main reason you may go through this work flow is when you are using the voice memo function to take notes or record speaking of some sort. Originally you had limited use for these audio tracks as you had to just get audio playback through the iPhone's voice memo section, but instead you will now be able to transcribe this through different audio sources that you can maintain a close control of.