MySpace Mobile Tutorial: Tips and Tricks for Using MySpace Mobile for the iPhone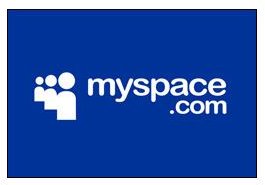 Shrinking Space
Even if Facebook and Twitter are coming in like the Allied forces, MySpace is still established as one of the major social networking services
online. Like the rest of the "big three" social networking sites, MySpace has established itself with a well adapted free iPhone application that takes most of the features of the MySpace web experience and ports them for mobile use. Though the principles remain the same, the design takes some getting used to. Here are some tips for using MySpace on your iPhone.
Logging In
Like with MySpace and other social networking sites on your computer you can have MySpace remember your log in information so that when you open it up you will log in to your account right off the bat. This makes even more sense with the iPhone MySpace app as your iPhone is much more identified with you individually, but other people still may want to check their MySpace on your iPhone. If you want to remove yourself from the automatic log in start by signing out, which is an option at the very upper right hand corner of your normal MySpace screen. This will bring you back to the normal log in screen where all of your info is left blank. Go down below this and turn the Remember Me switch from On to Off.
Quick Glance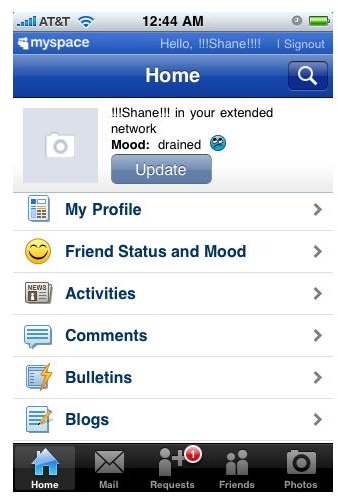 MySpace offers a variety of communication options for people, which is one of the reasons that it stands out as being different from a number of other social networking services. The idea of MySpace is that you can check it easily to see if any contact had been made. You can do this even easier with MySpace Mobile as you just have to take a quick glance at the lower option bar. Here in Mail, Requests, and Friends you will see a little red ball with a number in it. This number represents how many items are in this section, and if there is no red ball then no one has sent you a message or made a request.
MySpace Photos
Personal photos are always a big part of social networking, and MySpace Mobile for your iPhone maintains this. Start by going to the Photos tab in MySpace Mobile, which is to the lower right directly next to Friends. When this comes up your Albums will load up, but you will also have an Add Photo button in the upper left hand corner. Select this and you will be given two options: Photo Library and Camera. With Photo Library you can select a picture that you already have saved to your iPhone to bring into your MySpace account. With Camera you will open up your iPhone's camera and take a picture that will be directly uploaded through MySpace Mobile.
MySpace Settings and Reporting Abuse
Unlike many other iPhone social networking applications, MySpace Mobile does not have a place in the normal iPhone Settings area to change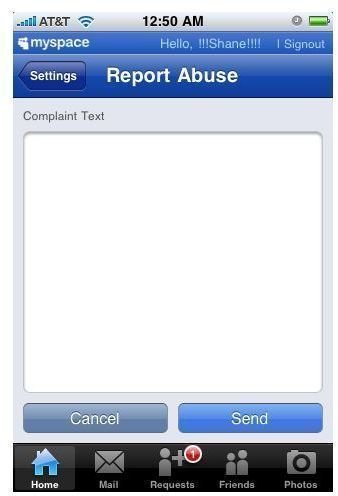 its settings. Instead you have to actually select it from inside of the application. On the Home page of MySpace Mobile simply select Settings, which is under People You May Know at the bottom of the list. Here you will get a whole host of settings and options for your MySpace account. The most important aspect of the MySpace settings is that you can Report Abuse. Under Help and above Feedback is Report Abuse. Select it and you will be taken to a large note prompt where you can enter in a solid block of text and then hit send at the bottom of the screen.
MySpace Music
MySpace Music is probably the most popular part of the MySpace network today, and you can also use MySpace Music on the iPhone. When you are in your MySpace Mobile Home page start by going to the Search box. Here you can enter in the band you are looking for from MySpace Music on the iPhone in the same way you would with another person. When you find them on the list you can select them and open up their MySpace Music page. You are generally limited by what you are allowed to do in MySpace Music on the iPhone, but can easily browse photos, blogs, and view tour information. MySpace Music on the iPhone is not going to let you play music from the band pages, just as regular MySpace Mobile profile pages do not have music playback. MySpace Music on the iPhone is mainly used for quick profile checks.
This post is part of the series: iPhone Social Networking Apps
Here are articles about different social networking applications for the iPhone available at the iTunes' App Store.