A Look at the Best Free Political iPhone Applications Available at the iTunes' App Store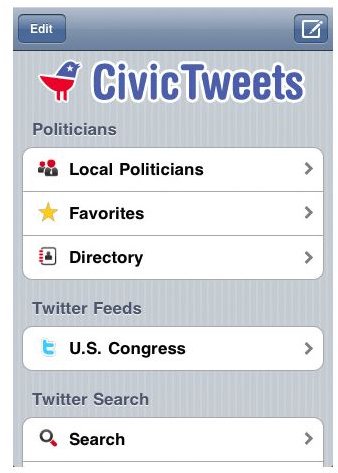 Political Junky
Whether it is obsession with the two corporate parties, paranoid third parties, or those outside the process, politics is one of the main sources for the constant stream of information that we get from the internet. With web 2.0, social networking, and the change in news reporting, political information comes in at a moment's notice. This is very conducive to smartphone technology in the same way most social networking developments have been, partially because they stay with you at all times and have internet connections at all times. The iPhone has so many applications available for it through the iTunes' App Store that dial you in directly to this constant political discussion. Here is a look at a few of the absolutely best iPhone political apps.
Civic Tweets
For anyone with an interest in congressional politics in the post-Bush era you will know what an important, and strange, role Twitter
plays in politics. Many politicians have turned to this Twitter feed to give quick blasts of information, promote their policies and coming elections, and comment on the circus around them. Civic Tweets is one of the many iPhone Twitter apps, but this time it focuses in on specifically political Twitter posts from politicians. Civic Tweets works different than other social networking applications, and Twitter applications in general, in that right from the start it focuses in on the politicians' Twitter feeds rather than your Twitter account. In this way the social networking aspects of Twitter is downplayed in Civic Tweets and instead you are more directed toward collecting the tweets from certain people. When you start out in Civic Tweets you have the ability to check a directory, go to the U.S. Congress feed, or have the iPhone location features find local politicians. Civic Tweets may be one of the fastest ways to get direct political information on your iPhone.
White House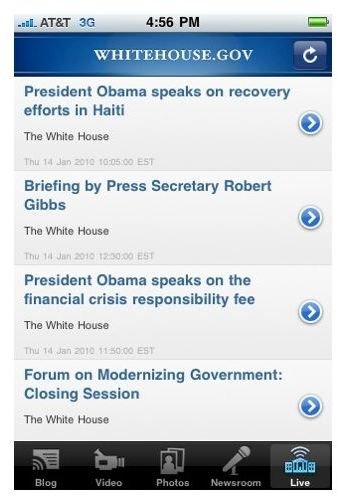 The White House iPhone application offers select information from the White House as it is a direct stream from their press department. All the information released from the White House, and powered by the White House website, is brought into itemized form in the White House iPhone application. WhiteHouse.gov has a section for the emerging White House blog. Next to that is actually a clear spot for Video, which is updated with things like interviews and briefings as they come out. The Photos section of WhiteHouse.gov for your iPhone is actually on a single picture and associated text format, and this is somewhat reflected by its Newsroom section. What is actually interesting about this iPhone political app is the Live section that will give you up to date info.
NPR News
There are a number of major news organizations with iPhone apps to deliver content, but NPR is fairly well known for having in-depth political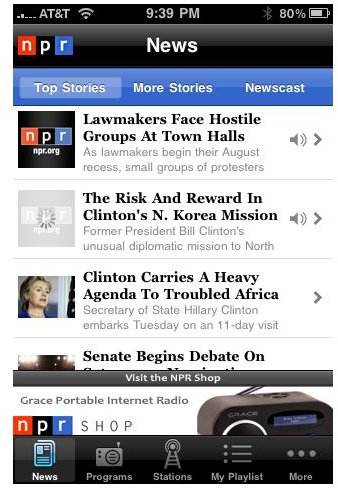 coverage at all levels. The NPR iPhone app allows you to just view top stories, newscast, or look at stories by topic. Much of this actually has NPR audio attached to it, as well as the ability to plug directly into NPR programs with a live stream. The NPR iPhone app is really two-fold in that it allows for content in an iPhone specific way and the ability to connect to NPR stations in a unique fashion.
Politico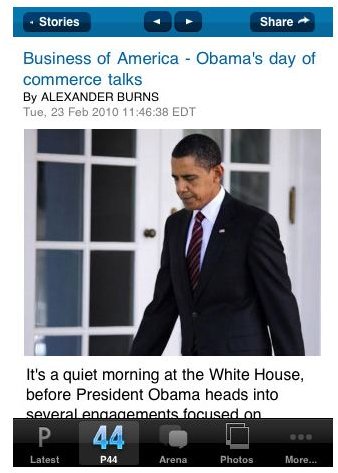 Another political focused journalism source is Politico, which comes straight out of Washington D.C. with a focus on politics on a streaming basis. The Politico iPhone application is fairly simple and it offers a few sections for political information, which actually gives priority to incoming information. This is partially what makes the Politico free iPhone application one of the best political iPhone apps because it keeps this format in line with common iPhone usage. The Politico app also injects the ability to share news that comes in through its service, which reinforces social networking.