Useful and Important Tips for Text Messaging on Your iPhone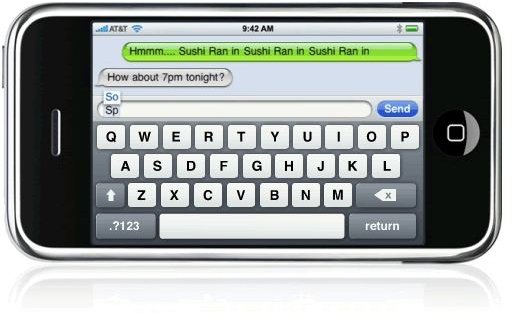 The Importance of Texting Messages
Text messaging has become just as standard as making phone calls for most smart phone owners, especially among the iPhone crowd. What the iPhone does is take the text messaging format to the next level by creating open conversations between you and each person you have been texting. This allows you to see all of your iPhone text messages in a format inspired by instant messaging services like AIM. Because the iPhone has unique text messaging features, there are a few ways that you can really bring out the benefits of this format and alter it to really meet your needs in terms of iPhone SMS alerts and general message functionality. Here are some tips for text messaging on your iPhone.
Keyboard
The most obvious tip for text messaging on your iPhone is to remedy the awkward keyboard situation. The keyboard itself is a little difficult for people to conform to when they are new to the iPhone, but when the iPhone remains vertical it can be exceptionally tough. A great tip is to turn the iPhone on its side to get the "landcape" view for the iPhone keyboard.
It is wider and easier to use as the buttons are larger and more accessible. You should also note many of the shortcuts and iPhone keyboard tricks to make this easier to utilize in a text messaging hurry. If you double tap the keyboard space bar it will leave a period and you can release many lesser used symbols by holding down on specific keys. You may want to go into the iPhone Settings and change many of the keyboard features to customize your iPhone text messaging experience. When you are in the iPhone Settings go to General. Go down to the fourth section down in General and select Keyboard, which is above International and below Date & Time. Here you can turn Off / On Auto-Correction, Auto-Capitalization, Enable Caps Lock, or the period shortcut mentioned earlier. You may want to decide whether Auto-Correction and Auto-Capitalization are actually assisting you in your text messaging because they often impede quick iPhone text messaging.
Picture Messaging
Picture messaging is a nice new feature that has come along recently to the iPhone, so using this feature is one of the newest tips for text
messaging on your iPhone. Go into your Photos and find a picture that you want to send to someone. Open the picture up and then go to the arrow button in the lower left hand corner. This will bring up an options menu where you will then select the MMS button. This will open up a picture message where you can enter in the phone number of the recipient.
Deleting Text Messages
One of the newer text message features that came with the iPhone 3.0 is the ability to delete single text messages from your text message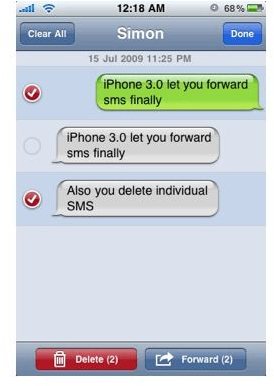 conversation. This is one of the most relevant tips for text messaging on your iPhone as many people want to make the ability to view your iPhone text messages selective. Open up your iPhone text message conversation and then hit the Edit button in the upper right hand corner. This will allow you to begin deleting or forwarding text messages. From here you can check the circle that is to the left of each text message before finally hitting the Delete button at the bottom. If you want to delete all of the text messages in this conversation at once then you can just hit the Clear All button in the upper left hand corner, adjacent to the Done button that you should hit when you are finished.
Text Message Settings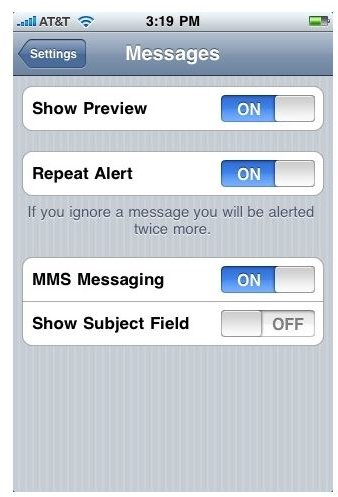 The easiest of the tips for text messaging on your iPhone is to customize your iPhone text messaging experience by going and changing the Messages Settings. Open up the iPhone Settings and go down to the third block of options to select Messages, which is under Safari and above iPod. Here you can choose whether or not you want to show a preview of a message when it comes in, if you want the iPhone SMS alerts to repeat themselves if you do not respond, and if you want MMS messaging to remain on. MMS messaging should always remain on if you want to receive picture messages, but you may want to turn off the repetition of iPhone SMS alerts. iPhone SMS alerts are important to your text messaging functions, but if you have constant iPhone SMS alerts then you may find that they can get a bit invasive.
If you have any other tips for text messaging on your iPhone then please post a comment and let us know.
This post is part of the series: iPhone Reference
Reference Articles for iPhone Users.