How to View WDB Files on an iPhone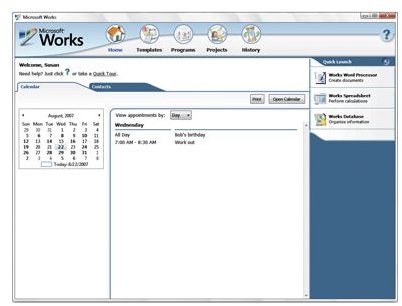 Difficulty Level: Low
A lot of you less-than-computer-savvy folk out there probably took a look at this article and said to yourself "Nope, there's no way I can figure out how to do this!". You've probably felt the same way about a lot of the tech help articles here on Bright Hub, and while sometimes this discouraged nature can be helpful in making sure you don't waste time, this time I'm here to assure you that you can do it. It requires pretty much no computing experience, and very little iPhone experience, but just to rest your nerves, here's everything you'll need to know:
- Plugging in your iPhone.
- Transferring files to your iPhone.
And that's pretty much it. If you can handle those things, you can handle this task.
Intro to WDB Files
It's a very simple process – but how, exactly, does it work? Well, the "WDB" extension stands for "Windows Database", and it's the native file type of the program "Microsoft Works". So if Microsoft Works files don't work on iPhone, I figured there must be another type of file that we can convert to that is compatible, and thankfully the answer came quickly – Excel files. As you know, Excel files are one of the file types readable by the very popular text editing program, Microsoft Word, and getting WDB files into that format would make them totally viewable on iPhone.
Enough rambling – here's how to do it.
Download the Converter
In order to convert a file, generally the first thing you need is a program to do the converting. Some programs like this cost money, but in our case, we get the long end of the stick – the one we need to use is totally free. You can download it from a website called "CodeAlchemists" (link in the References Section), and once you do, simply run the .EXE and get ready to convert.
Find Your File, Convert!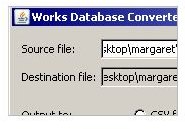 The program that will run is a very, very simple and straightforward program that really only has a couple of options, and the one you'll want to use is the "Choose" option that will allow you to find your file and load it up. Select it, and use your mouse to navigate to the file with the browser. Once you select it and open it up into the converter, you'll want to select a destination to make sure you know exactly where your finished file is located. It would be very unfortunate if you went through all this trouble and then couldn't find the file!
Once all is said and done, all you have to do is select the "Convert" button and you've done it! It'll take a quick second to finish the process, but once it's complete go and find your file. Check to make sure everything is intact by double clicking on it and opening it up, and if everything looks good, move on.
(Note: If everything does not look good, there is another program on CodeAlchemists to assist in recovering damaged WDB files. It may be a good idea to make a copy of the file before converting it, but that's up to your discretion.)
Sync to iPhone
Once your file is converted, you've located it, and you've checked to make sure everything is in working order, you're set to get that new creation onto your iPhone, iPod Touch, or iPad. Just in case you don't know how to do this, it's fairly straightforward:
- Plug in your iPhone and wait for it to sync with iTunes.
- Drag the file from your desktop/folder right into the iPod/iPhone icon.
- Wait for it to sync.
Once you've done this, everything should be good to go. Disconnect and unplug your iPhone/iPod, start it up if it's off, and open up the file. Congratulations, you have now learned how to view a WDB file on an iPhone!
Viewing Options
Now, you could just end the whole process here, but I wanted to quickly share with you a few apps that you can download in order to help you view this newly created excel file.
Documents to Go [$10]: Despite being sort of expensive by app standards, Documents to Go is the endgame for viewing document files (from Word to Excel and everything in between) on your iPhone, and really would probably come in handy for much more than just this one task. A link to this app is in the references.
QuickOffice Pro [$15]: Another great app, this one has compatibility with all of the Microsoft Office file types, so it's perfect if you're a heavy user of Word, Excel, Powerpoint, etc. Again, link is in the references.
Of course, there are many other iPhone Excel apps available as well, but I wanted to highlight these two because frankly, they're the two best. My vote would go to Documents to Go, but feel free to check them both out yourself and make a decision!
References