Free Menstrual Apps that Keep Track of Your Cycle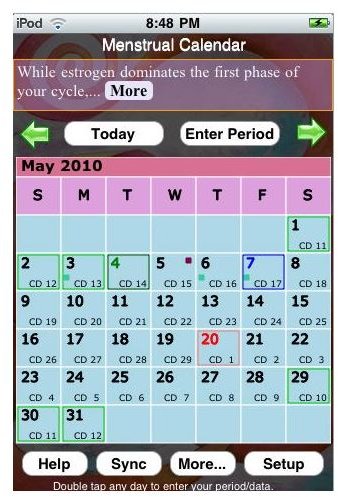 Free Menstrual Calendar
This free monthly calendar tracks your cycle in a simple and easy way. All you have to do is enter the date of your last period and the calendar does the rest. Everything is color coded for easy viewing. Green displays fertile days, blue is the current day, and red is when you are expected to get your period. This is all based on the cycle length and the date of your first period that you entered.
One thing I love about this app is that if you are trying to conceive, the calendar will show you the days you ovulate and you can even add notes and sync/save to FertilityFriend.com which is their affiliate website. When I was trying to conceive I used this app, and what I liked about it was when I had a doctor's appointment, I could just whip my phone out and it had all of the information I needed to show the doctor.
Overall this app is accurate, has an easy to use interface and is very well-organized, I would highly recommend downloading this free menstrual app.
Pink Pad Free (Period & Health Tracker)
When I first launched this app I was unsure on how to use it, it looked a little too organized with a lot of information. After I got the hang of it, I must say I did like it. I liked how you can adjust the theme/background, add emotions and my favorite part was adding your symptoms for the day. You can add everything from headache to nausea.
Overall I think this app is well-organized, accurate, interactive, informative, easy to use (after you get the hang of it) and it lets me know when to be extra careful. I like how it reminds women to take birth control every night and predicts dates based on average cycle dates. There is also an option to remind you to drink water. I chose to shut this option off though. if you want more options you can upgrade to the paid version, but the free version is enough for me.
One downside is the message boards, young girls are getting a lot of mis-information. Also there are people arguing and getting their feelings hurt, they should have a professional answer the questions. Other than that it does what it's supposed to do – tracks your cycle. So for a free app, it's worth a try.
I Period Free (Period / Menstrual Calendar)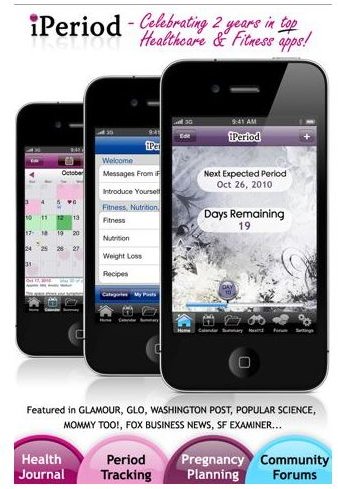 This app has a lot of the same features as the Pink Pad app. To begin you have to enter the first day of your last period and the last day. Then it will calculate when you are supposed to ovulate and get your period. It also has the same symptoms and moods category. But this app allows you to say if your symptoms are none, mild, medium or severe.
One feature that I thought was unique was the ability to input your temperature and cervical fluid. I thought this was great for women trying to conceive to have this additional option. My favorite feature is the "Next 12" category. It gave me a list of all the dates I will get my period and my fertile days that are well into the next year. Another feature that seemed very popular was the forum category. I tend to steer away from these sections because it seems like there is a lot of mis-information out there. I would rather hear from professionals than people just guessing the answer. It did seem like there were a lot of people using the forums to stay connected to others who were going through the same thing as them. So this feature would be an asset to women wanting support from their peers.
One major issue I have with this app is that there are too many ads! Every time I switched to a new category it seemed like there was a new pop-up. I wish there was an ad blocker like I have on my computer, then I would love this app. I guess that's what you get for a free app.
Overall I Period Free had a simple interface, was easy to use and had a lot of features. Other than the annoying ads I would recommend giving it a try.
Overall Best App for Keeping Track of Your Menstrual Cycle
My favorite app is the Free Menstrual Calendar. I chose this app because it is simple, well-organized and accurate. I am all about an app that gets straight to the point and this one does just that. All you have to do is insert your information and there is the calendar, color coded and ready for you any time you open the app.
If you're one of those people who like all the "extras" like adding your symptoms, moods and cervical fluid then Pink Pad and I Period Free are the apps for you. All of these menstrual apps for keeping track of your cycle are useful and easy to use, so give them a try and let me know what you think in the comment section.
If you do fall pregnant then you might be interested in reading about the best pregnancy apps on iPhone.
References