Best iPhone Hypnosis Apps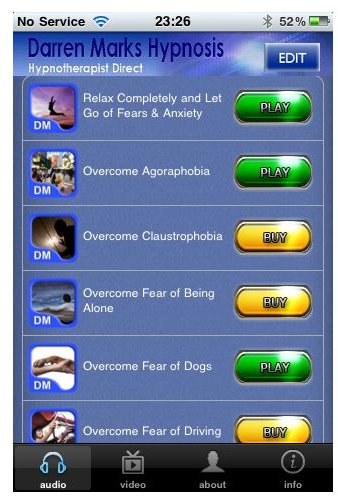 Have you ever been hypnotized? Skeptical about what it entails? Maybe you can take a peek into the world of hypnosis with these iPhone hypnosis apps. Follow simple instructions and listen to the soothing voice of proficient hypnotherapists and see if you can shake some of those annoying habits that are holding you back or causing discomfort in your life.
Freedom From Fears and Phobias
This super app is filled with remedies to overcome a whole bunch of fears and phobias. I could sure do
with some therapy to get over my fear of rats! There is a segment in this application on how to 'Overcome Fear of Spiders' that is helping somewhat and it can do the same for you if you have a fear of other insects and rodents. Among the other phobias and fears that you can get help defeating with this app are flying, public speaking, injections, heights, dogs, claustrophobia, being alone, water, agoraphobia, driving and visiting the dentist.
The app addresses your fears by conducting relaxation exercises powered by videos and coaching audio so you can feel comfortable and better understand what to do to achieve the desired results.
Weight Loss Now
Some people have found success in losing weight with the help of hypnosis. This is often dependent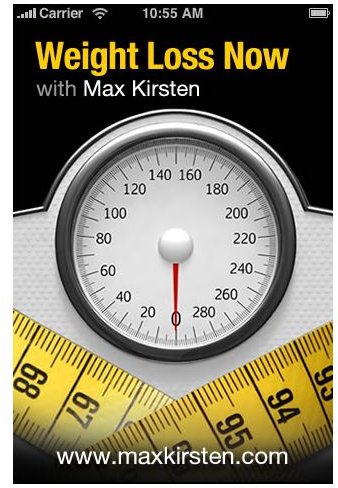 , however, on the reasons that they became overweight in the first place. People become overweight for all sorts of different reasons and in varied circumstances. Whatever the reasons are, it is always best to explore the options to get the problem fixed.
This app is an easy download and is developed by a clinical hypnotherapist – Max Kirsten. So for you critics and skeptics out there, it is worth a try. There is an introduction video and audio session to get you started, and then it goes on into a booster audio session, along with weight loss tips and tricks. The app also has weight loss fact cards; a few 'craving buster' video techniques; a weight loss ebook and success flip cards to help give you a comprehensive treatment.
Self Hypnosis
If you have 10 minutes to spare then check out this Self Hypnosis app to help you be a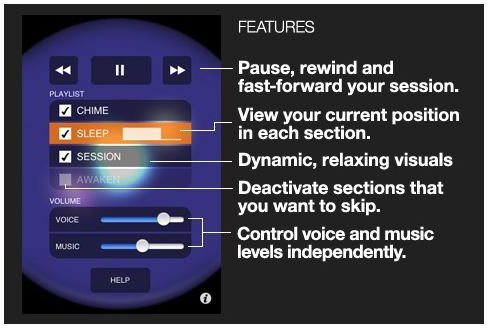 better you. Whether you want to change something about the way you talk to people or accomplish a life long goal, this app is designed to help you get the results you want. These Self Hypnosis sessions will help you to envision change of any sort. First you will enter a state of deep relaxation and then from there you follow suggestions from the hypnotists.
It has dynamic graphics and an ambient soundtrack by Aranea; you can even integrate and play your own music too. The app is quite easy to use and gives you control to change the settings, such as the volume level, playlist and so on to your preferences. You don't have to feel uncomfortable when using this iPhone hypnosis app, like the others on this list, you can use this application in the comfort and privacy of your home or office and even try it with friends and family.
Control Gambling
Well if this app appeals to you, then you are either an addict or know someone who is. Whoever is in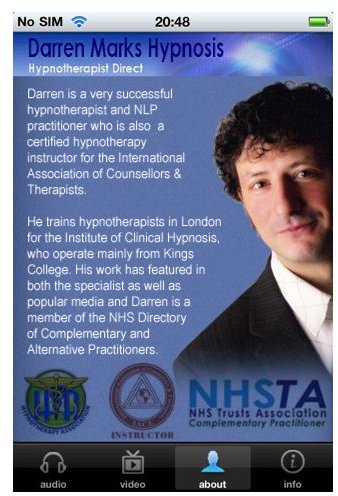 need of this Control Gambling app will be happy to know it guides you through in defeating those urges with the skills and expertise of a leading hypnotherapist, Darren Marks. It is designed to help gamblers deal with the inner conflicts that are created from the sport, so that they can get some bearings and control of this habit and feel empowered.
The app features powerful hypnosis audio sessions of the kind that you could expect to get from an actual visit to a hypnotherapist. These sessions incorporate dual voice delivery and audio technology to help users access a deep hypnotic, meditation state quickly and easily. It also has beautiful video animations with interviews to help guide you through the process.
Easy Stop Smoking
Can hypnosis really help to diminish the urge to smoke? Well, the developers of this Easy Stop Smoking
App want to prove that it does. The app has sessions containing simple tips in video and audio format that are expected to help those who want to stop smoking. All of which are conducted by the calming voice of Darren Marks.
It is key to understand the concept under which this app will work. You have to want to stop smoking for this app to be of any use to you. It is more of an assistant than a problem solver. The process to recovery involves a lot of relaxation strategies to shift your focus, reduce anxiety and stress, as well as coach you through those tough urges.
Also, check out - Quit Smoking Now with Max Kirsten (see references for download link) plus more apps to help you to Quit Smoking with your iPhone.
Among other Hypnosis applications from Darren Marks, there is Total Relaxation, Total Confidence, Sleep Deeply, Healing Hypnosis, Freedom for Negative Feelings, Easy Weight Loss, Control Alcohol, Sport and Fitness Excellence, Enjoy Great Sex, Access Inner Power, Relax Completely, Public Speaking and Confident Job Interview. All of which you can find at the iTunes App Store.
References
Image Credit - Screenshots courtesy of the respective app developers.