Best Apps for iPhone Offline Maps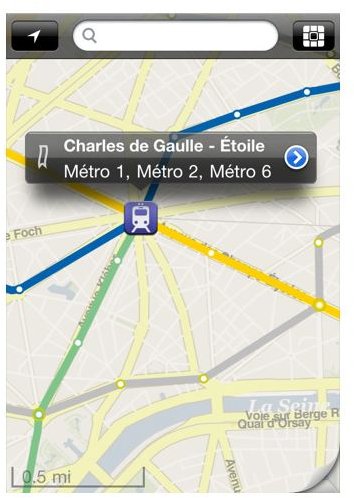 Offline? What Dost Thou Mean?
When you're using many of the helpful apps on iPhone, whether it's to navigate a subway system or make your way around the UK, chances are you'll need a constant Internet or 3G connection if you want them to work. This is great in most places where reception is plentiful, but what if you get stranded in the middle of the road somewhere in South Dakota, no towns are in sight, and you haven't seen a car drive by for hours? Oh, you also don't have cell phone reception or a portable wireless hot-spot.
Suddenly you realize why a map application that works offline could be useful.
Now, one benefit to this kind of app is that it does work online as well, so you can do all of the great things you can with any of the other navigation assistance programs available, but if you're unable to get that wonderful connection, you'll need some iPhone maps that work offline.
OffMaps 2
The first app I stumbled upon when I began my search for the best map program on iPhone (that works offline, of course) was OffMaps 2, an interesting application that takes a pretty unique payment and download approach to the maps you'll need. How so? It only charges you for the maps you want.
Unlike some other apps that will smack a $10 fee onto you but give you unlimited access to all the maps you want, OffMaps 2 is a $1 application that, upon initial download, gives you two "free" maps (after you just paid $1 to get the app?), and then charges you 99 cents for every three maps you want after that. The maps are saved directly to your phone and are accessible at any time, which is both a blessing and a curse, because a lot of people only really need two maps – perhaps one of their home town and one of a place they visit a lot. For those who need to get a plethora of maps because they travel a lot, however, this payment method isn't necessarily preferred.
Still, they offer an option for you guys as well. For a one time payment of $5.99, you can get unlimited access to maps, download them as you please, and then be on your merry way without a worry. The only catch? Obviously you need some sort of Internet connection in order to make the initial download!
City Maps 2Go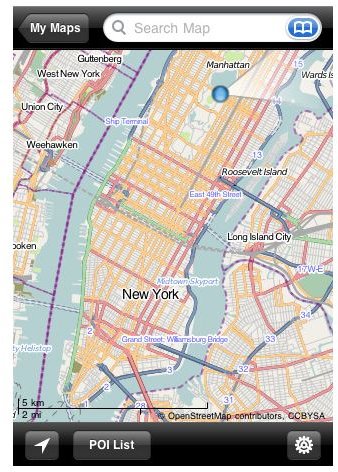 If you can't afford the $6 for unlimited maps on OffMaps 2 (err… maybe you shouldn't have an iPhone?), City Maps 2Go is yet another option you have, and it's available for the low price of $1.99. With over 7,000 maps currently available, support for all kinds of iPhones and iPads, and the ability to download as many as you want for just $2, this contender makes a worthy case for itself as part of the market. Locations with maps available include places like New York, London, Paris, Berlin, Hong Kong, Beijing, and around 6,994 more. Sounds pretty good, right?
One problem a few customers have complained about is the fact that if you download a map in a poor resolution (meaning the image is pretty far zoomed out), you can't zoom in until you are within range of an Internet access point again. This means that if you forget to get the highest resolution and then require it at a time where it's unavailable, you're pretty stranded!
Still, a comprehensive road atlas of every city in the world for $2? Come on, it doesn't get much better than that.
oMaps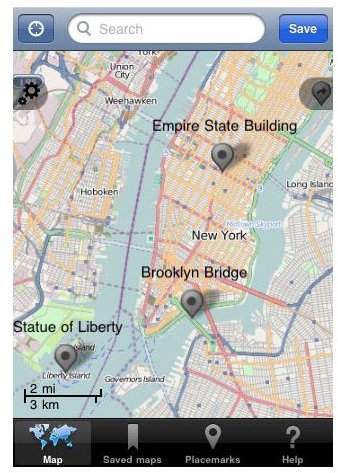 oMaps (which, understandably, stands for "Offline Maps") is the last application on this list for absolutely no reason. It's not the best, it's not the worst – it's just kind of average. So far we've seen two apps that do basically everything oMaps can handle, but there is one thing that sets this bad boy apart: You can save maps of any location in the world, including places that no one would ever need maps of, like the middle of a deserted jungle, or Canada. All you do is scroll to that place while you're connected to the Internet, hit the "Save" button, and in minutes you'll have the map of it and the surrounding area in fully viewable detail comparable to Google Earth or Google Maps.
Wait, did I say "minutes"? What I meant to say was "a lot of minutes". One complaint I've heard about oMaps is that it takes nearly an hour to save a 10x10 mile section of map, so essentially every new city you want is going to take an hour of your time, give or take depending on how dense the streets are. This means it's a great app (at just $2!) but you will need to plan ahead.
References