Four Must-Have Scooby Doo iPhone Apps: Animated Movies, Episodes and iOS Themes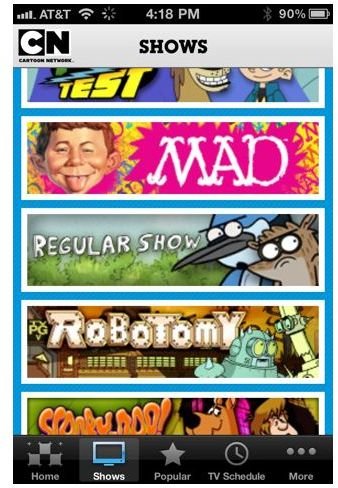 Scooby Doo episodes and movies have thrilled and entertained millions of people worldwide. Now you can watch them on your device's 3.5-inch screen by installing the best Scooby Doo iPhone apps, including the free Cartoon Network Video application that streams the best episodes and clips online and various movie apps that let you watch full-length classic movies featuring the cartoon canine and his gang.
Cartoon Network Video
With this app installed on your iPhone, you can watch all Scooby Doo episodes and clips free. The app's extensive video library allows you to browse through countless episodes and clips from your favorite Cartoon Network shows. You can watch funny clips from all Scooby Doo movies and episodes and find out when your Scooby Doo shows are on using the app's TV schedule. However, you cannot download them and watch them offline. You need to have an Internet connection to watch them on your iPhone. The Cartoon Network Video app is a must-have for those who are die-hard Scooby Doo fans and don't want to miss any new episodes and movies featuring the cartoon canine.
Scooby Doo Theme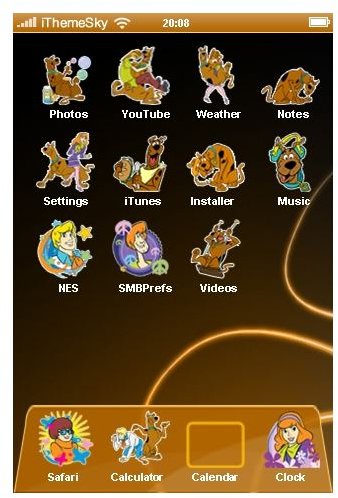 This is the only iPhone theme that features your favorite dog detective. It has nice wallpaper and various colorful icons featuring all the popular Scooby Doo characters. The Scooby Doo theme is compatible with iPhone 3G and 3GS.
To install this theme, you will first have to jailbreak your iPhone and install an application called Winterboard. The application is free and can be downloaded via Cydia. To get a step-by-step guide on installing Winterboard and themes on your iPhone please read, A Guide to Installing iPhone Themes. After jailbreaking your iPhone and installing this application, you will have to download the theme (URL given at the end of the article, in the References section) and install it on your iPhone. A full set of instructions is included in the app folder.
Scooby Doo in Where's My Mummy Movie App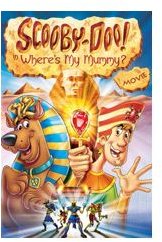 One of the advantages of owning an iPhone is the ability to watch a variety of movies on its 3.5-inch screen. And if you are a Scooby Doo fan, then there are plenty of Scooby Doo iPhone apps that allow you to stream online or watch offline. This app lets you watch the entire movie offline. You can purchase the app for $9.99 or can rent the movie for just $2.99.
Scooby Doo: Where's My Mummy? is another great feature-length Scooby Doo mystery movie with excellent animation and a great story. Scooby Doo and his gang discover the lost tomb of Cleopatra and try to solve the mystery of the ancient curse. The movie app is a must-have for those who love to watch the direct-to-video animated Scooby Doo movie series.
Scooby Doo Zombie Island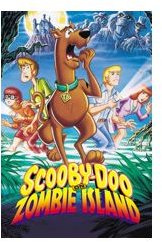 Released in 1998, Zombie Island was one of the most popular full-length animated films of the late nineties. Now you can watch this classic Scooby Doo movie on your 3.5-inch iPhone screen and enjoy it with your family and friends. Join Velma, Daphne, Fred and our beloved dog detective to solve the mystery of an island haunted by the ghost of a dreaded pirate. The app lets you watch this classic animated movie in full-screen. Priced at $9.99 for the full download, the application is available in the iTunes store. You can rent this movie at a much lower price of $2.99.
References