Hush Little Baby! Best iPhone Baby Monitor Apps to Give You Peace of Mind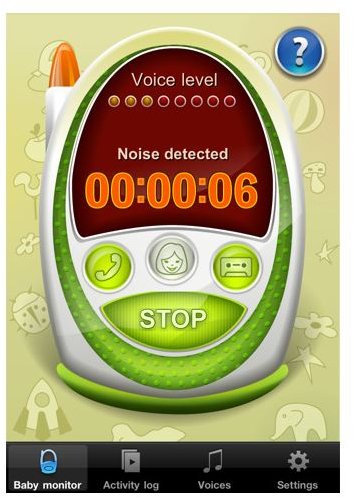 Baby Monitor & Alarm for iPhone
This Baby Monitor and alarm from Tappy Taps is about as well-rounded as applications can get. As well as being a comprehensive app, you literally don't need anything else apart from your iPhone, the app and another phone – so you don't have to buy any additional monitors in order for it to work.
It has many great features, but the primary purpose is that you leave your iPhone in baby's room and you will be called on another specified number when your baby wakes. So you can easily take it to a friend's house and get a call back on their landline, or on your partner's mobile. There are also functions to record your own voice to soothe baby back to sleep, pick a tune from your phone to play, and you get a report in the morning of how many times baby woke up
One drawback of using this app, if you are running a version of iOS 4 (and who isn't), is that you have to manually start the app again after an alert is triggered – for some reason this isn't a problem in previous versions.
Baby Monitor HD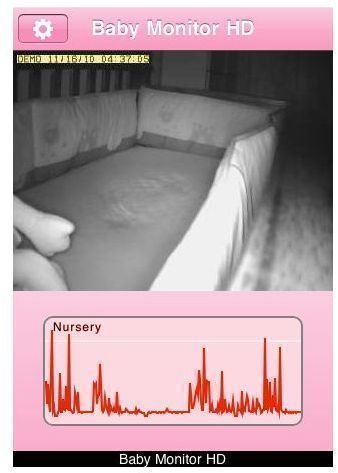 Although there are two big downsides of using this app, it's still a pretty great package. It costs 10 dollars which is considerably more than a lot of other similar apps, and you have to purchase either Y-Cam or 'WiFi Baby 3G' cameras to work with it.
Of course the upside to this is that you can actually get to see your baby, rather than just hear them, and you get to keep your phone with you. There's also an Infra red night mode, so you do get to see pretty good images of your (hopefully), sleeping baby on your iPhone. Comes in useful if you want to monitor a babysitter too of course!
The whole package is likely to set you back around 300 dollars, so a budget route this isn't, but then again you do get so much more from this than many other apps.
Baby Alert Pro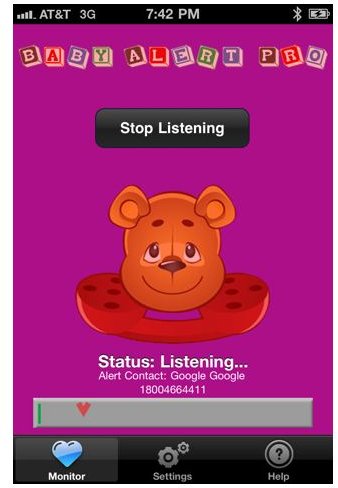 This iPhone baby monitor app is well priced and provides the basic functions you will need, and would expect for five dollars. You need to leave your iPhone in the room with your baby to act as the monitor, and then you will get called on a phone number you set up in the app (or use your iPhone's address book to do this) when baby cries. For those of you that will worry about leaving your iPhone in the room with your baby, you will also get alerted if the phone moves.
There are functions to set up the sensitivity of the alarm, you can hear what noises your baby is making through the phone call, and you can also choose for the app to play back a soothing noise until you get to your baby.
Features an appealing teddy picture for your baby to look at too. The downside of using your iPhone this way is that you need to leave it on constantly, so plugging it in to the charger is a definite good plan here.
BabyPhone Deluxe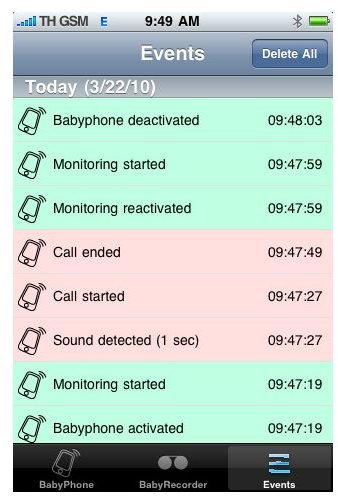 Not only does this app retail for a bargain $3.99, it also has some pretty cool features that set it apart from the competition. Like most of the other baby monitor apps for iPhone we've looked at, this is one that uses your iPhone in the nursery and calls you when baby makes a noise. However, you also get a really detailed events log to look at to help you keep track of your child's sleep patterns, and, a big plus it also has over similar apps, is that the screen will go to sleep after 3 minutes, so baby's room is kept completely dark.
The only negative I've encountered with this product is that the sensitivity rating (that you can luckily alter) is extremely sensitive, even picking up if your little one turns over. Of course this depends on how neurotic you are – I definitely have friends for whom this would be a big plus. However, if you are just looking for the app to call you when baby cries you can simply adjust the sensitivity bar.
Baby Sleep Comforter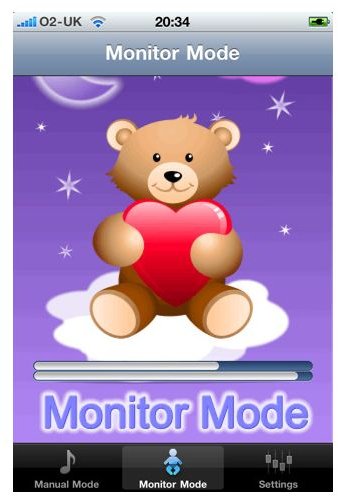 This is a slightly different way to keep an eye on your baby, as well as helping them get a good night's sleep using your iPhone. It isn't a baby monitor in the conventional sense, it is more designed to help settle your baby to sleep should they wake up. There are a number of ways it can do this from traditional soothing white noises, to a recording of your voice, to a choice of tune from your iTunes library – there's also a starry night show for them to look at too.
So how then can it work as a monitor to let you know when baby needs you? An e-mail alert will be sent to you, if the above techniques to get them back to sleep won't work. Of course this isn't ideal, but if there's another smartphone in the house, or you're likely to be on your laptop anyway, this could work for you. Personally I'd prefer there was also a 'phone me' option, as there can often be delays in sending and receiving e-mails, but it depends what works for you. As an app to help settle your baby to sleep though, it's a great option.
Conclusion
My winner of the best baby monitor app for iPhone has to be BabyPhone Deluxe. For the price it just can't be beat. It offers any functions you could wish for, including turning the screen off so baby stands a better chance of getting a good sleep anyway. If you want to keep a visual check on your little one too, then the Baby Monitor HD is your best bet, and offers a chance for you to use it for other surveillance projects in the future - teenage parties might seem a way off now, but…
References