How to Download and Install the iOS 4.2.7 Update and What Features Are Included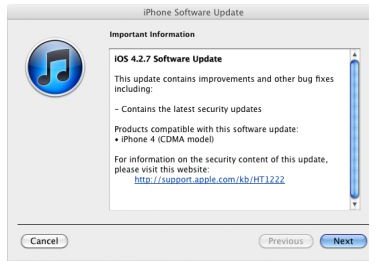 Verizon iPhone
The Verizon iPhone was a major release and has finally brought a huge market to the dominating smartphone. Though it was a stand out success for Verizon, their users have been put off of the normal balance of iOS releases that AT&T users have seen.
The AT&T iPhone has already seen versions of the iOS up to iOS 4.3.2, yet the Verizon iPhone is on an alternative round starting at the iOS 4.2.5 and followed by the iOS 4.2.6. This is not necessarily a big step down, but a different inclusion of features that is coming out at a different rate. More recently, the Verizon iPhone saw the release of the iOS 4.2.7 update that somewhat matched the iOS 4.3.2 that was for all other relevant iDevices. Here is a look at how to download and install the update for iOS 4.2.7, and exactly what features are included.
Installing the iOS 4.2.7 Update
Just as with all Verizon iPhone updates, the update prompt will come up if you plug in your iPhone to your computer for a standard sync. If it

does not you can open iTunes, select your iPhone from under the Devices heading in the left hand panel, and then choose to search for available updates from the Summary tab.
Once it finds the update for iOS 4.2.7, and you accept, it will start by giving you a list of the devices it works on (which is just the Verizon iPhone), and the features included. After this it will ask you to agree to the Terms and Conditions, and then will initiate an internal download in iTunes that will last for several minutes.
Once this has finished you will then have Apple confirm the download and then initiate the iOS 4.2.7 update to your iPhone. This will bring down your Verizon iPhone for several minutes, where the screen will go black except for a progress bar and an Apple logo. Once it has finished it will sync to iTunes once again and the update will be complete.
iOS 4.2.7 Features
Though the iOS 4.2.7 download became available at the same time as the iOS 4.3.2 update did for GSM iPhones, iPod Touch and iPad, the iOS 4.2.7 features are not comparable. The iOS 4.3.2 update includes some FaceTime features as well as ones for the iPad that are not relevant here, but the iOS 4.2.7 features are just a few updates to security elements. This is a common update and is just to bring the security features up to par. This is also, as it was listed, only for CDMA iPhone's from Verizon. These features will likely be built upon with the next major release of an iOS update, which may or may not be with the release of the iPhone 5.
References
Photos: Screenshots by Shane Burley.
Source: author's own experience.