Top 20 Free iPhone Applications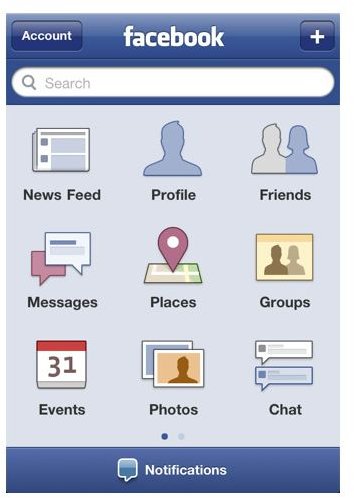 Best Free iPhone Applications
With more than 350,000 applications available on Apple's App Store, it's hard to find the best of the best for your iPhone. Using personal experience and iTunes reviews, I've compiled a list of 20 must-have free iPhone applications. Each of the iPhone apps on this list are completely free to download, so if you see something that interests you there is nothing to lose by trying it out. Free games were not included in this list. If you are interested in finding games you can read Top 5 Free iPhone Games.
For each app that was chosen I provided a link to download it from iTunes and a link to an in-depth review of the app (when available). Check the full review for more information about the app and it's features. If you've got a favorite free iPhone application that isn't on this list, comment and let us know what it is.
Facebook
Sure, you can get on Facebook from your iPhone already if you use Safari…but it's nothing like using the iPhone Facebook app. Updating your status and checking your News Feed are a cinch with the app. And, you get the added feature of checking in at the places using iPhone's GPS and seeing which of your friends are at the same place. The app is free and it loads quite a bit faster than using your mobile browser. No Facebook user should go without the app.
Pandora Radio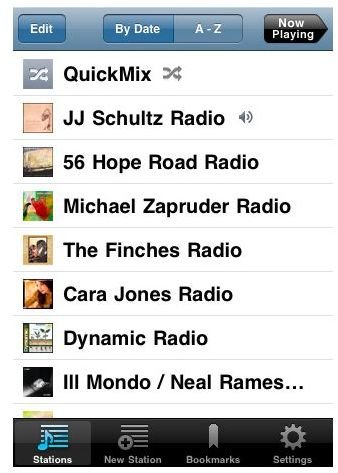 Sick of your iTunes library and need some fresh music to listen to? Pandora Radio streams music to your iPhone for free. Even better than that? It creates a custom "radio station" just for you based on your music preferences. Put in the name of your favorite song or musician and it will create a playlist of music that you may like based on your preferences. It works like a glorified radio. You are not able to pick which songs are played, but you are able to skip songs that you don't like. When you hear a song that you like, you rate it with a thumbs up. Pandora continually keeps track of your likes and dislikes to provide more music that you may like. If you get sick of the station that you are listening to you can always add a new one and switch between your saved stations. Everyone that I know loves to use Pandora, including myself. If you don't already have it you should definitely try it out.
Pandora Radio iPhone App Review
Yahoo Messenger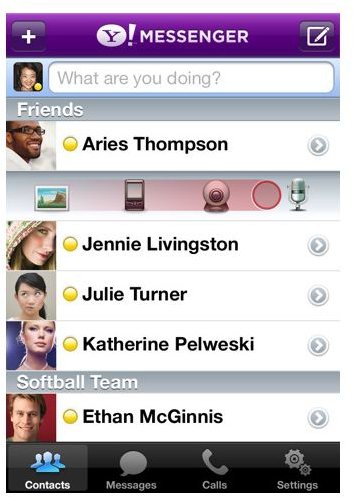 If you have a Yahoo e-mail set up, you may want to check out Yahoo Messenger for iPhone. Using your Yahoo e-mail address, you can IM with your Yahoo contacts. It's faster than text messaging and has great options for emoticons. You are able to stay signed in and ready for messaging no matter where you are. It's convenient and fun to use.
Yahoo Messenger iPhone App Review
Twitter for iPhone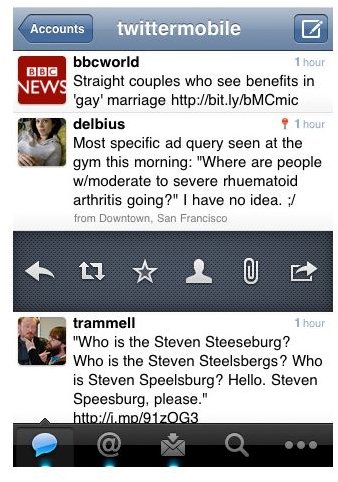 Twitter is one of the hot social networking sites that keeps everyone connected. There are many third-party Twitter apps available, but my favorite is the official Twitter for iPhone app. You can check out other options by reading Top Tweeting Apps for iPhone. Twitter for iPhone has all the major functions of the website, has a great design and it's easy to use.
Twitter for iPhone Download Link
Foursquare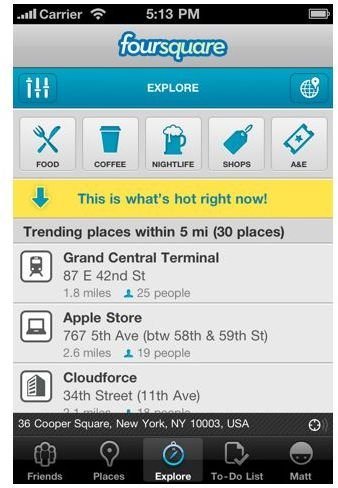 Yet another social networking site, Foursquare has gained popularity for offering points and perks for checking in when you run errands. I haven't personally gotten into Foursquare yet, but I have several friends that live for becoming the "mayor" of their favorite locations. They rave about the Foursquare app for iPhone. If Foursquare is your thing, or if you've given thought to checking it out, you'll want to give their iPhone app a try.
Emoji Free!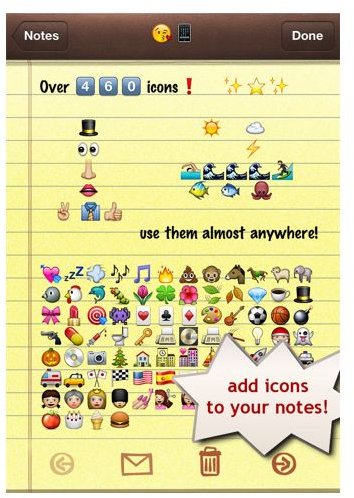 One app that I wouldn't want to live without is Emoji Free!. There are tons of different apps that give you access to the Emoji keyboard, but most cost money. Emoji Free! gives you the exact same thing without costing you a penny. So what is it? It's a special keyboard that adds emoticons and fun symbols to your text messages. If you are interested, you'll want to check out How to Set Up and Use the Emoji iPhone App to learn how to configure your keyboard. It's not that hard, but gives you tons of fun icons to use in your texts. I love the personality that it adds to my messages.
Movies by Flixster with Rotten Tomatoes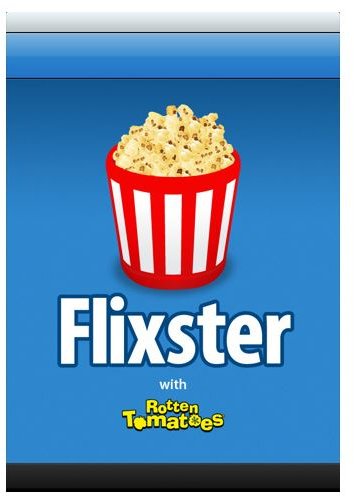 I can't count how many times the Flixster app has saved me from frustration. Movies by Flixster is a go-to source for everything about movie theaters. You can find a theater near you, check out the movie schedule and watch trailers for movies that are in theaters or coming out soon. It's the perfect app to have when you decide to go to the theater last minute. No matter where you are you can find out what time the movie plays. When you're not sure which movie to see, you can check out the Rotten Tomatoes reviews in the app for a little guidance.
Movies by Flixster Download Link
CNN
The CNN app for iPhone is my absolute favorite news app for iPhone. It's got amazing graphics, up to the minute news updates and everything that I love about the website. The app was optimized for iPhone and makes checking the news easy. There are plenty of news categories to pick from and lots of interesting stories in each category.
CNN iPhone App Review
USA Today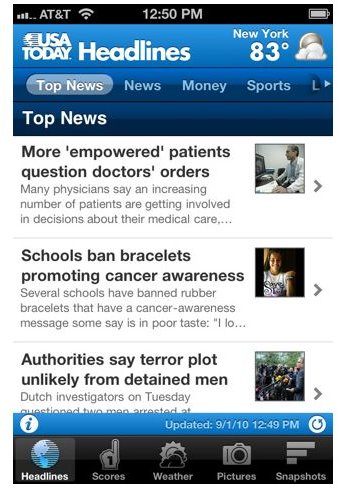 Another great news app for iPhone is USA Today. It's got great stories and a nice look. The graphics aren't as intense as on the CNN app, but they are still pretty good. USA Today isn't my first choice for news, but I wouldn't get rid of the app either. If you like reading the newspaper, you'll love the iPhone app.
ESPN Scorecenter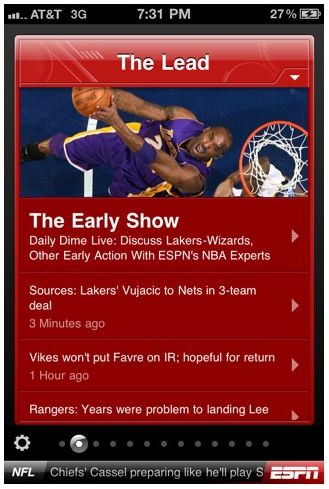 There are tons of free iPhone sports apps, but none quite like ESPN Scorecenter. It's everything you love about the top sports channel packed into an iPhone app that would satisfy any sports fan out there. Check scores, sports news and watch the latest videos about all your favorite players and teams directly from your phone. Can't get any better than that.
ESPN Scorecenter iPhone App Review
ESPN Scorecenter Download Link
Dragon Dictation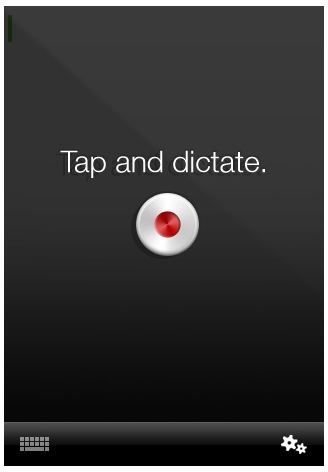 With most of the voice recognition apps for iPhone costing money to download, it's a surprise that Dragon Dictation offers many of the same services for free. Open the app and speak into it to have your message typed out for you. You can choose to copy and paste the text or upload it directly to a message, Facebook or Twitter.
Dragon Dictation Download Link
Waze
Waze is a traffic app for iPhone that is still in its development stages, but is still one of my favorite apps for iPhone. It's a GPS based iPhone app with a social networking twist. Users report when there are traffic slowdowns, police traps or construction to help other users avoid getting stuck in traffic. The app also continually updates your expected time of arrival for your destination based upon the speed that you are driving. It's a new kind of traffic app and is worth checking out, especially since it's free.
Skype
The last social networking app for iPhone to make this list, Skype has introduced an iPhone app that allows you access to many of the features of the website while you're on the go. The app allows you to video call your friends without a Wi-Fi signal, so many people are big fans of the app. If you don't have an iPhone 4 you'll be a little bit limited on the video-calling feature, but there are still great things about the app for you to check out.
The Weather Channel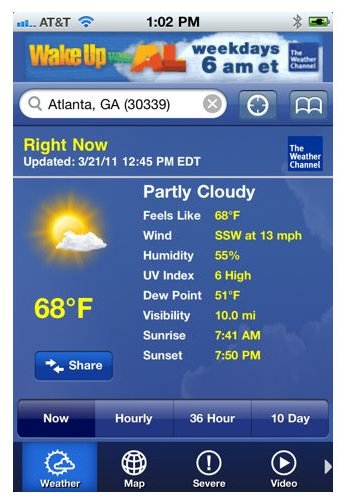 The Weather Channel app is my favorite app for checking the weather. Not only do I know that it will be the most accurate since it's coming directly from the Weather Channel, but it keeps me up to date with severe weather warnings in my area. In addition to offering you current weather conditions and extended weather forecasts, you can also check out the most recent videos from the Weather Channel. It's more than I would expect from a weather app, so it definitely deserves a spot on the top 20 free iPhone applications list.
The Weather Channel iPhone App Review
The Weather Channel Download Link
Google Search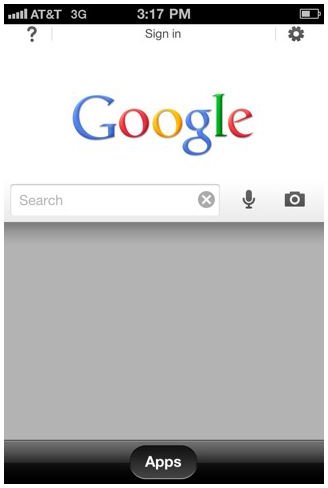 While there are many search apps for iPhone, Google Search remains a top free download on iTunes. One of the favorite features of the app among users is the ability to speak your search term instead of typing it out. It also takes a step out of the equation when you need to make a quick Internet search.
Google Search iPhone App Review
Fandango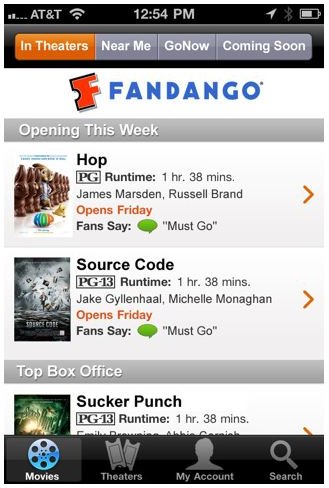 Find movie times, watch movie trailers and even purchase your movie tickets in advance with the Fandango iPhone app. The app is great when you're running late and want to take care of paying for your tickets before you even get to the theater. It's everything you enjoy about the website directly from your phone.
Fandango iPhone App Review
Kindle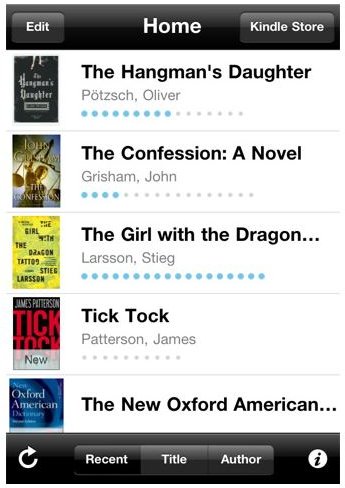 Kindle turns your iPhone into a book by allowing you to download e-books and read them from your phone. If you've never done the e-book thing, it probably sounds a little weird. I caved in and tried it a while back and fell in love with the concept. It is so much easier to read using my phone than it is to carry a book around with me. It's also very comfortable to lounge around and flip through the "books" pages in the palm of my hands. Give it a try if you haven't already. It's free to download and comes with three free e-books.
Kindle iPhone App Review
redbox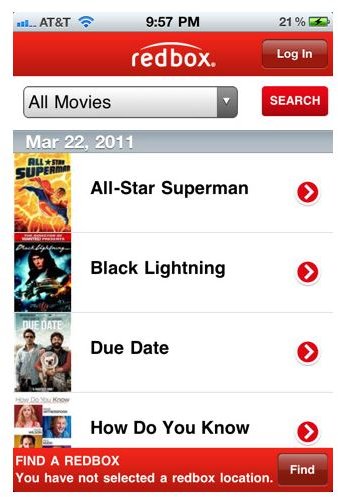 If you are a regular redbox user, you've definitely experienced the frustration of getting to the redbox kiosk and learning that the movie that you went for is out of stock. With the redbox iPhone application you can check ahead of time and see the inventory for your local redbox kiosk. The redbox app took it a step further and allows you to reserve movie titles from your phone so that your movie is still available when you get there.
Dictionary.com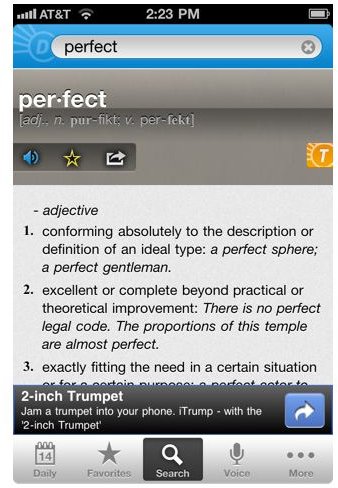 What iPhone is complete without a dictionary app? I've tried several different apps, but Dictionary.com is my favorite. It's easy to navigate and well organized. This app is a dictionary and thesaurus in one, so you couldn't ask for much more.
Dictionary.com iPhone App Review
Groupon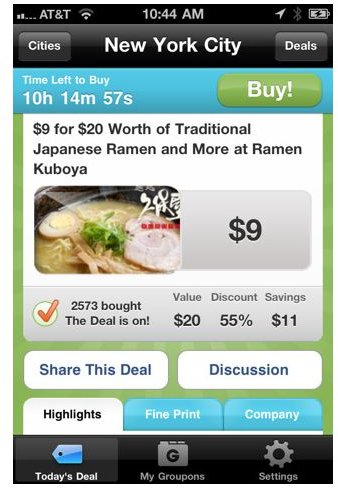 One of the latest rages for finding great deals is Groupon, a website that offers deeply discounted coupons. Lots of times you can find gift cards being sold at half price. The Groupon iPhone app gives you access to these amazing deals even when you're on the go.
References