Syncing an iPhone to a New MacBook Pro: Walkthrough and Troubleshooting Guide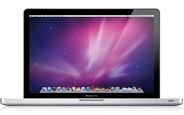 Before Syncing an iPhone to a New MacBook Pro
No computer compliments an iPhone more than a MacBook Pro. Apple put time and effort into designing products that streamline processes and work well together. MacBook Pro is just as user-friendly as iPhone, so the process is simple and easy to learn. I'm going to walk you through syncing an iPhone to a new MacBook Pro. If you experience any problems while trying it out, check the troubleshooting section at the end of this article for solutions to common problems that may be experienced.
Before you sync to your new computer, make sure that you have transferred all music and movies from your old computer, that were not purchased from the iTunes store. For example, if you bought a CD and downloaded it into iTunes. You will be given the option to transfer all purchased material from the iTunes store, but no other items can be transferred to the new computer via iPhone.
You will also need to make sure to authorize your new computer in iTunes before syncing. Open iTunes and sign into your iTunes account. Then go to Store > Authorize this computer… > Enter Apple ID and password > Authorize.
Syncing iPhone to iTunes on MacBook Pro
You should start the sync process by connecting iPhone to your computer using a USB cable. As soon as you connect them, iTunes will usually open automatically within a few seconds. If it doesn't, tap the iTunes icon from the MacBook dock. When iTunes opens follow the steps below to complete a sync with your device.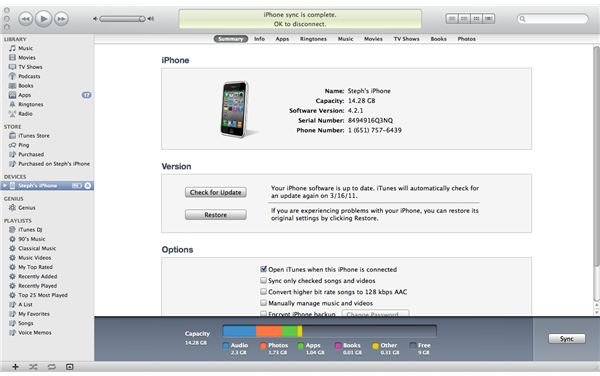 Select your device along the left side of the screen.
Select the "Summary" tab across the top of the screen.
Press "Sync" in the lower right hand corner of the screen.
Wait until iTunes says that it is safe to disconnect.
Please Note:
The first time you sync, you may need to set up your iPhone and name your device. Pop up instructions will walk you through the process.
The first time you sync, you will be asked if you'd like to merge the data on your phone to your computer. You want to merge or else your phone will sync to the data on the computer and delete the data on your phone.
Troubleshooting Issues with Syncing iPhone to a New MacBook Pro
If you are having trouble syncing an iPhone to a new MacBook Pro, there are a few common issues that may be causing your headache. Read through the troubleshooting tips to see if it will help you.
iPhone is not registering on MacBook Pro
If your iPhone is not being recognized by your computer, or it is not listed under iTunes in the devices section, the following things may be the cause:
You don't meet the system requirements - you must have the latest version of iTunes and Mac OS X 10.5.8 or later. Upgrade iTunes or your computer to meet the minimum requirements.
Low battery on iPhone - a drained iPhone battery could cause your iPhone to take up to 10 minutes to appear in iTunes. Charge the battery and try again.
USB port is not working - Connect your device directly to the computer. Do not use a USB hub or keyboard port. If you already are connected directly to the computer, try a different USB slot.
Restart the phone - If other causes have been ruled out, try rebooting the iPhone and syncing again.
Restart the computer - If rebooting your iPhone didn't help, restart your computer and try again.
Uninstall iTunes from your computer - Remove iTunes from your computer and re-download.
Third-party software causing iTunes not to recognize iPhone - third-party security software settings may be conflicting with iTunes. They may need to be altered to allow iTunes to recognize your device.
If you've tried all the steps or your issue is not listed, feel free to comment with what is going on, using our comments field below, and I'll do my best to help you find a solution. Give me as many details as possible about the device you are using, and any error messages that you are receiving.
Sources and Image Credit
Apple, www.apple.com
MacBook Pro image courtesy of Apple.
Screenshot provided by author.