How to Downgrade iPhone Bootloader Tutorial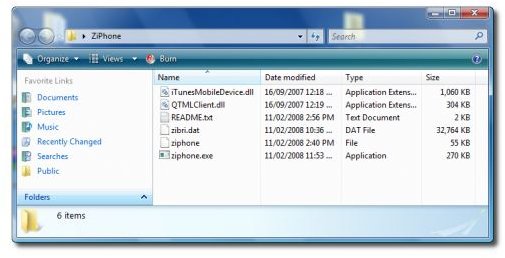 iPhone Bootloader
A Bootloader is a particular code that is executed when your iPhone is switched on. It carries out integrity checks on data and stops non-Apple or unsigned codes from being loaded onto the device. Two Bootloaders that you may have heard of are iBoot and baseband bootloader. These Bootloaders act as iPhone OS police that make sure that everything stays the way Apple Inc. wants. If a jailbreak program is not available on a certain Bootloader, you can downgrade your unlocked iPhone's Bootloader and then jailbreak via Sn0wbreeze, redsn0w, BlackRa1n or QuickPWN.
Here's how to downgrade your iPhone 4.6 Bootloader to 3.9 using ZiPhone program. But before we proceed keep the following in mind.
To do this downgrade restore your iPhone to 1.1.3 and then unlock it.
The slightest mistake while following this tutorial can render your iPhone inoperable. Be extra careful in following the instructions.
Even after knowing the risks involved in downgrading the Bootloader, why would users want to still want to go ahead with it? It's because users can unlock 04.03.12 baseband on 3.9 Bootloader and have applications like Google Locator work on their iPhone. Moreover, 4.6 Bootloader needs a secpack of a newer version to allow users to do things with the 04.03.12 baseband whereas the 3.9 Bootloader requires the same secpacks.
Downgrade iPhone Bootloader
Switch on your iPhone and connect it to your computer.

Download ZiPhone from here on your computer.

Extract files from the ZiPhone.zip folder on your desktop.

Simultaneously press the Windows key and the R key to launch Run pop up window.

Type in cmd and click on the OK button to bring up the Command window.

Type cd Desktop/ZiPhone into the Command window to navigate to the ZiPhone directory.

Execute the command ZiPhone to observe all its possible uses.

The program will ask you to put your device into recovery mode. For doing this, long press both the power and the Wake/Sleep buttons till the Apple logo appears. Once you see the Apple logo, release the Wake/Sleep button till the iTunes logo and the cable image appears on the screen.

Now type in the command ziphone –b –v to downgrade your Bootloader.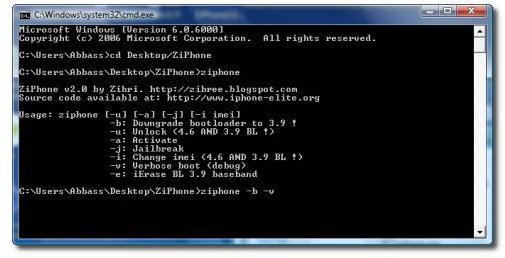 10. Next the program will search for zibri.dat and then for your iPhone. Once both these are found, it will ask you to wait for 2 minutes 30 seconds.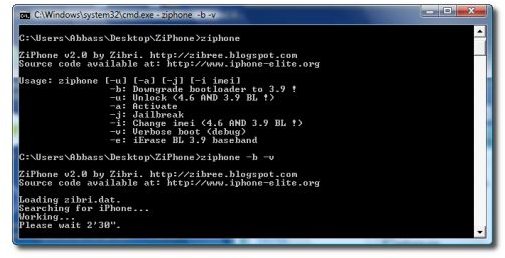 11. Subsequently, your iPhone will reboot and it will be downgraded to 3.9 Bootloader with 03.03.13 baseband.
12. Once the downgrade is complete, it's recommended that you first install the BSD system and then OpenSSH from Installer.app.
References