Best Bluetooth Music iPhone App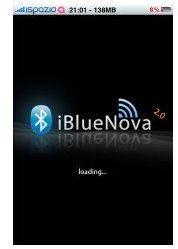 iBluenova Overview
While searching for Bluetooth music iPhone apps, I could not find any app that plays music through Bluetooth on iPhone, except iBluenova (previously known as iBluetooth – a third party application that transfers iPhone files to other devices using Bluetooth functionality). It is the only app in the world that allows iPhone users to sync, stream and transfer music, and video files along with other system files to other phones. This application is available for jailbroken devices via the iSpazio repository on Cydia. To install this application, open Cydia and search for iBluenova and download it for $5.99. But before you buy this app, you'll be able to test it for free for 15 days.
Once you have downloaded it on your iPhone, it's very easy to use with only a few setting options like the authorization security pin required to authorize a connection. iBluenova supports iPhone 2G, 3G and 3GS as well as iPod Touch 2G. However, users struggle to get this app working on iPhone 2G. And if you would like to transfer or stream music files between two iPhones, both iPhones must have iBlueNova installed on them. Also, as the app's music library is read-only, you cannot store music or videos in the library.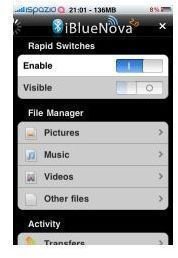 iPhone A2DP Wireless Stereo Support
Another method of playing music through Bluetooth on iPhone is using the phone's integrated Bluetooth technology. However, people usually complain that iPhone's Bluetooth is difficult to configure and also very tricky to use. But thanks to Apple for enhancing the Bluetooth technology back in iOS 3, now you can easily make and receive calls as well as play music using wireless Bluetooth headsets on iPhone. These changes allow you to connect a wireless stereo headset to your iPhone to listen to music. A feature called A2DP (Advanced Audio Distribution Profile) has made this possible. It's a profile that defines how audio can be streamed from one device to another over a Bluetooth connection.
Now that you know what A2DP is, let's uncover how you can stream or sync audio from your iPhone to a wireless Bluetooth headset.
Switch on your wireless headset and pair it with your iPhone.
Once the devices are paired, tap the Audio button from the Visual Voicemail screen. The Audio button is the Speaker button when your headset is not connected to your iPhone.
You'll receive an audio selection dialog that will ask you to choose where to send the iPhone's audio.
Here, select the wireless headset option and switch over to the iPod to start playing music through Bluetooth on iPhone.
Follow the link to figure out how to pair a Bluetooth headset to an iPhone and if you face any problem while connecting your iPhone's Bluetooth, check out our article on troubleshooting iPhone's Bluetooth.
References