Top iPhone App for Collectors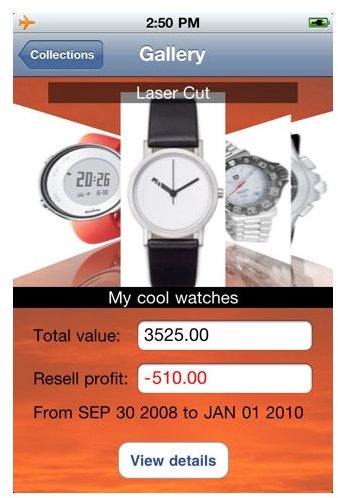 iPhone Apps for Collectors
Whether you collect coins, stamps, cars (or just about anything else), chances are that iPhone has an app for you. From general apps that allow you to keep track of any collection to apps designed for specific types of collectors, the App Store is filled with options. In this roundup of iPhone apps for collectors, I've searched through and found some great options for you to check out if you are looking for a collectors app for iPhone.
We'll jump right in and start with a few general iPhone apps for collectors. For these apps, it doesn't matter what type of collection you have. The apps are designed for you to input information about your collection to give you a catalog of your items that you can carry with you at all times. After a few general collection managing apps, page 2 takes a look at some good specific collectors apps based on type of collections (coins, stamps, cards, comic books and antiques).
CollectionDB - $0.99
No matter what you may be collecting, CollectionDB allows you to keep track of the collection. This collectors app for iPhone allows you to keep track of more than one collection at a time and even stores photos of each item within each collection. Attached to the photo you may record information about the value of the item, price paid, resell value, date obtained, condition, serial number and other notes.
CollectionDB is a great resource that can store photos and information about your collectibles so that it is easily accessible on the go. If you're an enthusiastic collector with a bad memory and could use some help remembering what you already have, this app would be a great resource for you.
Download CollectionDB for $0.99.
CollectionFree - FREE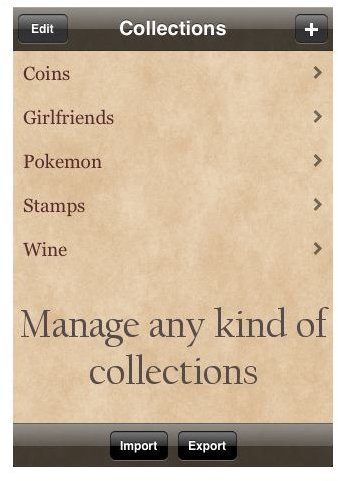 Similar to CollectionDB, CollectionFree allows you to store information about multiple collections. With this iPhone app for collectors, you are able to create lists of items that you have in each collection along with some basic information about each collection item. The CollectionFree interface is not very visually pleasing and not very comprehensive in the amount of information you can store about each collection item, but it is offered for free. The app does allow you to keep a basic list of your collection items with a photo for each item, making the app convenient for collectors.
Download CollectionFree for free.
US Coin Collection - $0.99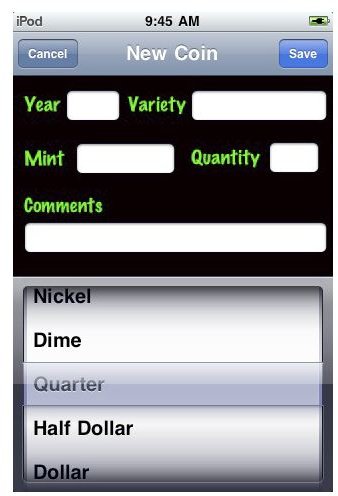 US Coin Collection is a simple index of your coin collection. Catalog your coins with year, variety, mint, quantity, comments and coin. The app allows you to organize and keep track of the coins in your collection on your iPhone. It is not an encyclopedia of coins and you won't be able to search through the app for information on various coins. The only information that the app stores is the information that you entered yourself. It's still a convenient way to keep a list of your coins.
Download US Coin Collection for $0.99.
stampReference - FREE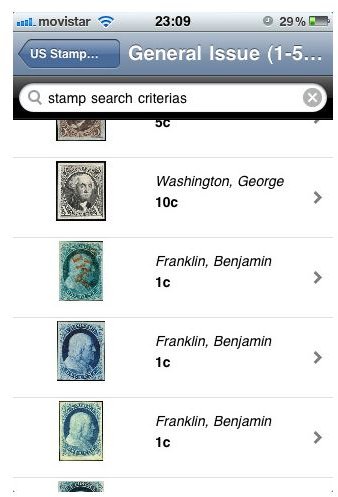 stampReference is a free reference guide for stamp collectors. This iPhone app for stamp collectors serves as a mobile stamp catalog. The initial app download is free, but you'll have to purchase stamp catalogs to update your app with more information. The guide includes images, descriptions and price guides for each stamp within a catalog collection.
Download stampReference for free.
iBaseballCards, iBasketballCards or iFootballCards - $0.99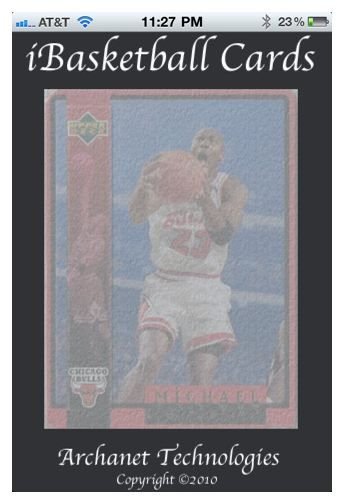 The ultimate iPhone app for card collectors, iBaseballCards, iBasketballCards and iFootballCards catalogs the cards you own, complete with an image. You'll never have to carry your binder of cards around with you to dealers and conventions again. The app stores various bits of information about each card in addition to the picture. The app allows you to easily search through the cards that you own, even on the go.
Download iBaseballCards for $0.99.
Download iBasketballCards for $0.99.
Download iFootball Cards for $0.99.
Comic Tracker - Issues - $2.99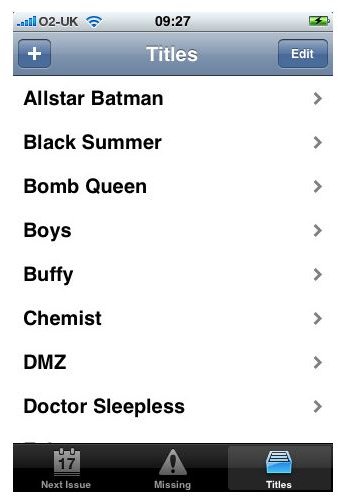 Track your comic book collection with this iPhone app for comic book collectors. Don't try to guess which comic book issue you're missing, just check your Comic Tracker - Issues app to see which issues you already have and which you still need to get. You may also be interested in the top five comics apps for iPhone.
Download Comic Tracker - Issues for $2.99.
Collectibles - $0.99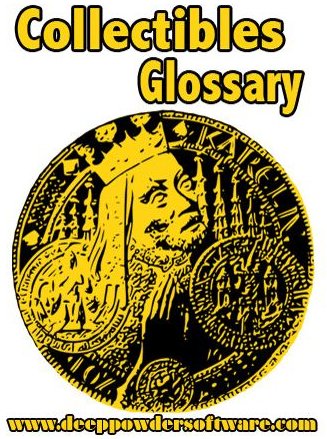 Are you one of the many people out there that collects antiques? Collectibles is an iPhone app for antique collectors. It is a comprehensive glossary of terms related to collecting and buying antiques. It's a helpful guide for the beginner collector. You are able to browse through casually or search by keyword.
Download Collectibles for $0.99.
References
Apple iTunes, itunes.apple.com
Image Credit: All screenshot images courtesy of Apple.