How to Activate the iPhone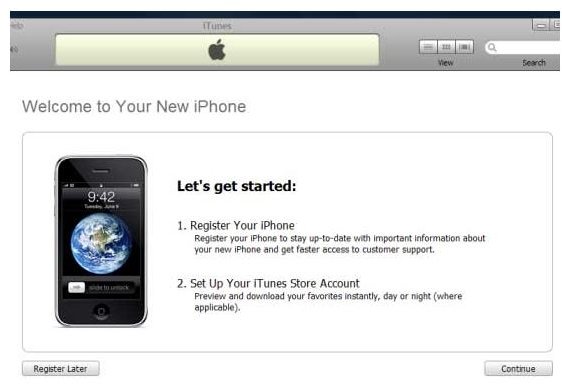 Starting from Scratch
If you've bought your iPhone from a shop, they will generally activate it for you to the point that you can begin making calls and using it straight away, however there is still some work to be done before you can unlock its full potential. This guide is the total activation process so if some of it has already been done for you just skip to the relevant section.
What's Included
In the box you should have the following:
iPhone
Stereo headset
Power adapter
USB cable
Documentation
Polishing Cloth
Pin eye SIM ejector tool
Prep Work
Before we begin the activation process there are a few things you'll need to do beforehand.
If you have iTunes installed already make sure it's up to date. You can check this by opening iTunes and once opened it will advise you if there is an update to install. If this is the case you will just need to click 'update' and follow the on screen instructions.
Make sure you have listened to any voicemails as they will all be deleted upon activation.
Transfer your music, ringtones and contents to Outlook, Outlook Express on the PC, or Address Book or Entourage on the Mac.
Activation
Now let's look at how to activate your iPhone. Once you have iTunes installed and open just follow these simple steps.
Take the SIM ejector tool and insert into the pin hole at the top of the iPhone. This will pop out the holder so insert the SIM card and push back in. If you've purchased a PAYG iPhone the SIM will be included in the box.

Turn on the iPhone by holding down the button next to where the SIM popped out.

Using the USB device included connect the iPhone to your PC/laptop and open iTunes.

iTunes will detect the iPhone and prompt you to download the carrier settings so follow the on screen prompts.

Once this has been completed your iPhone is now activated but you will need to then complete additional settings to set up your iTunes account. You should now see a screen like this;

You can click 'Register' which will lead you to enter your details and create your iTunes account.

Once you have done this keep the information safe or memorable as you'll be needing it to download apps.

Now, back in iTunes click on 'iPhone' to the left and you'll be asked to name your iPhone and have the option to sync your information which we referred to in 'Prep Work'.

Congratulations, you've now activated your iPhone!
And Finally
From time to time, when you connect to iTunes you'll be asked to install software updates and upgrade iTunes, this is normal and certain updates will improve the performance of your iPhone.
You'll now be ready to create photo albums on your iPhone, configure your email accounts, set up your voicemail and download apps, and to get you started we've compiled the top ten free iPhone apps you won't want to be without!