Official MSN or Not
One would generally assume that a roundup of the best MSN apps for iPhone would include both the official MSN app and several third-party apps.
There is an official MSN messenger app for the iPhone, however, many users are dissatisfied with the app and therefore often search for third party solutions. This article will mainly focus on third-party solutions because most users are already aware of the official MSN messenger app for the iPhone.
Fortunately there are some great free and paid alternatives to use MSN on your iPhone. The best MSN apps for iPhone are a mix of great messaging apps that are stable, always functioning and a few that even have push support, ensuring that you will always be notified of incoming messages. In addition to these MSN apps for iPhone, there are also many multi-network messaging apps which include support for MSN, they were not included in this article.
Windows Live Messenger (Official) (2 out of 5)
Microsoft's official attempt at the Windows Live Messenger application for the iPhone is not what you might expect. It is not a polished,
functional product. It does, however, have an attractive UI and offers a nice range of features, which don't work.
The Windows Live Messenger app allows users to connect to the MSN server and have live chats with their friends, view their photos, connect with Facebook, Myspace and much more. Unfortunately the app is yet to support backgrounding which can be quite tedious, even worse is the fact that Push notifications are very sporadic and often do not come through. Messages frequently get "lost" and several users have reported their contacts becoming mysteriously blocked while using this app.
Overall the app offers a good list of features and an attractive UI, however, it fails to function properly.
MSN Live Messenger Pro (4 out of 5)
MSN Live Messenger Pro by HandCN Mobisoft is a good option for MSN messenger on the iPhone. The interface may not be the most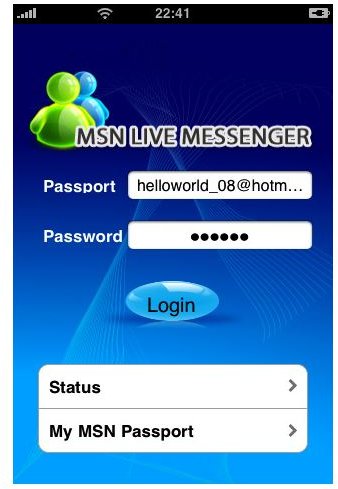 beautiful of the MSN messenger apps, in fact it looks a little clunky, but this does not take away from the stable functionality of this app.
Logging in is simple, contacts and messages are displayed clearly and push notifications work wonderfully. The push notifications make a huge difference, because they continually function unlike some of the other MSN messenger apps on the iPhone. The only real negative to this app is that it automatically logs off after a long period of inactivity and there is no option to change this.
All in all, MSN Live Messenger Pro is a steal at $0.99 if you enjoy staying connected to MSN. It can be downloaded at the iTunes App Store (Download Link).
MSN Live Messenger With Push (4 out of 5)
Yet another MSN Messenger client for the iPhone, this one is brought to you by Bejing 9thQ Digital Technologies. This MSN Messenger app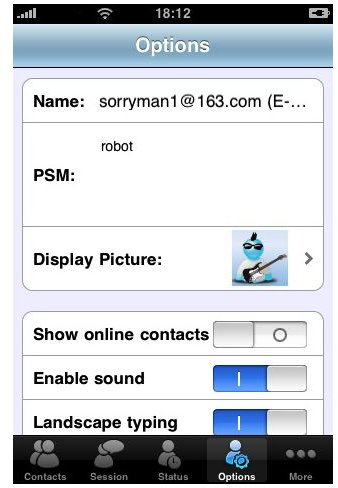 for the iPhone lands a spot on the list of the best MSN messenger apps for iPhone because of the well designed interface, stability and the near flawless push notifications.
The main reason users prefer this app is because of the sleek UI and emoticons, in addition to the streamlined functionality which eliminates all the bloat from the official MSN messenger app for the iPhone, such as the what's happening screen which many users find to be tiresome.
Overall MSN Live Messenger with Push may be one of the best alternatives to the official MSN app for the iPhone and is well worth the $0.99. It can be downloaded on the iTunes App Store (Download Link).
More Options
This list is a simple list of some of the best MSN messenger apps for iPhone. If you have any suggestions or comments, please feel free to post them.
New iPhone apps are released everyday and therefore things may change quickly, apps break with new versions of iOS after system updates and therefore some of these great apps may not be so great in the future. Also less great apps may become great.
There are also some great MSN messenger apps for jailbroken users, however, they were not included in this list. If you decide to look at multinetwork apps, consider reading our review of IM+. You may also want to read the guide to the Best iPhone IM Apps.