Detailed HTC Imagio Review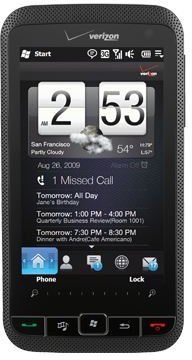 The HTC Imagio
The HTC Imagio is the perfect smartphone for business executives as it features globe-trotting capabilities with its quad-band GSM network. This HTC Imagio review will outline the phone's features, design, user interface and more.
Design (5 out of 5)

The HTC Imagio is a multimedia device but lacks some of the flashy design features most other multimedia smartphones carry. The Imagio is, however, a very simple yet attractive device. It features a large touchscreen interface with rounded and tapered corners and a slightly textured, matte black, plastic body. This phone was built to last. It feels sturdy and solidly built and has an industrial feel.
The HTC Imagio measures 4.6 by 2.4 by 0.5 inches tall, wide and thick, respectively and weighs only 5.25 ounces. The slightly stippled matte black covering can be seen on the back of the device and promotes a sturdy and comfortable grip.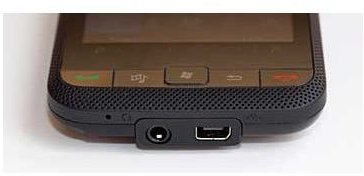 One of the Imagio's most notable features is its large 3.6 inch touchscreen display with WVGA technology, a 65K color output and a brilliant resolution of 480 by 800 pixels. This is all covered by a smooth and seemingly impenetrable clear glass surface which enhances the Imagio's sharp text and colorful images. This large display further enhances web surfing and video playback lending a slightly larger screen than its counterparts to its multimedia features. The HTC Imagio also features an accelerometer which changes the screen's orientation from portrait to landscape when rotated. The accelerometer has unfortunately been limited to work with specific applications such as the Internet browser, emails, videos and photos.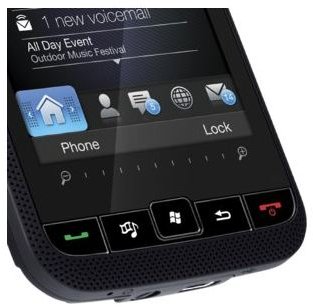 The HTC Imagio uses a resistive touchscreen which is as responsive as it is accurate. Users can choose between using their fingers or an included stylus to navigate through the phone's menus and applications. The Imagio also features a virtual QWERTY keyboard which supports XT9's auto work complete software. The keyboard is much easier to use in landscape mode and as a result of the screen's improved size, each key is larger which makes for less mistakes.
The HTC Imagio's hardware buttons are located below the touchscreen when in portrait mode and to the right when in landscape mode. They include a Talk and End/Power key, Start Menu key, a customizable Media key and a Back button. Directly above the hardware buttons is a zoom control bar perfect for zooming in and out while browsing the web. On the sides of the device you'll find a volume rocker, 3.5mm headphone port and miniUSB port on the bottom end. On the back of the device is the camera lens and an antenna which can be dually used as a kickstand.
User Interface (5 out of 5)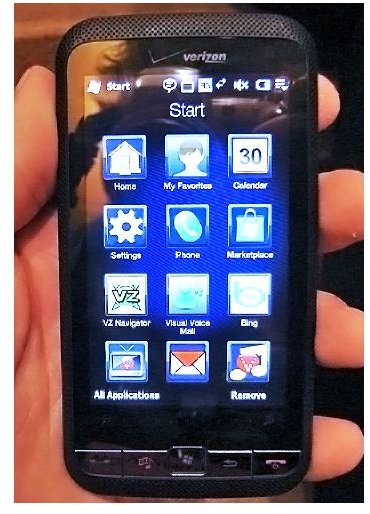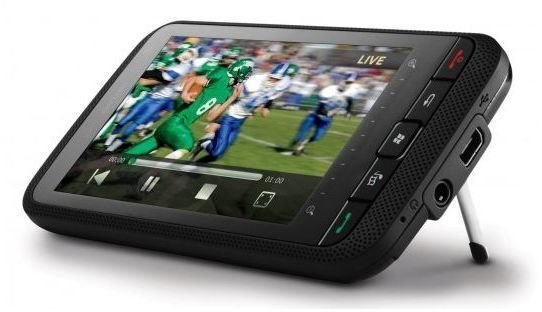 The HTC Imagio is a touchscreen device powered by the TouchFlo 3D interface by HTC. The home page features one touch access to several shortcuts such as the call list, weather, messages and frequently accessed apps. The interface is very convenient as users can drag the screen from down to up to view more applications directly from the home screen. This screen features the TouchFlo 3D interface with the choice of choosing between your Contacts, Applications and Media.
Getting back to the home screen from a menu is as simple as swiping a finger from the top to the bottom. When in an application that command has to be performed by pressing a small X at the top right hand corner of the screen. This may take a little while getting used to but HTC's TouchFlo 3D interface is more responsive than other touchscreen interfaces on the market today.
Features (5 out of 5)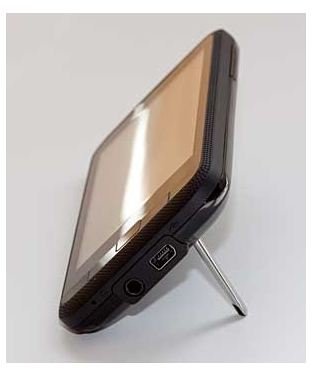 The HTC Imagio is a great multimedia device with additional business-type functionalities and the ability to be carried and used worldwide. The phone includes the standard contact book, notepad, task manager, calendar and timer as well as additional productivity tools including Microsoft's Office Mobile Suite, voice recorder, task list and Adobe Reader LE among many other applications.
The Imagio also features Microsoft's Direct Push Technology which allows users to sync their emails, contacts and task lists via a computer and their company's Exchange Server. Verizon also offers additional email features like Mobile Email for all IMAP and POP3 email accounts.
The Windows Mobile version 6.5 operating system brings about some new features to the HTC Imagio like a new and improved Internet Explorer for mobile usage, My Phone backup services and Windows Marketplace's new mobile edition.
The Imagio also features dual band capabilities and supports both GSM and CDMA networks. Business executives or people who are constantly travelling will be able to use the Imagio overseas by switching the phone to a GSM network. Due to its 2100MHz UMTS/HSDPA support and quad-band GSM, users will also be able to use both voice and 3G data anywhere in the world.
The HTC Imagio also features Bluetooth support, Wi-Fi and EVDO Rev, Opera and Internet Explorer browsers, V Cast Mobile TV, music and video, speed dialing, voice commands, SMS and MMS messaging and Verizon's visual voicemail service.
The 5 megapixel camera is amongst the best in its class of similar dual-band smartphones taking brilliant indoor and outdoor photographs and videos. It also features several advanced functions such as a self timer, white balance and brightness options, panorama mode, wide screen mode and four quality settings. It also boasts a touch focus feature and VGA quality video.
Performance (4 out of 5)
The dual-mode HTC Imagio works pleasantly on the Verizon network with mixed call quality dependent on the area. Calls are recorded as being smooth, void of much background noise and little to no static. The speakerphone is loud and can be heard in even the noisest environments.
The 1500mAH lithium ion battery lasts for up to 5 hours of talk-time and up to 13 days on standby. Its 528MHz Qualcomm MSM7600 processor is also exceptionally fast with minimal lag and slight delays when operating heavy applications.
Verdict
The HTC Imagio is a brilliant multimedia and multifunctional device, perfect for either the business professional or tech savvy individual. Its larger and brighter display screen trumps other similar smartphones and due to its quad-band capabilities can accompany anyone almost anywhere. The HTC Imagio can be purchased directly from Verizon Wireless at a cost of $579.99 with a 2 year contract at: www.verizonwireless.com.