Android Review: Watching Video on the Motorola Droid
Quick Starting Point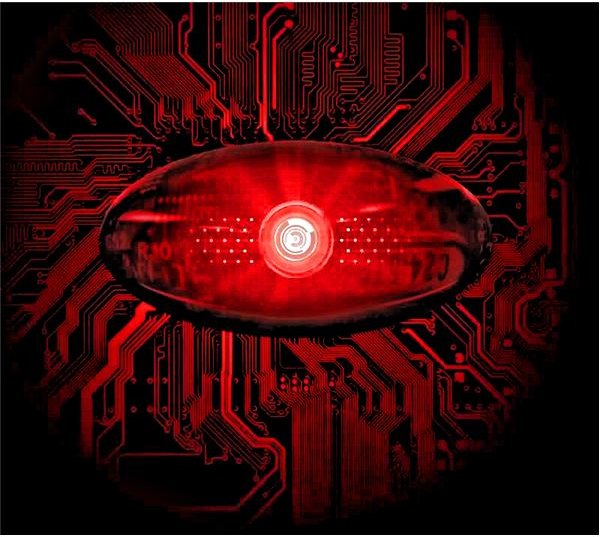 The Motorola Droid is quite the fancy piece of equipment. It has a QWERTY keyboard, solid design (other than the SD card being under the battery) and a large beautiful display. Surely you want to do more with that display than simply scroll through menus and make phone calls with it. Oh, the other Android phones may be able to play some video too, but it won't look nearly as nice as it does on the Droid. There are a few ways that you may watch videos on this phone: you can hook the phone up to your USB port and copy files to the SD card, you can get on YouTube, or you can download applications that load videos for you.
Just for reference the playable media formats of the Droid are: AAC, H.263, H.264, MP3, MPEG-4, WAV, WMA, eAAC+, OGG, AMR WB, AMR NB, AAC+ and MIDI. This means that if you want to play a file that is not in one of these formats that you need to either convert it (Media-Convert or Convert to MP4) or find an app that will support it. There is an AVI player app that I know of for sure, but it is best to have the files in the proper formats. Three good video apps are: TV.com, Jetflicks! TV, and Television.
Transfer it yourself! (5 out of 5)
Having the files on your computer ready to transfer to you Droid is the way to be. If all you have to do is transfer the files to your phone, it makes life a lot easier. I say this because it will allow you to pause the video without having to worry about a connection to the website, or the video buffering, or even if there are lag issues and you're impatient. It's really simple to do as well!
To transfer video files from your computer to your Droid, make sure that you have the videos in one of the correct formats listed above or that you at least have an application that can handle the type of file that you want to play.
Get the charger cord for your Motorola Droid and remove the USB cord from the AC adaptor and plug the USB cord into your computer. Then plug your phone in.
When your Droid is connected to the computer, slide the notifications pane down and click on the USB connected button and then mount your SD card.
On your computer, navigate to where you can see your hard drives and removable storage. Your Droid should be listed there, double click to open the contents of your SD card
Make a new folder on your SD card labeled 'Movies' or Videos'
Open your new folder. Now simply find the media that you want to transfer and copy it into this folder so that you know where everything is.
YouTube (4 out of 5)
Using YouTube on the Droid is easy since it is a built in app for the phone. All you have to do is open up your app tab and scroll down to it. While using the YouTube app, click the menu button and go to the More option. There you will find the ability to watch YouTube videos in high quality! Other than that, it has the standard features so you can search videos, browse the top videos, sort them by category, or even upload your own. While watching a video you can also press the menu button to share the video, view its comments, rate it, or even mark it as a favorite. As many of us have come to know and love YouTube, we know that it's not the place for full videos, though. It is good for sketches and independent uploads, so if it's just quick video fun that you want, then this is your place to be.
TV.com (4 out of 5)
This app is great for wanting to find out what's going on with network television. TV.Com app has previews of many shows on TV from networks like The CW, CNET, ET, and CBS. This app also features a fair number of full episodes, though not as many as I would like. However the app is free, so you should take what you can get. The TV.com app also has sorting options similar to YouTube so you can browse top videos, channels, or shows. It has a lot that you can watch, however some of the full length episodes DO require WIFI access, so that is something to take into consideration if you are planning on watching a lot with it. It has a clean and straightforward interface and runs smoothly.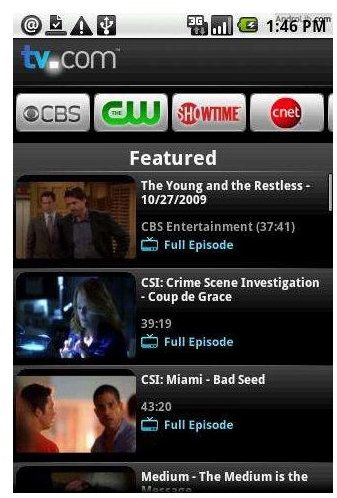 Television (5 out of 5)
Television is a very nice video app. It doesn't feature many really long segments, but it offers a huge variety to watch. It features channels from the US, UK, Germany, the Middle-East, and France, to name a few. This app has segments from Comedy Central, The Onion News Network, Sky News, Al Jazeera, and many others. You should preferably be on 3G or WIFI with this app as well, unless you are really patient. This app also is not free. It costs $2.99 to download. It has a really simple clean interface, no extra menus just scroll down to the channel that you want to watch and then peruse what it has to offer.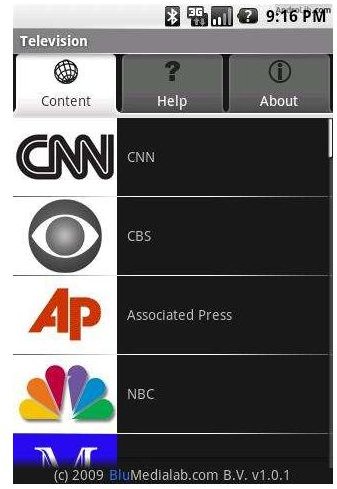 Jetflicks! TV (5 out of 5)
Jetflicks! TV is the premium app. It requires a subscription ($9.99/month, $19.99/3month, $29.99/6month or $49.99/year) but provides quite a few full length shows, including shows from HBO and many others. It offers high quality video with no (in my experience) pixelation or choppiness. This app is also updated very regularly so that it is almost like having cable streamed to your phone, although with a 1-2 day delay. That works out great if you missed the show though! All in all it is a great app. It may seem pricey, but if you buy the year subscription that is just over 4 dollars a month for full length shows that can be viewed from your phone.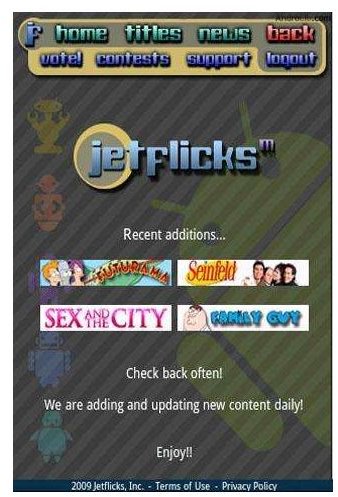 The End
Well, there are a few options for you. You have to decide what level of commitment you want to make to being able to watch videos. Regardless, as long as you are watching them on the beautiful screen that is on the Droid, you can't go wrong. Enjoy!