Review: Locale for Google Android Smartphones
Overall Use (4 out of 5)
Locale is simple to use from the moment it's launched. I began by setting up each of the various locations that I wanted different profiles to be used for. Setting up these locations was simple – I just needed to enter in a name for each location, then add the conditions for those statements such as the distance around those locations, the type of ringers or lack thereof to be used and other profile information for each location.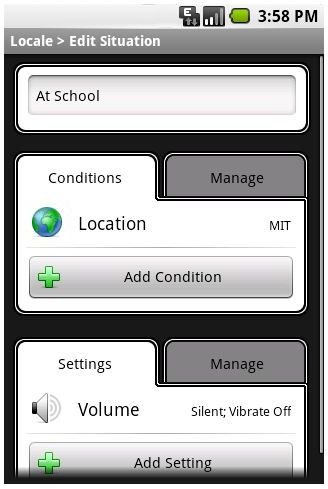 You can choose location based conditions or you can add calendar, time and even contact information to set specific profile changes. Basically, if you need your phone to go silent at 9 am everyday for a sales meeting, you can set Monday through Friday options at 9 am and have them reoccur until no longer needed.
The program is also very intuitive for touch screen use. For example, on the map of each location, I could easily extend the radius around each area ensuring my profile is changed well before I reach my final destination.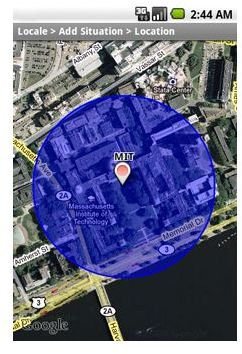 With the program's situation settings, I could even decide when certain settings should be turned on for each occasion. For example, I could set the situations I created to only operate from my home or at work.
The program also utilizes a combination of GPS, Wi-Fi and Data Services which means even if I am missing one or more connection types, I am still able to utilize my profiles in each location.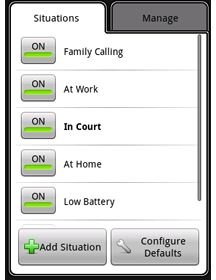 You can also implement the settings screen to turn off certain power hungry applications automatically when your phone's battery strength is low. For example, turning off Wi-Fi, Twitter, Wallpapers, etc. is only a few clicks away.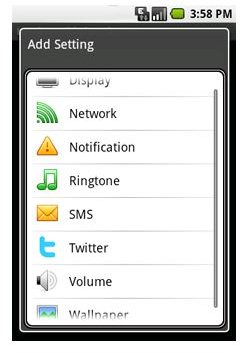 One qualm I have with the application is that you can't set your original profile to turn back on. I would have liked the option to set a ringer based profile that could auto switch back to its original setting when my location was no longer in the "red zone" I have set or when certain times and dates have passed. It's a small setting change that would have made a huge difference.
Conclusion
Locale for Google Android is a simple to use location based profile manager that also throws in some nice additional features such as the ability to set different profile criteria based on time, date and contact information. I particularly liked the option to set a profile radius for my profile settings. This made it extremely simple to manage profile changes quickly and efficiently without touching my device beyond the initial setup.
You can find Locale at the Android Market and I highly recommend you give the application a try. You won't be disappointed with the ease of use it presents for various user based profile settings.
References