Retro Clock Widget for Google Android 1.5 and Higher
Overall Use (4 out of 5)
It has become a fairly common theme in my Google Android application and widget reviews that I mention how great the graphics look on the components I review. That fact surrounds the simple nature that the app and widgets offered by Google are well defined by stark colors and bright, easy to read fonts.
Even simple offerings such as the Retro Clock Widget provide those same types of graphics. In this case, the clock feature and date options offer dark black backgrounds with vibrant white coloring that displays well in both properly lit and darkened areas.
Features
The widget is simple to install once you've placed it on your device – simply do a long press on your home screen, navigate to the widget icon and choose the Clock option. The picture shown below uses both the clock and date options. However, users can simply choose to display only the clock if they prefer.
Once installed, the built-in Android alarm system can be accessed by simply clicking on the clock, while the Android calendar can be accessed by clicking on the included date option.
The program also allows for the widgets to be moved around in any manner that won't overlap them with other widgets. Here are examples provided by the Google Android Market site: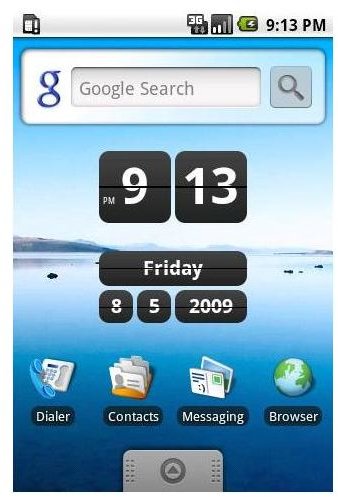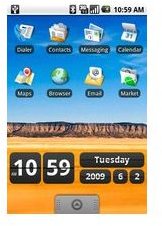 The widgets, when both opened, took up around the equivalent of 8 home screen cells which means I was giving up a ton of my home screen's display. At the same time, the larger size made it more simple to read the time and date which was a level trade-off.
Conclusion
The Retro Clock Widget serves two great purposes – it displays time information and date information in a simple to read format and it also gives access to several helpful pieces of software through the widget (alarm clock and Android Calendar). With that being said, I really don't have any complaints other than the size of the widgets but even in that case making the widget smaller would have taken away from the easy to glance at display.
Overall, a worthwhile and free widget which I recommend you download for free from the Android Market. You won't be disappointed.
References