WeatherBug Android App Review
Overall (4 out of 5)
WeatherBug is the type of weather app I enjoy on my cell phone. It's compact so it doesn't slow down my device, it's easy to install and it offers all of the information I typically find on the company's main online website. The screens are also very vibrant (at least for a weather app), while the interface is very intuitive.
Take a look at the screenshot provided below. That screen is for the "live broadcasts" which users can pick up for thousands of locations around the country. You'll also notice various shortcut keys at the bottom of the screen. It couldn't be any easier to navigate the application.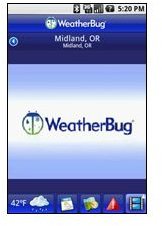 Videos pulled up quickly, even on the slow edge network. The videos were even fairly clear and easy to watch.
My favorite part of this application was the hour by hour forecast information. This part of the app provides the temperature for each hour of the current day, along with a "feels like" temp, humidity levels expected throughout the day and the chance of any type of weather (rain, snow, hail, etc). This part of the forecast can quickly be pulled up using the applications quick launch buttons at the bottom of the screen and makes it easy to find your daily weather quickly.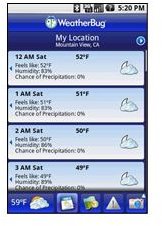 Features
Users can also check out local weather radar maps. The program even takes advantage of Google Android's location based services (LBS) which can pinpoint where a user is located and provide the weather in their immediate area. This is a great option if you don't know the area you're in too well and you can't find the zipcode or the exact area of the city/county you're currently in. The weather map also offers zoom controls and the ability to watch maps over time so you can determine incoming weather patterns. Again, the weather maps offer large icons for quick touch-screen controls and they pull up in the same manner as they do online.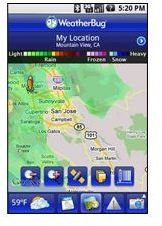 As a matter of safety, the program provides 24/7 weather alerts that are delivered to your phone. They are full text alerts that explain the situations as they arrive with safety alert levels such as "Medium" threat, "High" threat, etc.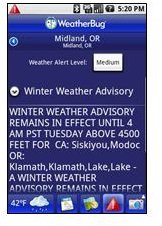 Finally, the program also provides a few extra outputs such as a 7-day forecast that includes temperature and possible weather conditions. Users can also access over 2,000 weather cameras from around the country. These cameras are strategically placed on large buildings and other structures and can show time-lapse and snapshot images of the locations users are investigating.
There are also a few other standard features. However, the options I provided above are the main factors I typically take into consideration and which are featured on this Android application.
Conclusion
WeatherBug for Android can be downloaded for free at the Android Market. I highly recommend this application to any users looking to stay on top of daily and weekly weather patterns. Also, I recommend this for those users looking to keep track of severe weather conditions in areas where severe weather may pose more of a threat.
Overall, an excellent application that works as advertised while providing excellent weather coverage and ease of use for Google Android phone users. I highly recommend this weather application.
References