Full Touchdown Android App Review
For all of those people who work in a company that has an Exchange server and want to stay in sync with their work, emails, calendar and everything else this is the right choice for you. All of this functionality is in this app for your Android powered smartphone. Touchdown is great for people that are familiar with working with Microsoft Outlook. In order to use this app you need to have a Microsoft Exchange account.
General Features of the Touchdown Android App
The main issue when working online, managing emails, contacts and private information is security. This app offers security features like: SSL support, PIN enforcement, remote data wipe, SMS confirm on wipe and email-initiated data wipe. It also offers encryption options like Data Encryption at rest and the ability to encrypt attachments on the SD card.
Email Features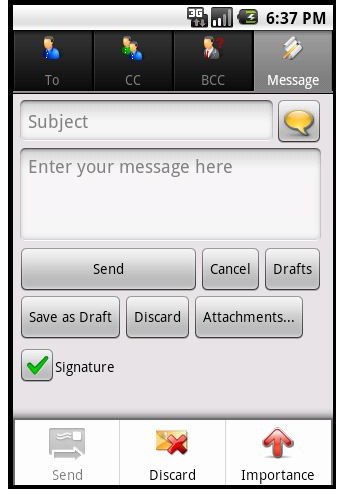 This app has all of the email features that you'll ever need. It supports push mail, HTML email, attachment download and smart forward/reply. You can search your email locally on your phone or you can do a server search. You have email folders and you can move emails from one folder to another. The app also supports notifications that can be customized.
Contact Features
Working with contacts using this app is very easy. The Touchdown Android app supports push updates, contact photos, and editing, updating or deleting contacts. You can export contacts to the phonebook or you can choose to auto update the phonebook with new contacts. You can do a quick search for contacts and you can email, send SMS or call the contacts.
Calendar Feature of the Touchdown Android App
This app enables you to edit, save and delete appointments. You can set reminders for important events sorted in day/week/month views.
Task List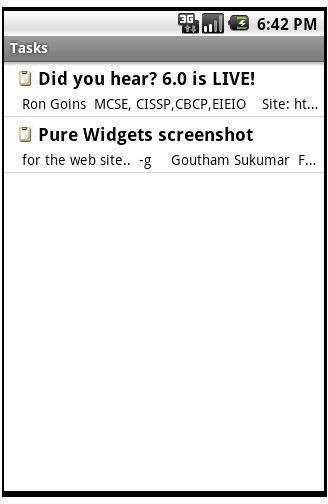 The Touchdown Android app can help you organize your tasks. You can create, edit and view tasks; mark them complete and also filter and sort tasks.
Installing the App
To install this app you have to download and install the 30 day trial version. Open the Android Market from your phone and search for nitrodesk and then click to install the app. To get the full Touchdown Android app you will have to purchase another app called "Exchange By TouchDown Key" from Android Market. After installing this app your Touchdown Android app will be activated.
Conclusion
To summarise our impressions of the Touchdown Android app, it is easy to use, notifications work perfectly with the Android notification system, it is easy to set up, supports Outlook 2000/2007 and OWA. The app, besides Microsoft Exchange, supports other email servers like Sun Java Communication Suite, Kerio, Oracle OCS & Beehive Suites, Novell GroupWise, Mirapoint Messaging Server, People Cube's Meeting Maker, Alt-N Mdaemon, OpenText First Class and Google Premier Apps. The price of this app is $19.99 and is justified with all of the above great features. A big disadvantage is that the purchasing is a little bit complicated and also the synchronization, which can take forever the first time if you're not connected to a Wi-Fi network. Overall, Touchdown is a great and very useful app. You can get this Android app here.