Android Round Up: Top Ten Favorite Applications in the Android Market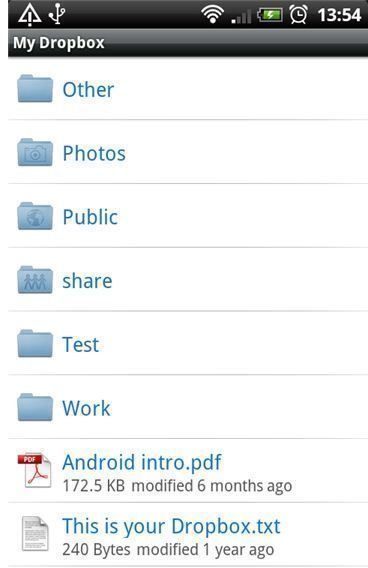 The Android platform has come a long way since the first version emerged in 2008. The development over the years has persuaded a lot of people to choose the platform over its direct rivals, and the Android Market has therefore seen a steady increase as well. Many developers have seen the potential of releasing Android applications and therefore the market is now populated by over 150,000 applications. There are many applications to choose from. Please enjoy the round up of my favorite ten Android phone applications.
Dropbox for Android
The best way to describe the importance of Dropbox for Android for me, is that it would probably be the first application I would install after a clean wipe of the system. Dropbox is the definition of cloud computing and lets every user stock any type of file into its virtual online space. This makes it easy to share files cross-platform, keeping all those important documents and other files synced at all times. More recently the application has expanded to other platforms including Android. Over the course of its young lifespan, the Android app has progressed rapidly, making it a full-fledged document sharing application, worthy of its desktop counterparts.
Dropbox is especially handy as it essentially increases the saving space on the Android device. Documents can be accessed and stored on the Dropbox 'drive' and interacted with at all times. At the same time it is not taking up any precious memory space, making it the perfect companion for your Android phone. It has been the perfect storage app for me for quit a while now and it will probably remain as such for a long time. Therefore I definitely recommend Dropbox for Android.

Astro File Manager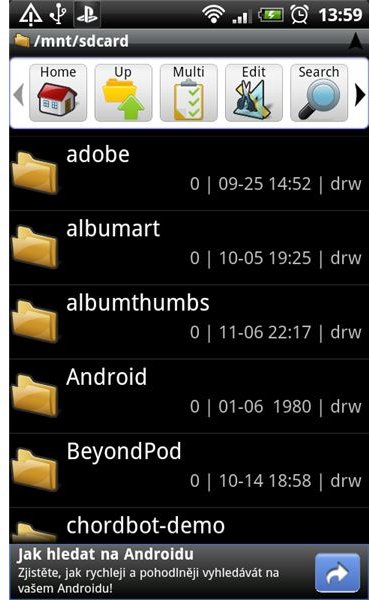 The Android system doesn't have an integrated and dedicated file manager by default, and thus others have to step in to fill the gap. There are plenty of file managers available on the Android market, and to be quite frank, they all do a similar job. My choice of file manager is Astro, as I have never been in a situation where it didn't do what I wanted. Especially with Dropbox, having a file manager to manage those files saved on the SD card is a necessity, and Astro does the job perfectly.
Besides being a file manager, Astro is also capable of backing up installed applications and has an integrated process manager/task killer. There are even extensions available in the Android Market to add such things as a Bluetooth file transfer module or a network analyzer. With a free price tag, you can't go wrong with Astro File Manager and it's easily one of the best Android phone applications.

Angry Birds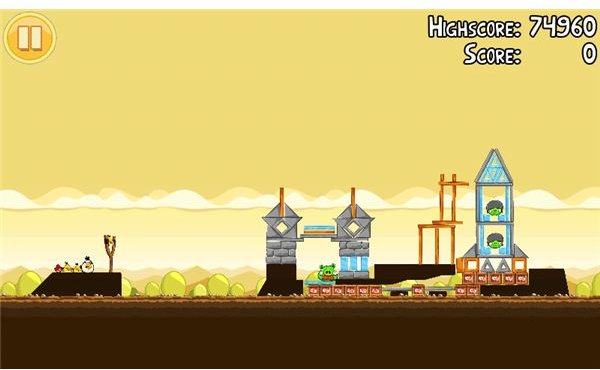 Angry Birds has made the list as the most fun, challenging and intelligent game on the Android system. Although this may be subjective, a lot of users will agree, as Angry Birds is immensely popular on every platform it has been released to. Angry Birds challenges you use a variety of birds to take down the fortresses built by the pigs that stole their eggs. Besides finishing the game, there are numerous challenges left, such as collecting all golden eggs or getting the highest ranking in each level. As the developer of Angry Birds for Android updates the app regularly, new levels are added frequently. Currently free but ad supported, Angry Birds should definitely be on any Android device capable of running it.

AK Notepad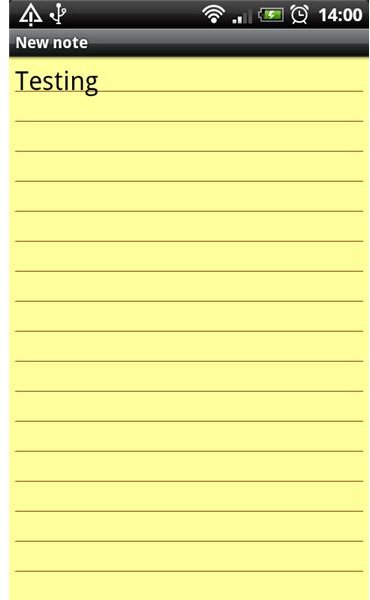 There isn't too much to say about AK Notepad, which in this case is only a good thing. AK Notepad just does what it needs to and that is exactly what a note-taking app should be doing. The app is great for quickly taking notes on the go, without any hassle, which is especially good for stressful situations where those reminders are so valuable. The simple layout and its bare bone feature set are definitely an asset for the application, making it also the most popular note taking application in the Android Market, even before the widely respected Evernote. The few extra features of AK Notepad include pinning notes to the home screen, sharing them with friends, labeling and thus filtering out the notes and backing up the notes online. AK notepad is therefore an essential application on Android.

Facebook for Android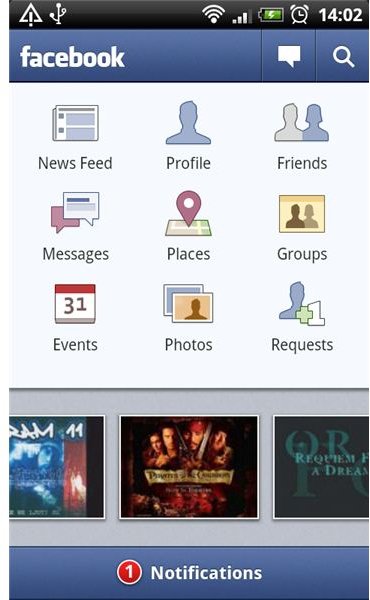 The usefulness of this application clearly solely depends on whether or not you are a Facebook user. As I do use Facebook, the app has made it onto this top ten list. However, if it hadn't been updated to its current quality level recently, it wouldn't have made it.
Facebook for Android has got off to a slow start with an app that mostly pointed to the mobile site of Facebook. As in some instances it still does, it is not perfect yet, but the recent changes have made Facebook for Android a good extension to the Facebook ecosystem. Now it also integrates with your address book if you want it to, making it accessible in an instant. It is even becoming noticeable that Facebook as a platform lends itself well to Android as it is becoming increasingly more fun to use the app on the go. Getting in touch with your friends has never been easier.

Whatsapp Messenger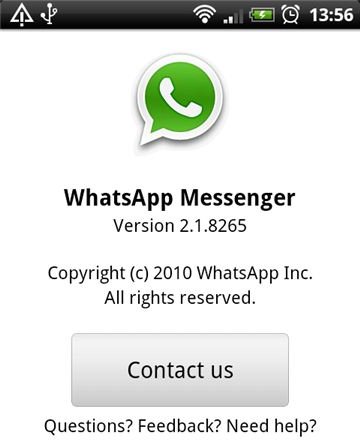 Whatsapp is a recent addition to the Android landscape but has made an immediate impact. Whatsapp is basically the cross-platform alternative to the 'ping' service of BlackBerry. It lets everyone with a smartphone and an Internet connection, and who doesn't nowadays, send text messages to one another, for free (after a little initial cost). Whatsapp is basically the Skype for text messaging.
After the initial installation of the app it will immediately scan your contact list for users of the same app. As such a contact list is created instantly and sending each other messages can commence. When a message is sent to a user a green wink indicates the message has arrived. A second wink will show that the user has read the message. That way it has become hard to deny having read a text message or having not received it. Although this may be a disadvantage for some, the potential as a cost-saver is huge and therefore it is very unlikely that the app will not generate a great following in the coming months. For me personally, I am already a dedicated user.

Handcent
As 'normal' text messaging is also still alive and kicking, Android apps have been developed for this purpose as well. Although the standard application that comes with Android does a good enough job, things can always be better. Handcent delivers this and is, in my opinion, the best alternative text messaging application on Android.
The strength of Handcent lies in its speed, its customization options, its excellent support and its incredible ease of use. Handcent really lets you customize your message windows to the smallest detail and even has extension options available in the market to further increase the set of customization. Hancent is also speedy and therefore decreases the frustration levels when a quick text message has to be sent. The app would also definitely be one of the first apps I would install again after a clean wipe of the system, and therefore has made it to this list.

Psx4droid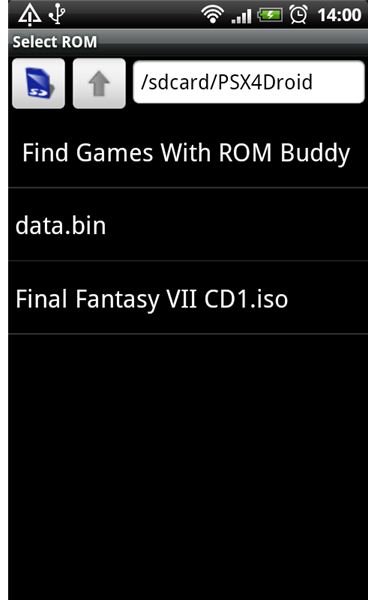 Psx4droid is the first and currently only app that allows you to play PlayStation games on the Android system. Besides the fact that it just works with a lot of games, and therefore adds a considerable gaming library to the Android system, it is also great to see Android's potential in such an app. As Apple will not even consider allowing such an app in their app store, these types of applications are the reason that Android is a great mobile platform. Psx4droid updates frequently with new games being made playable through the application. With a bit of button mapping, most games are very playable, with home screen shortcut options for quick access. The app has definitely helped me rediscover some of the great games made on the original PlayStation console, and is therefore well worth the $6.99 price tag.

AppBrain App Market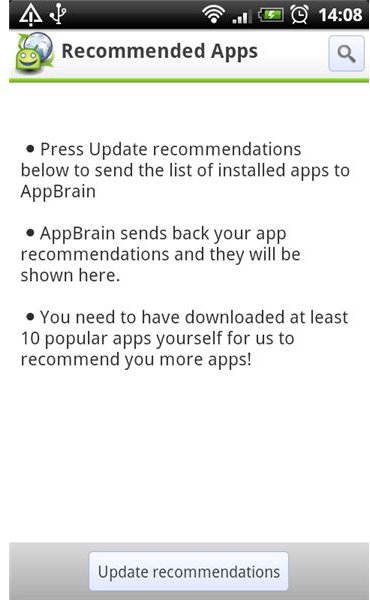 More an ecosystem, rather then just an Android app, Appbrain App Market is an easy way to install Android apps from any desktop browser. The system syncs with the available apps on the phone and lets you install new ones instantly with a click of a button. Browsing the Android Market has never been easier, and the experience is really completed with the Fastweb Installer, which allows for instant installation, bypassing the Android Market confirmation stage. Logging in is easy and can be done with your Google account. AppBrain is the way app installation should work on Android.

MyBackup Pro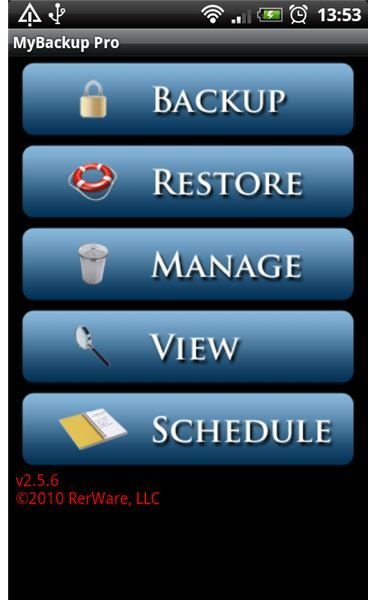 My Backup Pro is my backup solution of choice for Android. The application does exactly what it advertises and has helped me in a lot of situations already. As you can never predict what can happen, and Android phones are after all just little computers that can crash, My Backup Pro is essential as a survival app on Android. The app is capable of backing up applications and/or data, either on the local SD card or to their online servers. Backups can then be restored, managed and just viewed. Scheduling backups is also possible, making MyBackup Pro do all the necessary work for you. It can even be integrated with other applications, such as previously mentioned AK notepad. MyBackup Pro is also extremely handy when switching ROMs a lot for rooted handsets; making fiddling around with the Android system a more satisfying experience, knowing all applications and apps are backed up safely. All in all MyBackup is a worthy mention in this top ten of Android apps and definitely one I would not like to go without.

The Future of the Android Market
Making a personal top ten list of favorite Android phone applications is only indicative for the current state of the Android Market. As applications are being developed and released at a far quicker rate than ever before, new great apps are to be discovered constantly. This list can therefore quickly be outdated although I tried to fill the list with more long-lasting and therefore worthwhile Android phone applications. If these apps keep being updated as frequently as they are now with new and great features, this top ten will remain as it is for quite a while. It is a good time to be an Android owner!