Best Android Apps Released in 2010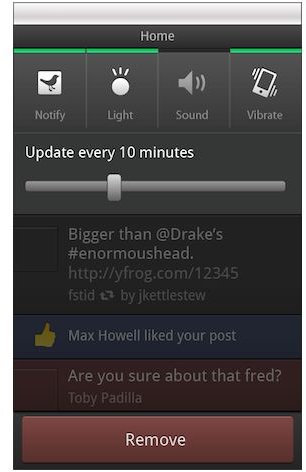 TweetDeck for Android
When TweetDeck announced that they were releasing the beta version of their Twitter app for Android, I made it a point to get the app running immediately on my Nexus One. I've enjoyed TweetDeck on my iPhone so was pretty sure that the Android version would be equally good. I was wrong, TweetDeck for Android is better than the iPhone version. TweetDeck for Android is one feature-rich Twitter app. Possible the most feature-rich among the Twitter apps currently available from the Android Market. The app supports Facebook, Google Buzz, FourSquare and of course Twitter accounts. What's so good about TweetDeck for Android is its interface. You can view all of your updates on these four social networking sites under a single column with color schemes distinguishing each one. You can also view updates from social sites in their own columns if you prefer. The app works fast despite being in beta stage and for that, we must commend TweetDeck as a wonderful app. In fact, it was one of our favorite Android apps.
Twitter for Android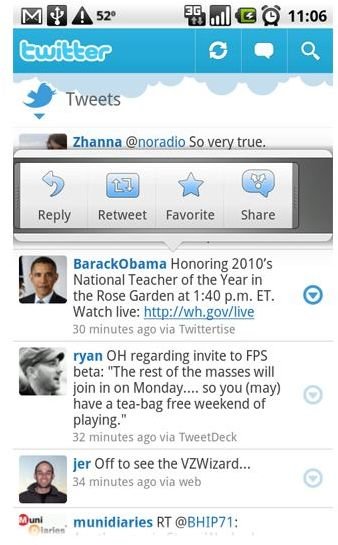 Not to be outdone by third-party Twitter apps, the Twitter folks decided to released their own, official Twitter app for Android. What can we say? Twitter succeeded in coming out with the best Twitter app for Android to date. If TweetDeck did not support other social networking sites, we would have declared it beaten up by the official Twitter app. What's good about the official Twitter app for Android is that it tries to give us almost the same interface as you get with the Twitter web-based app. When it comes to interface, using Twitter for Android is like using the official Twitter.com on your desktop browser - same blue-theme, all the same Twitter features and Twitter workflow. The app also lets you share links or photos, access your timeline, view a tweet location on a map and see your friend's latest tweets. The official Twitter app for Android made it into this previous article on the 50 Best Android Apps.
Kindle for Android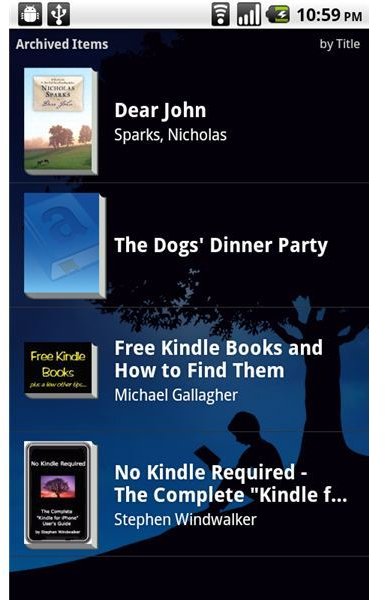 Looking for the best ereader app for Android, what else could it be but the Kindle for Android? I've tried all the other ereader apps for Android and so far, I found Kindle for Android to be the most stable, feature-rich, fun, and useful. What else could you possibly ask for in an ereader which also has the support of a major ebook distributor? The app lets you browse for new available ebooks, purchase these ebooks quickly, and offers seamless synchronization between the ebook you are reading on your computer and your Android phone.
Box.net for Android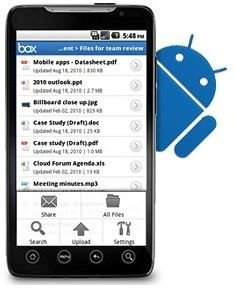 Box.net's Android app was released quite recently. Since the day I installed it on my Android phone I could safely say that it is one of the best file sharing and storage apps for Android. The app is fully optimized for the Android platform and lets you easily access and share all your business content faster than most file sharing apps for Android can do. It also has a search functionality with full-text capability. It also lets you upload any photos, documents or media from your Android phone directly to your Box.net account.
mSpot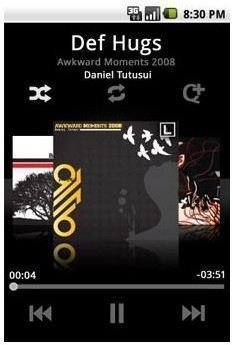 If Box.net is a great file cloud sharing app, mSpot does it equally well for music sharing/streaming in the cloud. Since its launch, mSpot has received quite a number of downloads, which as of today is probably nearing a million. Why is that so? Because mSpot to date is the only music cloud service app available in the Android Market. The app lets you upload up to 2GB of music for free and then access it through Wi-Fi on your Android phone. To use the device, you need to download the mSpot desktop uploader software on your computer. What's good about mSpot Android app is that it has a very simple interface that isn't too hard to use. If you're looking for a nice app to stream your music into the cloud, mSpot is no doubt the best choice. The only gripe you'll probably have about this app is the sound quality of streamed music, but it's to be expected since you are streaming music over-the-air. If you're using a radio app for Android, mSpot is an additional option for listening to music on your Android phone.
DoubleTwist Player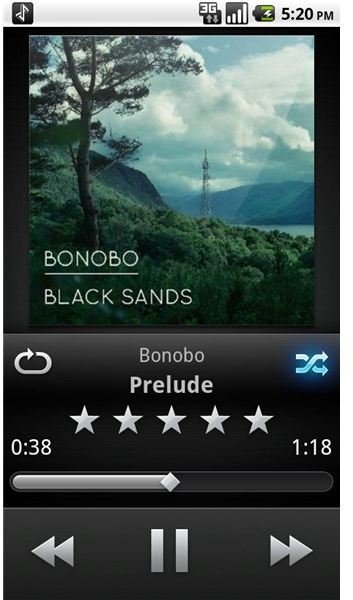 From a music streaming app to a music and media player. If you're looking for the best music player for Android other than the stock app, look no further than the DoubleTwist Player app for Android. Simply put, it is iTunes for Android. DoubleTwist uses a desktop application, yes, similar to iTunes. From there you can sync your music files from your computer to your Android phone. The app features a simple and yet very useful interface. However, the music files get stored on your Android phone's SD card so you must make sure that the Android phone that you are using supports this.
GetGlue for Android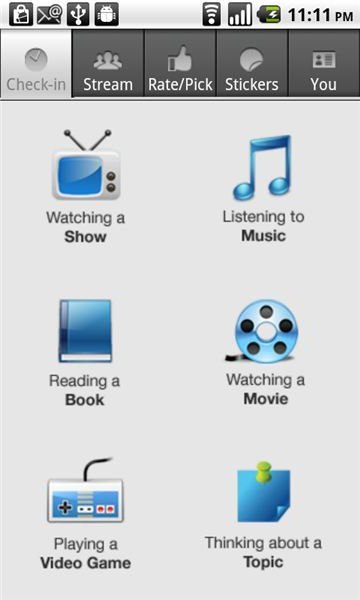 When GetGlue was released recently, I was amused by what this app can do - check-in when you watch a movie, read a book or listen to new music. Yes, it's definitely Foursquare for movies, books and music. But what impressed me most is the app's great-looking overall interface. This app lets you like and dislike movies you just watched, books you've finished reading and music you've just listened to. It's a great app to discover new things and make yourself try them out as well. Best of all, GetGlue is building up a community of members who can actually be your friends. So when somebody likes or dislikes something, you'll be assured that their opinion is pretty reliable.
Yahoo Messenger for Android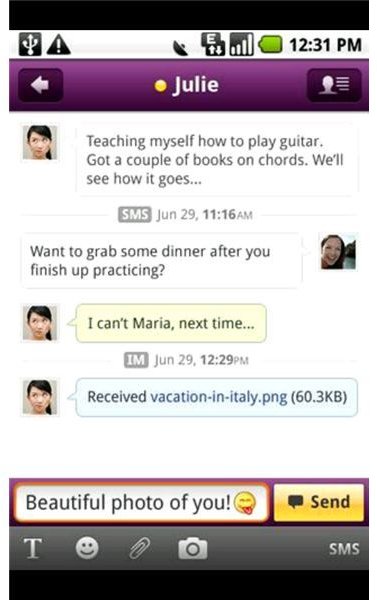 What else can we say? Yahoo Messenger for Android is another reliable IM client and more so is its Android app. This app lets you easily message friends, check friends' status updates and availability as well as update their personal status and availability. It supports multitasking - allowing you to use other apps on your Android phone while you are connected online. You can set up push notifications to alert you when you receive IMs and friend requests. Of course, what is YM without emoticons? This app definitely supports those emoticons. The app also lets you send photos, chat with MSN/Windows Live Messenger friends and send IM via SMS. Yahoo Messenger was our top choice on our list of Android apps.
IMDb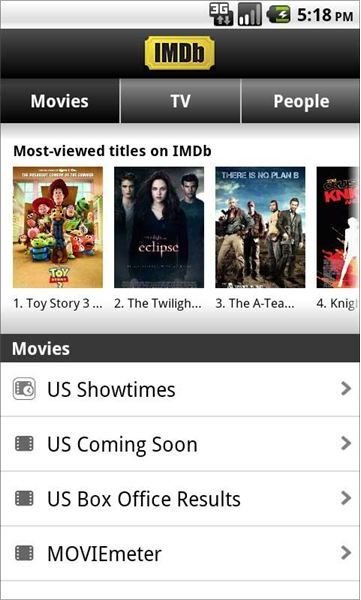 I've been visiting the IMDb site on the web from time to time to get my fix on information about the latest movies that have either been recently shown or will be shown in the future. For me, it's the ultimate online movie information site. So, I was glad when I found out about IMDb for Android. It's a pretty solid Android app - simple and yet useful. It allows you to look up local movie show times, TV listings, watch trailers, buy movies and share movie information. It also has a "like" and "dislike" function. If you're not an IMDb fan, you might want to check out the BlockBuster Android app instead.
Google Earth for Android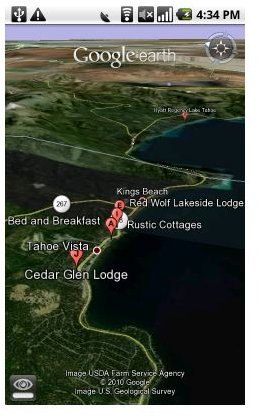 Google claims this app is their fastest mobile version of Google Earth to date, bragging of a smooth framerate that is pleasing to view on the high-res display of most Android phones. Actually, it was meant for Nexus One which was running Android 2.1 back then. But other Android phones which supported Android 2.1 have equally impressive feedback on Google Earth for Android. The app lets you browse photos, places, and local businesses whether in your local community or anywhere else. The app also allows you to customize how Google Earth will be displayed on your Android phone - indicating which layers will be displayed. In addition to all this, the app also now has a Roads layer, a feature which used to be popular in the desktop version of Google Earth.