The Pros and Cons of Amazon Appstore: Devs Beware!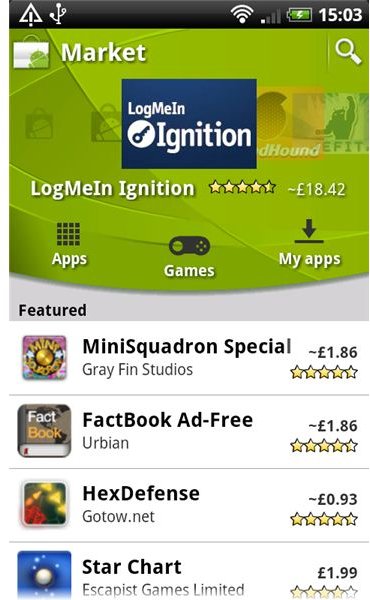 The Android Market was painfully rubbish for quite a while. It was difficult to search, it lacked a proper web presence so you couldn't really browse on your PC or laptop, and it looked pretty ugly. Google has gradually addressed the problems that have arisen. There is now a fully searchable web version and you can even queue up apps and games to download automatically to your phone. The interface is slightly more attractive and it is easy to use. They also prevent apps and games that aren't supported by your specific phone from showing up so you can't accidentally install something that won't work.
It is still far from perfect. It can be tough to find good apps among the heaps of rubbish, especially new apps. For developers it is very hard to get noticed. The quality control is still lacking so developers can pretty much publish whatever they like on the Android Market. If you do browse beyond the top ten lists then you will frequently find terrible apps that don't do much and do what they do badly. You'll also find app descriptions with appalling grammar and terrible spelling which doesn't really add to the impression of quality.
When Amazon announced that they were going to launch an Android app store it seemed like it would be a potential boost for the platform. Perhaps Amazon would get it right and offer something different from Google. It would also be another potential outlet for developers.
What's Good about the Amazon Appstore?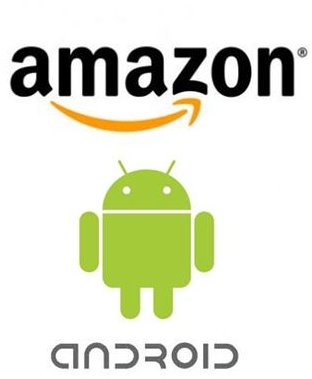 We'll take a look at the pros first but it won't take long. For consumers, there are a few attractive things about the Amazon Appstore. For a start you'll get paid apps and games for free when Amazon run promotions and you'll get frequently discounted apps and games. Amazon also has an approval process so that, in theory, poor quality apps are not listed.
If you are already an Amazon customer then you can use your existing account and, just like with other departments on the site, you'll get app recommendations based on the things you buy. You can also test apps in your browser before you buy.
For developers it's another place to sell their wares. They might get more attention and ultimately more sales.
What's Bad about the Amazon Appstore?
Once again we'll take a look at the consumer point of view first. The apps and games listed are displayed to every customer regardless of their smartphone. Unlike the Android Market, the Amazon Appstore will allow you to buy apps and games that won't work on your phone because it isn't supported. This leads to unfairly poor ratings for developers from disgruntled customers who unwittingly downloaded an app that their phone doesn't support.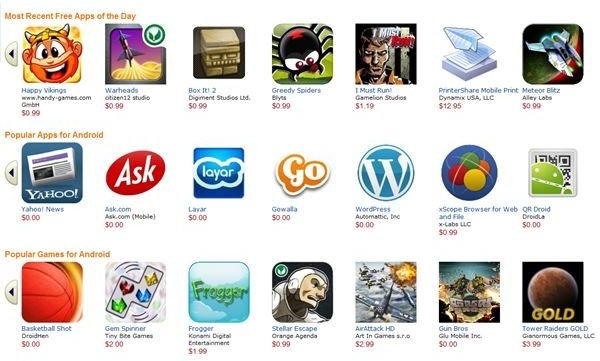 If you want to use the Amazon Appstore you have to install the app and if you don't have an Amazon account you'll need to set one up and give your credit card information. The process for installing apps involves more clicks from the user than the Android Market does and some apps have DRM so you have to have the Appstore app installed and you have to be signed in to use your app.
The Amazon Appstore is not available for all Android handsets carried by AT&T and worse it is only available to U.S. customers. Irritatingly there is no warning about this when you install the app so you can complete the whole process, as I did in the UK, only to try to download an app and discover that you aren't allowed to.
The situation for developers is even worse. It costs $99 per year to sign up (this is currently waived for your first year). You can set your own price, but Amazon reserve the right to set whatever price they like. For every app that you sell Amazon will pay you either 20% of the developer's price that you set or 70% of the sale price, whichever is greater. This allows them to run promotions and bundle deals, but it could seriously eat into your profit and they can change the price without asking you. They can also rewrite your app description and their approval process is slow. This also has an impact on updates for apps and games.
The "Free App of the Day" promotion is a nightmare for developers. Amazon will contact a developer and ask them if they want to participate, but developers should consider this very careful before they agree. Amazon basically gives your app away for free for a day and pays you absolutely nothing. They argue that this gets your app prominent placement in the store and will lead to increased sales, but several developers who participated have a different tale to tell.
This blog post from developer Shifty Jelly shows exactly how this can go wrong for developers. Amazon gave away over 100,000 copies of their app and they got a minimal bump in sales. This bad experience with Amazon isn't an isolated case either, check out this post from Bithack.
More Fragmentation for the Platform
The other problem with the Amazon Appstore is that it further fragments the user experience on Android. With the Apple App Store as the central destination for anyone wanting an iPhone app, the quality and distribution is controlled and many developers are making good money. It's also very straightforward for the end user (unless they get into jailbreaking and Cydia). On Android there are actually multiple app stores out there, it's just that the Amazon Appstore is the first really big brand alternative.
Having to register various accounts and search through multiple stores to find apps and games is messy and far less straightforward for end users. The fact that Amazon is having problems filtering apps properly for different devices also means that the platform fragmentation with different versions of the OS and different specs of smartphone is rearing its ugly head again. People don't want to download apps only to find that they don't work and they then have to seek a refund.
Don't be Tempted by Amazon
There are obvious reasons that people might be tempted to use the Amazon Appstore and the big one is free apps. The thing is Amazon is basically taking advantage of developers in order to suck in an audience. For this kind of promotion to actually work for developers and lead to increased sales the app should be free for a day but only for that day. What I mean by that is if you download the app for free it is free for that day only and then if you want to continue to use it you have to stump up the cash. Currently if you download the app during the promotion you have it for free forever. This means that everyone who wants your app could download it on the promotion day and that could kill your future sales. As for the increased promotion in the days after, how many people want to pay for something that was just being offered for free? There's no guarantee that you'll get anything from it but Amazon certainly will.
As a consumer you might not care about this but you should because the only way that Android is going to attract more developers and get more quality apps and games on the platform is if developers can expect a fair return for their efforts. Of course it is the developer's choice to participate and there must be some developers out there who have had positive experiences with Amazon Appstore.
If you've used the Amazon Appstore as a consumer or as a developer please post a comment and let us know about your experiences. Do you disagree with my assessment? Do you think it is positive for the platform? Let us know what you think and why.
References