Which is the Best Thesaurus App for Android?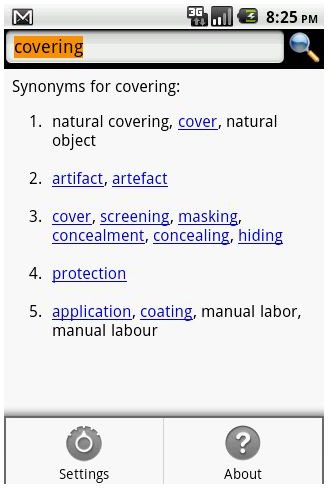 A thesaurus contains synonyms and antonyms and shouldn't be confused with a dictionary, which usually contains pronunciations and definitions. If we turn the pages of history, we will find that the first thesaurus was written by Philo of Byblos. In India, a thesaurus is called Amarakosh in Sanskrit and was first compiled in the 4th century. The modern thesaurus can be traced back to the 19th century. Called Roget's Thesaurus, this collection of synonyms and antonyms was written by Peter Roget and published in 1852.
Students, writers and researchers find word lists very helpful. For the Android platform, there are some great thesaurus tools that can be of immense use to elementary and high school students. These apps are absolutely free and allow users to search for synonyms and antonyms offline or online.
Thesaurus
This online thesaurus app for Android can be your handy reference guide to look for multiple synonyms for a given word. Just enter the word in the search box and get a list of words that have the same meaning. Each synonym provides a link to a broader meaning. This simple tool also supports 8 different languages, including Italian, German, Greek and French. To change the language, go to the settings menu and select the language of your choice.
This online thesaurus can be of immense help to students who usually look for a clutter-free, application that's easy to use and has a plain interface. Thesaurus is completely free and is not ad-supported.
Advanced English and Thesaurus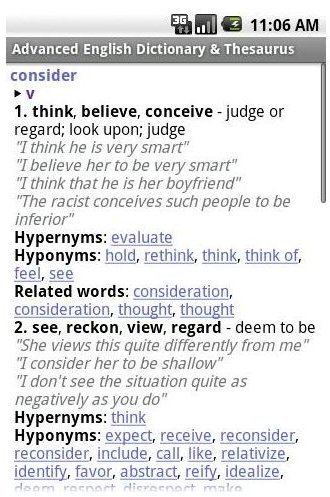 Powered by WordNet, Advanced English and Thesaurus boasts 140,000 entries and more than 1 million words. The lexical database provides a convenient way to search for cognitive synonyms, antonyms as well as hyponyms. The non-standard dictionary approach will appeal to students who want a streamlined approach in presenting definitions, synonyms, and opposites. The app's dynamic search capability provides results as you type a word in the search box. The application also has a filter mode that corrects any spelling errors in the entered words.
Advanced English and Thesaurus is known for its precise definitions, synonyms and antonyms and is widely popular among students. The application also allows users to set it as a widget on the Android home screen. Its quick search feature facilitates ease in finding an accurate meaning and synonym for any given word. With a comprehensive, up-to-date database developed by the Cognitive Science Laboratory at Princeton University, the application is a perfect dictionary and thesaurus tool for both elementary and high school students.
Thesaurus Free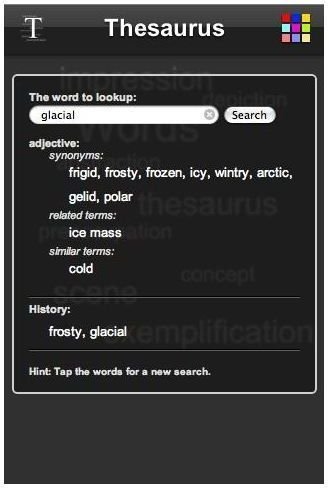 This ad-free thesaurus app for Android facilitates quick search for synonyms and antonyms of a given word. All you have to do is open the application, type in the word and get multiple synonyms and opposites. The application also provides separate "related terms" and "similar terms" sections to broaden the search result and provide more options for the user to get additional definitions. The user can tap the word(s) in the similar terms section and get a new search table for that word.
While the app is a good offline reference tool, its database cannot be compared with the large database of the Advanced English and Thesaurus application. Being a free Android application, Thesaurus Free is worth a try and won't disappoint you.
ColorDict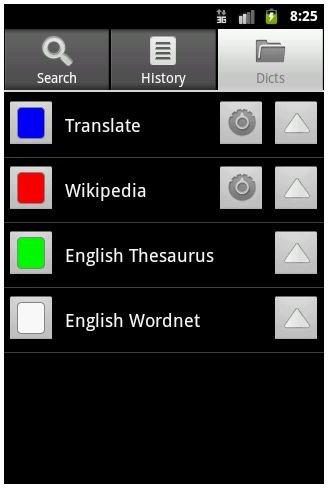 ColorDict is by far one of the best Android dictionary and thesaurus apps for students. The app was featured in Bright Hub's Top 10 Android Apps for Students for its simple, clutter-free interface and all-inclusiveness. This free application not only features a comprehensive WordNet powered dictionary and thesaurus, but also a separate entry for Wikipedia and Google translate. It allows you to search for words from its offline and online dictionaries. The app also lets you download dictionaries from the Internet for free. Like other Android thesaurus apps, this application has a quick search box that lets you search for words that have the same meaning, as well as opposites.
With ColorDict, you can share the results with your friends by long-tapping and save your search history onto the memory card for future use. It also features voice recognition and text-to-speech, although these features may not be useful to a user who is looking for a thesaurus-only app. The thesaurus tab is all that they will be interested in. All in all, ColorDict is a useful app for those who want something more than a plain thesaurus.
An accurate thesaurus should provide plenty of words for the given search term. Of these free thesaurus apps, I found the first application quite helpful in finding multiple synonyms and it has a very intuitive user interface. What's your favorite app? Do share your opinion with us.
References