Best Android Engineering Apps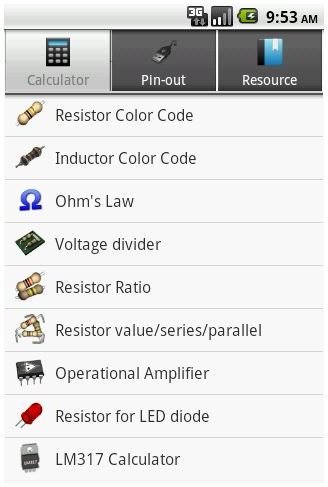 Android Engineering Apps
Engineers will love this selection of Android engineering apps. These apps can provide a quick and accurate reference on a number of engineering tasks on the go. Engineers can perform highly technical calculations, get the latest news on science and technology, view device specifications, read statistical tables, find jobs and much more. This round up is absolutely terrific, download as many apps as you like with the download links provided.
ElectroDroid
This amazing app has an extensive list of electronic tools and is also a powerful reference guide for properties, laws, symbols, codes and much more. Included is information on resistor color code, SMD resistor code, inductor color code and much more. Also ElectroDroid has a Ohm's Law calculator, reactance calculator, voltage divider, resistor ratio, capacitor charge calculation, operational amplifier, LED resistor calculator, LM317 calculator, heat dissipation, battery life calculator, inductor design tool, voltage drop calculator and much more.
This is a comprehensive Google Android engineering app with only minor glitches, however you can appreciate its correctness and simplicity with referencing data.
EngineersCalc Calculator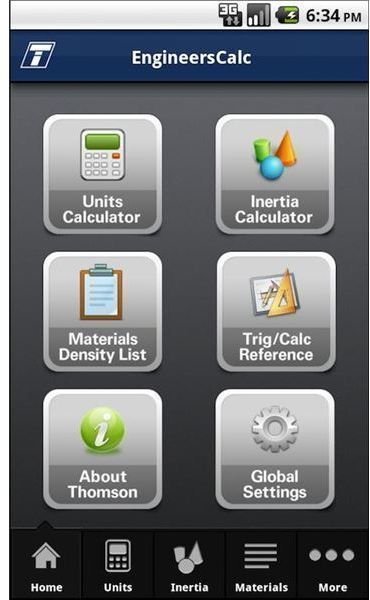 EngineersCalc is a scientific calculator application for Android that can quickly decipher complex calculations for which a wide range of engineers and scholars in the field will find useful. This app features four intelligent engineering calculators that can efficiently perform calculations for unit conversions, trig & calculus functions, inertia calculations and much more. Additionally, there is a material density reference list, unit guide, and measurement analysis, for which engineers can translate formulas and arrive at solutions for technical equations and other problems. Also, calculative data can be logged and shared through email and SMS messages.
Engineering Basics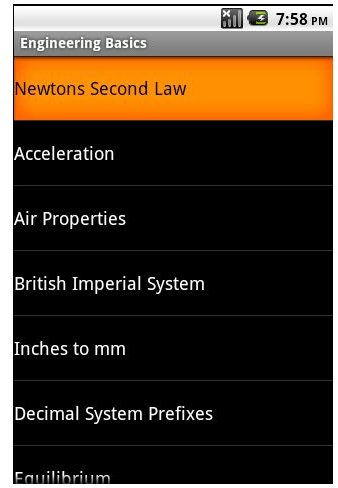 This app has a number of predetermined equations, tables, conversions and reference notes to keep engineers efficient and effective on the job. Some of these include: air properties - volume, surface, density, pressure and temperature equations and tables; flow units, length, volume, velocity converter tables; periodic table; acceleration, gravity, weight and mass equations and tables; ounces and pounds tables; moments of inertia for different objects; logarithms, exponents, radians & trigonometric functions and real numbers Algebra.
This is a very helpful Android engineering app - information is expansive, accurate and very reliable.
Engineer-Jobs.com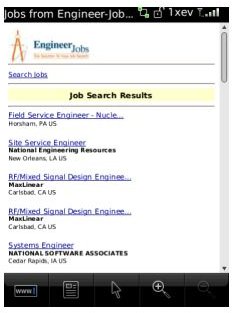 This app directs you to the Engineer-Jobs.com website, where you can search and view a number of engineering job listings in various locations. Its purpose is to provide quick access to new and current potential engineering opportunities. The Engineer-Jobs.com app allows you to search for thousands of engineering jobs by location, keyword, and company. You can review detailed job descriptions, share jobs through email and initiate the job application process right from your Android OS. This is a basic Android search app for prospective engineers looking for respective careers under specific conditions, and also for those who simply want to browse around the engineering job market.
PhysOrg.com Science News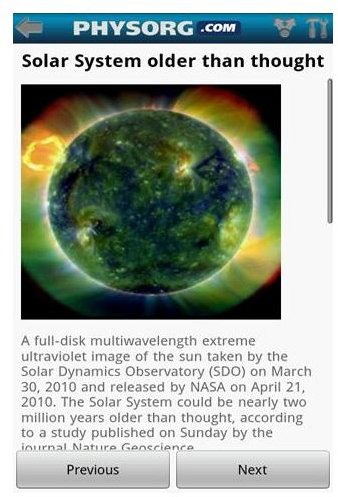 This is a great Android engineering app, ideal for engineers wanting to keep current with engineering news, breakthrough technology and spotlights on Science. The PhysOrg.com Science News app covers stories in the fields of Physics, Medicine, Nanotechnology, Electronics, Space & Earth Sciences, Biology, Chemistry, Computer Sciences, Engineering, Mathematics and much more. This app is highly informative – news updates are fresh, relevant and very extensive.
Engineering Libraries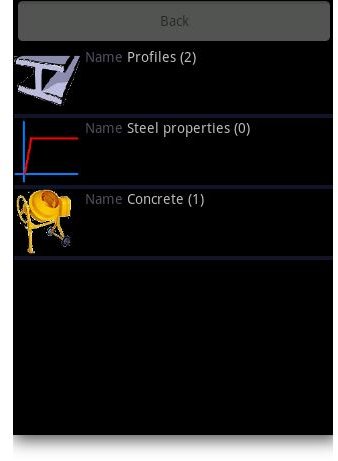 The Engineering Libraries app for the Android OS have a wide range of engineering information for a variety of engineers including Civil Engineers, Structural Engineers, Construction Engineers and many more. It focuses on certain material specifications such as steel, concrete and soil and their profiles. It has EU, US & CA metric and imperial conversion systems, for easy assessments and referencing. Although this app seems to be very useful there is much room for improvement, after all the name suggests that it is an engineering library.
More Engineering Apps
Here are a few more Android engineering apps, most of which are designed for specific areas of engineering, but that overall have something to offer various engineers.
Concrete Design – [Download Link]
Beam Design – [Download Link]
Weld Design – [Download Link]
Construction Helper – [Download Link]
OHMdroid – [Download Link]
Engineered Channel Capacity – [Download Link]
Beam Deflection [Download Link]
DAKO Pro – [Download Link]
Reference
Android Market – https://www.market.android.com
Image Credit – Screenshots provided by the respective developer.