Photobucket App for Android - Easy Online Photo Sharing for Your Smartphone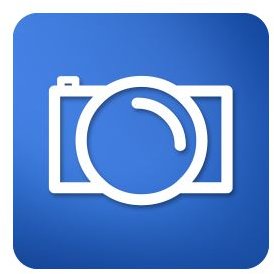 Photobucket is an online photo and video sharing website that has been around for many years. It's an excellent place to store photos that you wish to share with others, and makes a great location to place pictures that you plan to use on message board forums that don't allow photo uploading. The site also makes a great online location to store photos and videos that you can access from any web-enabled device.
If you have a account and own an Android phone, you should check out the free Photobucket app. Android users can do everything with the online service that computer users can do with their PC. You can upload or delete photos, create albums to organize photos, or even share them. The app is completely free and all you need is to have a Photobucket account, which is also free.
Uploading is Easy (5 out of 5)
In the options on this app, Android users can upload their entire photo gallery or videos at once. You can also set it up to automatically upload every new photo or video after it is taken. When I saw this, what immediately popped into my mind was that if someone were to steal your phone and start taking pictures with it, those photos would automatically upload without the thief ever realizing it. It's also a nice feature for people who share the pictures from their accounts and don't want to have to stop and upload every new photo they take, like if they were on vacation. The app displays a notification in the upper left corner of the screen after each successful upload. Just be careful what kind of photos you take if you keep this option enabled, because there is great potential for embarrassment there. If you are in college and ever plan on attending a party, you definitely want to turn the auto-upload option off.
Media Organization (4 out of 5)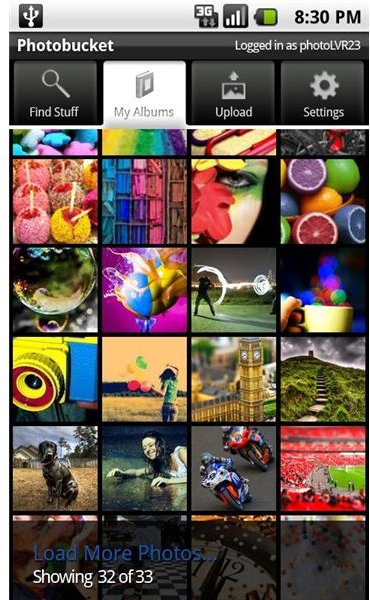 At the top of the app screen is a button that says My Albums and this is where you'll find your photos. By default, the only photos it shows are the ones not specifically assigned to any album. In order to view your albums, you have to hit the Menu button on the phone, then select Albums from the pop-up menu and then it'll show them. I wish it would show the folders right on the main My Albums screen instead of making me go through two different menus to get to them.
Other than making me dig for my albums, I found this app to perform very quickly. Photos display in a few seconds on my Samsung Galaxy S, and then I hit the menu button and can send it to an album. I went through a bunch of my photos and was able to quickly organize them into named albums. You can also download photos from your online account to your Android phone, and that's a great feature for longtime users who just recently got a new phone and want to be able to quickly and easy reload their favorite pictures.
Photo Sharing (5 out of 5)
One of the main reasons for maintaining a Photobucket account is so you can have easy access to your photos for sharing with others. In the current version of the app, Android users can share their online photos via Facebook or Twitter, provided that they have accounts with these social networks. You can also use the Android's built-in file sharing software for sending the photos via e-mail, SMS, and so on. Basically, you can do the same thing with locally stored photos as you can with photos on your account.
Uploading them is as easy as selecting the photos you want with a single tap of the screen, then tapping the menu button and selecting a destination. It will show you upload progress and send a notification when each one is complete. Since it saves your login info, you don't have to worry about entering passwords for every site. This is great for those people who utilize multiple social media sites and want to update them all at once with new pictures.
Overall (5 out of 5)
Despite the extra navigation needed to view individual photo albums, I thought the Photobucket Android app was excellent. It's free and very easy to use, plus it integrates very well with other services like Facebook.
To download Photobucket for Android, just search for it in the Android market or grab it via the link [Download Link].
References