Android Music Players: The Best Music Players with Equalizers on Android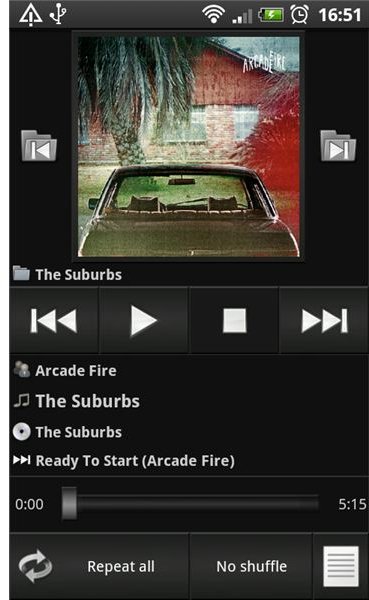 Android Music Players With An Equalizer
There are plenty of music players available in the Android Market. Most of these present valid alternatives to the generally poor default Android offering. One of the most demanded features, however, is absent in most of these music players; namely an equalizer. Lately there have been quite a few new music players on Android that do offer this feature. Let's see what the best music players with an equalizer are on the Android platform.
Mortplayer
Mortplayer is a music player that is rated fairly high in the Android Market. The music player works through folder navigation and doesn't index your music in a library. This is handy for people that desperately want to exclude system sounds from their library as users can select which folder to use in the player. Mortplayer for Android does everything you'd come to expect from an Android music player and is definitely better than the default offering.
The EQ support is fairly limited and only available for Android 2.3 devices. As most devices aren't upgraded to this version Mortplayer is only semi-eligible in this part. However, as the Windows Mobile version did have an equalizer it wouldn't come as a surprise if the support was extended to Android versions earlier than 2.3. Mortplayer is a good music player, although a bit confusing for people that like a library style of browsing. Mortplayer is free in the Android Market.

MixZing Media Player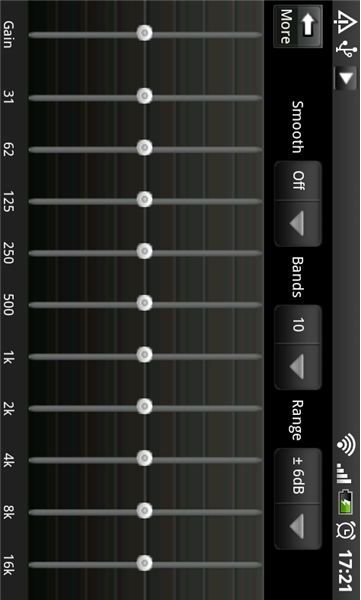 MixZing is notorious for introducing novelties for Android music enthusiasts. Not only was it one of the first to offer an alternative music player altogether, it was also the first to introduce an equalizer to the platform. MixZings' implementation of this EQ is impressive, as there are 3-,5- and 10-band versions available. The equalizer works well and is capable of truly enhancing your music experience. However, it will drain your battery faster and use a lot of system resources.
MixZing itself is a clean music player that has everything you need in a good mobile music player. It does support a library structure on the contrary to Mortplayer. Its feature-set is nothing too impressive but as the first player with an EQ it does have a somewhat unique selling point. MixZing is free in the Android Market.

PowerAmp Music Player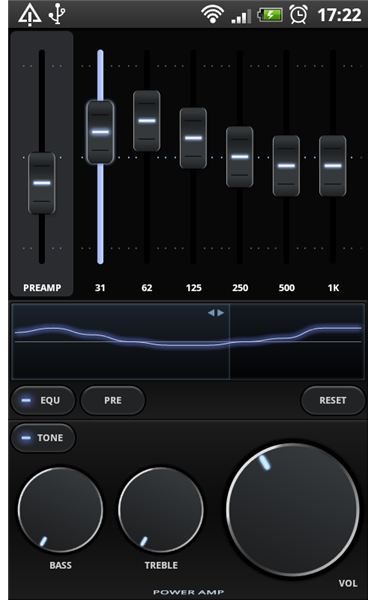 PowerAmp Music Player is perhaps the most popular alternative music player in the Android Market at this moment. There is a good reason for this popularity as it is indeed an outstanding music player on the mobile platform. PowerAmp combines a lot of ingredients and presents everything in a neat package. The player supports both a folder and library approach, which will suit any user. The interface is beautiful, with a fluorescent blue over black approach. The player has a massive amount of features that range from music scrobbling to Last.fm to a lock screen widget. More importantly it has an excellent equalizer built-in.
The equalizer in PowerAmp is a 10-band version and easy to navigate and nicely visualized. The player supports a variety of presets, but users can also just adjust bass and treble without touching the EQ at all through a 'tone' menu. The EQ works great and doesn't use as many resources as MixZing. All in all, PowerAmp is indeed amongst the finest of alternative music players on Android and as a relatively new player can only improve in the future. PowerAmp for Android is free in the Android Market, although only for 15 days.

Astro Player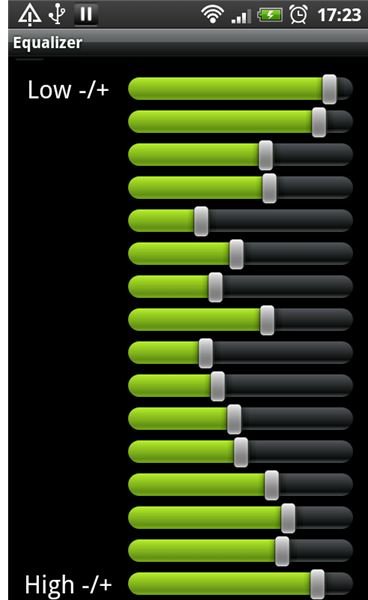 Astro Player is a relatively unknown music player in the Android Market, but does include equalizer support. Contrary to what the name suggests Astro Player is not related in any way to Astro File Manager.
The reason the player is not a favorite is quite obvious after using the application for a while. Although the app is full of good intentions, it does not come close to an app like PowerAmp. Although Astro Player will do what it promises, the whole app is rather confusing. Browsing for music is basically done through the default music browser, as the app doesn't have its own implementation. You can also only select an album to play and not individual songs, which is a bit odd. Astro Player does indeed include an EQ, but it is a fairly poor offering. Although the user can customize it quite a bit, there are only 'bass' and 'treble' indicators and no real frequencies, which will not please the more experienced EQ users. Astro Player is a music player with potential but needs a lot of work to really be good. Luckily it is free in the Market.

DSPManager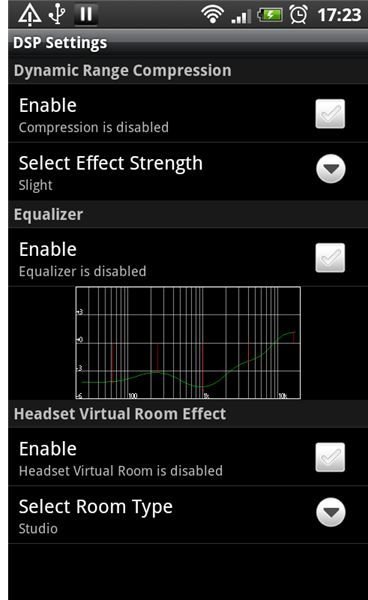 DSPManager is a bit of a 'cheat' in this round up of Android music players with an equalizer. DSPManager is not a music player at all, but rather an application that lets a user configure its music settings. The app is an extension to a framework update for rooted Android 2.2 handsets that adjusts audio settings in your phone. The application has a few settings that make it interesting.
DSPManager is able to adjust settings for 'Headset', 'Phone Speaker' and 'Bluetooth Device'. Essentially it adds an equalizer to any of these options, which makes it irrelevant which music player is used. Although only a 5-band EQ, the DSP solution is a revelation for anyone that is desperate for a system equalizer on Android without having to use any of the above-mentioned applications. As such DSPManager is essentially an audio upgrade of your Android phone. DSPManager is available through this link.
The Best Android Music Player with an Equalizer
It is not difficult to point out the best Android music player with an equalizer. Not only is PowerAmp the best with an EQ, it surely is one of the best music players on Android overall. The application has everything a good music player needs, and combined with a very good implementation of the EQ the player is ready to be the best. For everyone that uses a player without an equalizer on Android but would still like to make adjustments DSPManager is the only option. Although only available through rooted and modified Android firmware, the audio solution makes your Android phone a true music machine. One thing is for sure, music enthusiasts don't have to despair anymore on the Android platform!
Note to readers: If you come across any other good music player with an EQ that was not mentioned here, feel free to post about it in the comments section and I will see if it can be added or replace any of the apps here!
References