Your Guide to Mobile Phone Insurance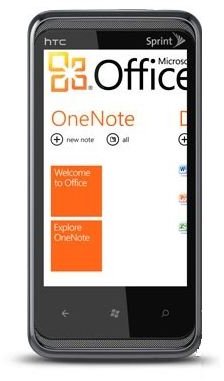 Whether you have spent $30 on your mobile or $600, the possibility always exists that the device will be lost or stolen. Ten years ago that might not have mattered too much – phones were of importance, of course, but existed more as a convenience than as a mobile data store. Losing a phone didn't mean losing personal and private data – it just meant that your phone numbers and SIM card were missing along with your expensive purchase.
Now, however, things are different, which is why mobile phone insurance is a good idea. There are many insurers of mobile devices in the market, either operating alone or alongside cell phone carriers or even offering insurance as a satellite service to some other hardware or purchase that you have made. While insurance remains a good idea, finding the best insurer is a tricky job. To begin with, you need to define what makes one insurer better than the others.
Do I Need Mobile Phone Insurance?
This is a question to which you really need to find an answer before you start spending money on insurers.
While having insurance for anything sounds safe and is intended to give you peace of mind you should remember that it is also an additional expense, one which you may not be able to afford. You should also consider that you may already be covered for your mobile phone in another policy (such as household insurance or car insurance) which would make paying twice for this type of cover a waste of money.
As well as checking your other policies, you should also have a think about your mobile phone and how you use it. For instance, if it is an expensive smartphone with plenty of information stored on it, the chances are you don't want to lose it, so an insurance policy will probably prove useful. Of course, you might not use that particular phone outdoors, in which case insuring it may not be worth the time or money.
On the other hand, the owner of a cheaper feature phone with a lively social life might opt to pay for insurance in order to stay connected in the event of their phone being lost or stolen.
Rating a Mobile Phone Insurer
When choosing a company to insure your mobile phone, you need to make sure that you are going to get the best deal, and in order to do this you will need to find out all that you can about the companies concerned and the prices they offer.
Insurers are in the business of not paying out unless the exact terms of the insurance are met. This might mean paying a portion of the insurance payout yourself, or some other nominal charge which you will need to agree to when signing up. With so many variables to consider, you need to make sure that you are finding the best insurer and one that isn't going to mess you around and keep you hanging on when all you really want to do is find a replacement mobile phone.
Once you have found out all you need to know about the insurers, it is time to start shopping for prices!
Top Cell Phone Insurance Offers in the USA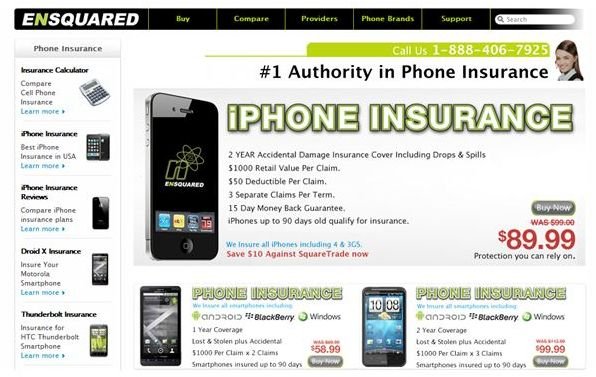 Several companies offer mobile phone insurance in the USA, and if you're looking for a deal you should begin by checking with the cell phone networks such as Verizon, AT&T, US Cellular and all of the obvious choices.
If you would prefer to shop elsewhere, however, there are a couple of useful mobile phone insurers in the shape of Ensquared and ToughCell.
Ensquared – offer a massive selection of insurance for different types of gadget, Ensquared focus on mobile phones and have a particularly enticing offer on for iPhone insurance at present, with devices up to 90 days old insured for two years for just $89.99. Other offers are also available depending on your smartphone type. Visit www.ensquared.com for more up-to-date deals.
ToughCell – this company doesn't list any specific offers on their website, instead offering insurance from $4 a month based on the device concerned. You can visit www.toughcell.com to find out more about their insurance.
Risks of Cell Phone Insurance
As with any type of insurance, finding the insurer is the easy part. When it comes to claiming on the policy, you will probably start experiencing problems, usually disappointment.
While the sales people that signed you up to the insurance service will probably have left you with a lasting good impression of the mobile phone insurance company, the claims department will probably – through no fault of their own – give you a close look at the other side of the coin.
The fact is, insurance is a business, and as such the insurers don't want to part with any money. The result of this is that you could end up paying an unnecessarily high deductible rate (something that might even be the price of your phone in some cases) while the replacement phone you receive isn't guaranteed to be a new device.
If you're seriously considering insuring your mobile phone then you should spend time reading the terms of the policy, checking the small print and making a decision on whether or not the monthly outlay is worth it.
After all, many smartphones are only viable for use for a couple of years before the devices become dated by a new generation of phones. As long as you are able to regularly back up any contacts and other important data from the device, you might find that you don't really need to insure your mobile!
References