Death Calculator BlackBerry App Review: Is It Worth Your Money?
Time to Die?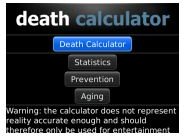 Death Calculator is a BlackBerry app for those who are really interested in knowing when they are going to die. Have you ever thought about your death? Have you ever faced a situation where you felt that you were going to die? Then you might be interested in knowing when you are going to die. Do you think that Death Calculator will give you the exact date that you are going to die? Let's see what it has to offer.
Know Your Death with Death Calculator
Once you install the Death Calculator application on your BlackBerry smartphone and open it, it will ask a list of questions about various aspects of your life. These questions include your age, interests, and several other aspects to determine what kind of lifestyle you have. Then the application uses its statistics to calculate what year, day, month, hour and minute you will die. For these calculations they use a mathematical formula that they have implemented. Isn't it funny to know when we are going to die?
Benefits of Death Calculator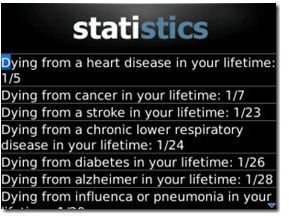 Death Calculator can be really useful when you use it for other purposes. Scaring you is not the only thing this curious application can do. It includes a list of death statistics that can be really useful. You can learn about the most common ways people die. Not only that, you can also learn what changes might prevent those deaths. Will Death Calculator make you think negatively about your life? Not at all! That's why it includes a list of information to prevent your possible death in the future. These prevention methods might be helpful, not only to prevent your death, but also to avoid possible disturbances. It will give you another list with tricks to find out how fast you are aging.
Where Can I Buy It?
You can buy Death Calculator for your BlackBerry at BlackBerry App World. The price is fairly reasonable and you can buy it for just $1.99. They might have thought that no one would be willing to pay to know their date of death. Some have complained that once they entered the registration code it says it is invalid. So you had better make sure that you get the correct code and enter it accurately to start using Death Calculator. Anyway this is not a must have application but it is a good application to buy at that price.
Death Calculator- Is it Worth Your Money?
So it is worth your money to spend $1.99 to know when you are going to die? The answer is no, and of course the date is a rough estimate. What about the piece of information they give you to prevent your death? Isn't it worth more than couple of dollars? Who knows, it might really prevent your death and add some more days or years to your life if you take it seriously.
The Death Calculator is really just an entertainment application for your BlackBerry smartphone! It is not smart enough to say when you are really going to die. But it may give you some good hints about living a longer life. So buying the Death Calculator BlackBerry app for a couple of bucks might be a worthy decision to make.
Related Links
This post is part of the series: Death Calculator
Death Calculator is a type of death clock that predicts when you are going to die. If you are really interested in knowing it read these articles for more.