A Look at the BlackBerry Superstore Vs. BlackBerry App World
Knowing where the best sources are to search for and download apps, and other software, plus obtain product information, is crucial for some of us. So let's compare two of the best sources to get this done, the BlackBerry Superstore and BlackBerry App World, and see which is the best. Discover what these two stores have to offer based on their user interface, design, product availability, searching process and much more.
The PC Experience - Interface & Design (2 out of 5)
The MobiHand Superstore may have a bunch of applications to offer but the overall design and

interface on the PC is poorly structured. Its disappointing concept is perhaps only noticeable by comparison to its biggest competitor – the BlackBerry App Store, which has a much better appeal in more ways than one. On the home page, for example, the availability of apps at the MobiHand Superstore is well organized into select categories and such but that's just about it.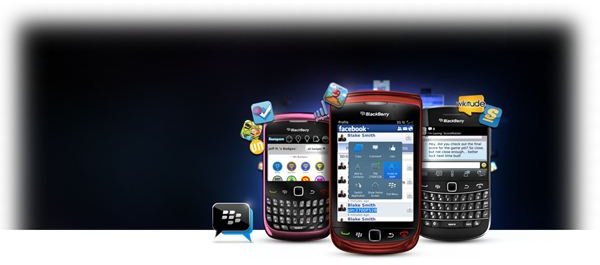 The BlackBerry App Store adds a bit of creativity to showcase each category, displays products and apps through implementing intelligent slides and has an expansive arrangement of thumbnail icons. It makes you want to click on something and explore what they have to offer. You definitely don't get that feeling when you visit the MobiHand Superstore – there are no gimmicks, no teasers nothing. A basic interface lacking much needed perks really lets it down and is highly inappropriate considering the nature of its purpose.
The Smartphone Experience (3 out of 5)
On your smartphone, however, the MobiHand Superstore has a much better design and with more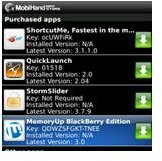 functions, looks like a pretty smart app. Browsing and manipulation is a simple process similar to the BlackBerry App World. There are well-organized categories with extensive options to find exactly what you're looking for and to easily navigate around. The Superstore appears to take a longer time to load content than the BB app store and due to the way it is designed, seem to take longer when scanning through various sections.
The BlackBerry App World on the other hand, implements creative slides to quickly pan through featured apps in no time, plus the placement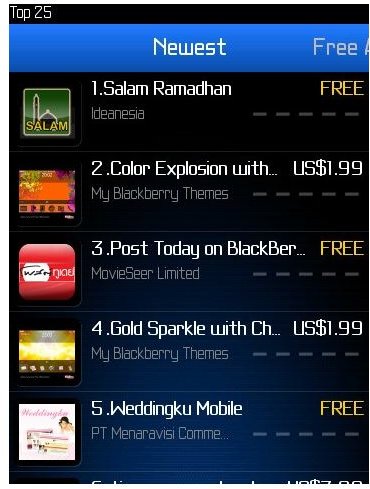 of apps and overall display have a more alluring appeal. With simple attention to details such as a shaded backdrop, borders and better positioning of icons, the BB App World application gives users a better user experience.
In all both app stores provide users with the details they need, i.e. the name or type of products they are searching for, the developer's name, screenshots, star rating, user reviews, price, app description, download link, and links to recommend or rate.
Compatibility (3 out of 5)
The great thing you can look forward to when installing the MobiHand Superstore app is that it caters to a long list of users. To improve browsing through their catalogue, the superstore requests your device model and permission to install in order to provide apps that are unique or compatible with your phone. Key the MobiHand Superstore at mobihand.com in the web browser on the phone, click 'install the native store' and proceed with downloading. This process is similar to installing the BlackBerry App World – browse to mobile.blackberry.com and continue to 'visit BlackBerry App World' and download.
Unlike the BlackBerry App World, which only caters to BlackBerry users, the MobiHand Superstore has a wider compatibility range. Applications and software are available and can be downloaded for users owning a BlackBerry, Android, Symbian, Pocket PC, Windows Mobile or Palm OS.
Product & App Availability (3 out of 5)
Users will find the name MobiHand 'Superstore' actually stands for something. Not only can you browse through to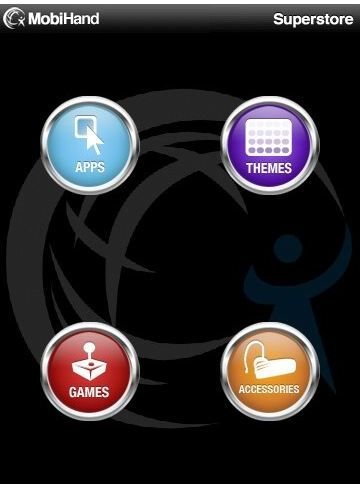 find useful software and applications inclusive of some games and themes, similar to those on the BlackBerry App World, but also you will find an exclusive selection of phone accessories, which you can view and purchase right away.
With the MobiHand BlackBerry Superstore app on your phone, you will see on the home screen four main categories that you can access – apps, themes, games and accessories. Once you enter any of the four you will find a bunch of readily available functions so you can benefit from the deal of the day and top 50 apps or products as well as the categories offered, an option to search your own apps/products and view your current downloads. Even when you press further on into browsing the Superstore, you will see more helpful options to speed up and narrow your search to view the top paid, top free and top grossing apps and products.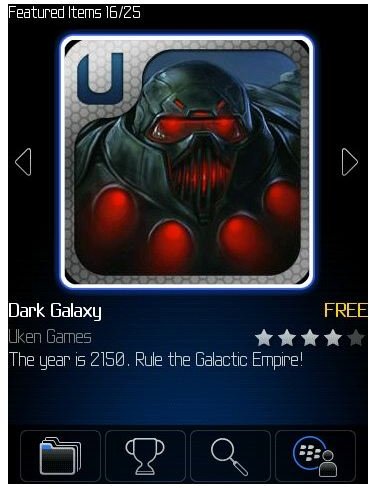 The BlackBerry App World does stand strong with its availability of apps, especially since it has much more to offer, plus there are extensive options to view, search and buy as you please. When you visit the web store online, in addition to viewing products and software you can view the specs on a BlackBerry Tablet or smartphone of your choice and get directly connected to a carrier and purchase. This feature, however, is not available on the smartphone application, you can only search, view, purchase and download apps to your device.
Nevertheless, it is easy to browse and install apps, comparable to the Superstore's smartphone application but has a larger range of apps, plus a nicer look and better display. The BB app store has just as many features and perks as the MobiHand superstore app with minor differences, but falls short solely on the fact that there is an absence of phone accessories offered.
Who is The Winner?
There isn't really a winner here – it ultimately depends on what you are looking for. If apps are your priority and having an easy to use interface is important then BlackBerry App World is calling your name. With the MobiHand Superstore, however, it would seem smart and quite handy to compromise for a few of those benefits to have the convenience of a select list of accessories right at your fingertips.
Don't stress it too much, BlackBerry users have nothing to lose by installing both applications, they are free of cost and it takes little effort to install them. What are you waiting for – get at it!
References