Roundup of the Top BlackBerry Compass Apps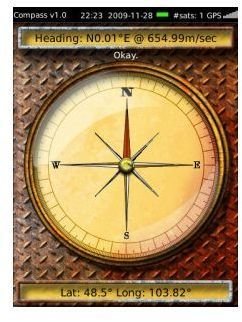 Whether you are trying to find your way around a new city with a map in one hand and a BlackBerry in the other, or you are relying on the device to give you turn-by-turn directions to your next appointment, you should find these compass apps useful. Here is a list of the best BlackBerry compass apps.
Compass
This is perhaps the most highly rated BlackBerry compass app on the App World. The app uses the built-in GPS to show heading (direction of travel), speed, longitude and latitude as well as True North. However, the compass only works when you are moving, in that it periodically records way points as you move to determine what direction you are heading; if you stop moving the compass will start to spin or do nothing at all.
Please note that if you are using a company phone you will need to check with the BES Administrator to see if you have "Security Timer Reset" permission, which is required to keep the phone's screen from going blank while you are using it to get directions. Compass was developed by Blue Solutions Inc, costs $4.99 and can be found at the BlackBerry App World.
Celcom Compass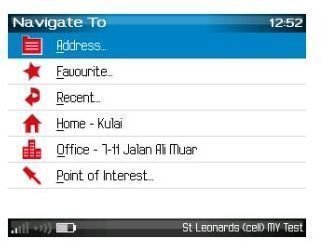 This is a simple navigation and compass app that provides turn-by-turn visual and voice guidance. The feature that most users will find useful is the "Navigate To" option that allows you to set your destination (be it a new address, a favorite location, recently visited address or a point of interest) and it will give you directions to get there. There is a trial version but that only lasts for a month, after that you will need to pay RM12. You should be able to guess from the currency that the app is not available in North America; it is only supported in Malaysia. Nevertheless, the app can be downloaded from the BB store.
Exercise Meter – ExerMeter Compass and Speedometer for Blackberry

ExerMeter sets out to do one thing very well and that is to help you keep your bearings at all times. In addition to being able to see your bearing with the compass, you can use the app to track information on your altitude, speed, distance to and from a destination and record that information for later review. This makes "ExerMeter Compass" a good fit for hikers, golfers and cyclists, to name a few outdoors enthusiasts that may find it useful. Despite its limited feature-set, the ExerMeter is a bit on the pricey side, at least in comparison to other apps covered in this roundup. The app can be had for $9.99.
GPS Guru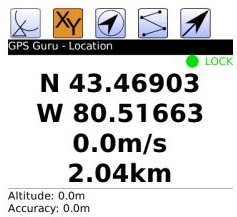 Here is another no-frills GPS and compass application that does the basics well. GPS Guru can be used for vehicle tracking, geocaching, hiking, trail tracking and many other outdoors activities where having a handle on your bearings is important. In fact, you can use it to see your latitude and longitude, map where you traveled to and record the speed at which you traveled to those locations. Once you get back to your computer you can download the navigation, speed and trajectory data and even view the data on Google Earth. GPS Guru will cost you $3.99 if you decide to get it at the BB store.
Ultimate Maps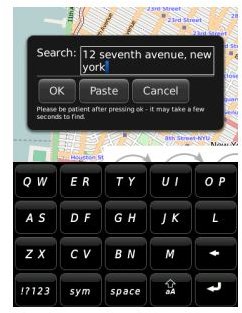 If your phone has GPS you will want to consider installing this app. Ultimate maps has detailed maps for most places on the planet and has navigation data for more than just roadways but can also be used to find walking paths, cycle routes, places of interest, bus stops etc. The app can show waypoints, your current location (longitude and longitude), as well as your speed and bearing. Not to be outdone by other apps here, Ultimate Maps can also export the data it has collected in the GPX format, which allows you to map the data on Google Earth. It costs $3.99.
Conclusion
There isn't an overwhelming number of compass apps, perhaps because BlackBerries are primarily business devices and not the preferred great outdoors navigation tool. However, for users who want the simple and straightforward features of a dedicated compass app "Compass" (by Blue Solutions) is the app they will want to consider, as user feedback suggests that it is the best BlackBerry compass app that is available.
Image Credits: All images are the property of the respective developers.