Understand your BB Messenger

BlackBerry Messenger and BB service
BlackBerry Messenger, also referred to as BBM or BB Messenger is a dedicated chat application that is exclusive to the RIM range of BlackBerry smartphones. There are many people who actually went out and bought a BlackBerry smartphone for the mere fact that their friends have one and it is a lot simpler to keep in touch with them via the use of BBM.
The first thing you should know before you attempt to use BlackBerry Messenger is that you will need to have BlackBerry service. This is a paid service that you can obtain from your Mobile Network. It is generally a one time monthly charge that allows you to utilize the BlackBerry service unlimited for the entire month.
BBM Versions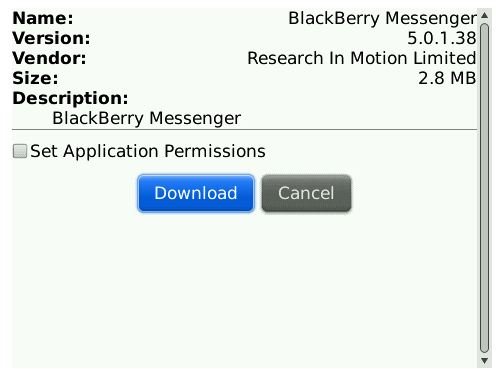 All new BlackBerries are generally preloaded with a version of BBM, but it may not necessarily be the latest version. So before you go about adding contacts, check to see which version of BlackBerry Messenger is loaded on your phone, because there are constant upgrades that are implemented to fix bugs and optimize the BBM experience. The latest version is Version: 5.0.1.38 and it was released on August 9th, so check to see if that is the version that you have, if not, go ahead and install that version (also keep an eye out for future updates and version releases). You can download it via BlackBerry Messenger App for free. If you have already gone ahead and added a few family and friends, then you will need to back up those contacts before getting the new version, in order to not lose them.
Back-Up BB Messenger Contacts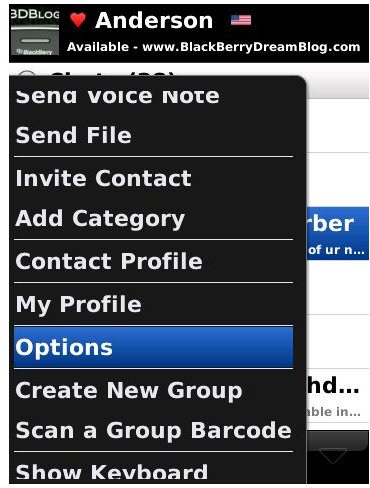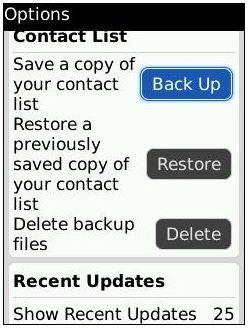 Backing up your BBM contacts is easy, just go to the application itself and open it. Once inside, select the menu button and scroll down to "options". Select options. Scroll down inside options and you will find the "Backup Management" section close to the bottom of the menu. Select "Back Up". Ensure that you remember this path as you will need to return to the section and select "restore" to repopulate your BB Messenger contacts if they do not populate automatically after the upgrade is done.
Installation
Download the BlackBerry Messenger App and install it. Ensure, however, that you are using RIM BlackBerry Device Software or software that is approved by them, otherwise you may find that your BlackBerry Messenger icon has disappeared. Once the installation is complete, reboot the device so that the changes can take effect.
Adding New Contacts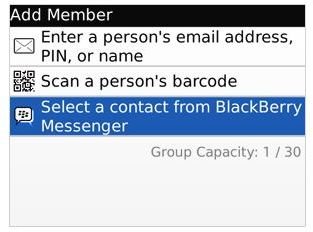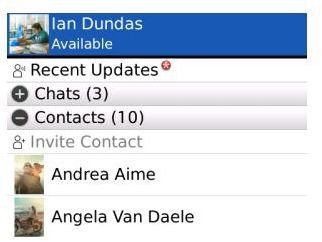 In order to remotely add a new contact, you will need to get a hold of their unique BlackBerry PIN. This PIN can be located in the General Options menu under Status. From the home screen, select the Menu button to be taken to the list of icons, locate the "Options " icon which is generally marked by a wrench. Enter that menu and scroll to "Status" (often found near the end of the list). Within this menu you will be able to locate your BlackBerry PIN which usually comprises of numbers and a letter or two (the PIN can also be found within BBM itself… explained below). Once you have obtained the PIN from the contact that you wish to add, go to your BBM and open it. Once open, you will notice a "Contacts" tab and just below this tab will be a subtext that says "Invite Contacts". Select this option and you will be brought to a menu with two choices, one will ask if you want to "Invite by sending a PIN or email message" and the other will say " Invite by scanning a PIN Barcode". Select the first one, we will get to the second one in a minute. Upon selecting the first option, a field will be generated which allows you to enter the prospective contact's PIN; enter it and then press send. Now all you have to do is wait on your friend to confirm you and then you can start sharing BB Messages.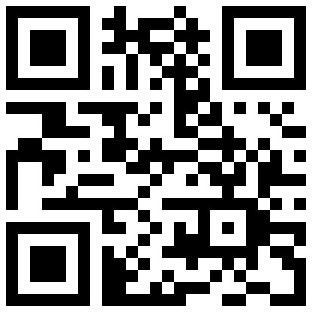 If your friends are close by and you would like to add them by scanning their unique BB PIN Barcode, then you would have selected the second option. Your friend would have to have also opened the BBM App and clicked on their profile at the extreme top. In the profile screen, the BB PIN would be displayed and just below that would be the PIN Barcode. Usually the barcode is hidden and they would have to select "show " to display the code. Once they have done that you would place your phone above theirs so that you are able to see the code on their screen through the camera on your phone. Select Scan, or invite contact and your phone will scan and add the owner of that phone as one of your contacts.
Sending a BB Message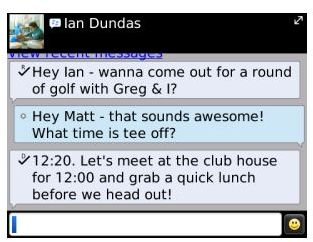 After you have added your contacts, you will see them displayed beneath the Contacts Tab and all you have to do is to select the person that you wish to send a message to. When you select the contact, the screen will look very much like any other messenger screen, with the contacts display image and status at the top, the window that shows your conversations and the dialogue box at the bottom. You will automatically be brought to the dialogue box, so type away! If you want to take a closer look at your friends display image, just scroll to the top or select "T", then scroll up once more until the image and status display section is highlighted. Select it with your scroll ball or pad and it will open your contacts BBM profile. Scroll over to their picture and select it, it will then open up full screen. To return to the message section, simply press the escape key until you are where you want to be.
Finding New BBMs and Reading Them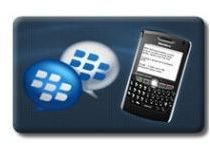 You do not constantly need to have the BBM Application open to know when you get new messages. A new message prompt in the shape of the BBM icon will be displayed at the top of your home page. If this is sighted, open the BBM Application and you will notice the same icon right next to the BB contact that sent you the message. It will also present itself in the Chat section if you have an open dialogue box of past chat messages with that person. Click on either one to see the message in its entirety.
Posting or Changing your own Display Picture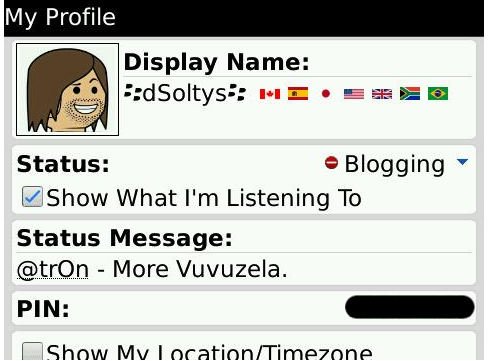 As with any other good messenger service, you have the option of posting and changing your display picture. In order to post or change your existing Display picture, simply open the app and scroll to the top to access your profile. In the profile menu, you will be able to Change your Display Name, your Display Picture, your Status and your Personal Message. To change the picture, you will simply scroll over the existing image and select; upon doing this, you will be directed to two folders, one will contain the pictures that you have uploaded or taken with your BB and the other will contain preloaded pictures that came with the app. Select your folder, then select your desired image, crop and save the picture and then you're done. Press the escape key to return to the previous menu, you will be prompted to save the changes before moving on.
BlackBerry Groups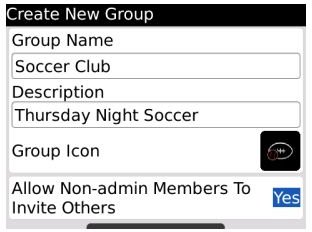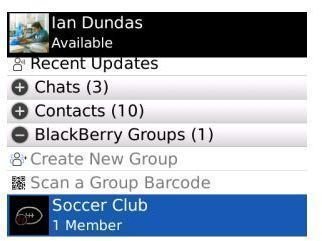 Creating a new group is very similar to adding a new contact, the procedures are the same with the exception that you will scroll past the Contacts Tab and go down to the "BlackBerry Groups" tab. You will select "Create New Group" and fill out the required fields for your group, this will include the group's name, description and the selection of an icon. Then select "Create Group". Once your group has been created, click on the name of the group to enter. You are now able to add group members. The group menu is a bit extensive and includes such tabs as; Members, Chat, Pictures, Lists, and Calendars. To add a new contact, select "Members", you will then notice the "Invite New Member" tab, select that and follow the same instructions as with adding a new contact outside the group. The great thing about a group, is that you are able to have group discussions and you will select the "chat" option for that. When you send a message from group chat, all members of the group will be able to see that message and vice versa. The same goes for uploading pictures into the group's picture album.
PING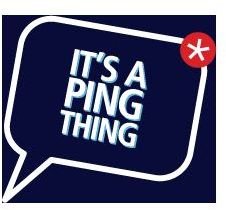 The PING feature in BlackBerry Messenger is very much like the "Buzz" feature in Yahoo Messenger. It's a loud sound and vibration that lets the receiver of the Ping knows that someone is trying to get in touch with them. However, each person is able to customize the way their phone reacts when a Ping is received, so there is really no guarantee that they will in fact get the alert any quicker than you sending a message. Most often though, the Ping is set to give off a different alert tone than a regular message and that may grab their attention, so why not give it a shot?
To Ping one of your contacts, open the BBM application and select the contact that you want to Ping. Once the dialogue box opens, select the menu button and scroll down to the option that says "Ping Contact", then select it. You will see PING!!! Appear in the dialogue box and the Ping will have already been sent.