Which is the Best BlackBerry Password Keeper?

Password Keepers for BlackBerry
We all have a dozen passwords for our numerous applications, devices and websites, but sometimes it can become difficult to remember them all. Some of us have even gone ahead and used the same password for 90% of our sensitive information; while that makes remembering your passwords a whole lot easier, it also makes it easier for a hacker or some other unscrupulous person to invade your privacy once they get a hold of it. The fact is that once they learn that one password, they will have access to all your important files and data. Even if you stopped it before any real damage was done, you would still have to change all your passwords for all your applications afterwards. If you own a BlackBerry, it is recommended that you download a BlackBerry password keeper which allows you to store all your passwords in one place. Below are six of the best password keepers for BlackBerry phones.
Keeper Password and Data Vault (4 out of 5)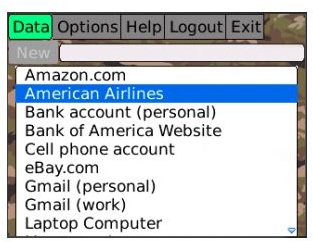 It is said that this app is currently the most downloaded BlackBerry password keeper and it currently has more than one million users around the world. It has even been reviewed on one of the biggest software review and download websites which is CNET Downloads and the editor at CNET has given it a total of 4 ½ out of a possible 5 stars. They have described it as having a user friendly interface that is intuitive with a sturdy encryption as well as being well organized with a sleek app design.
In addition to its CNET praise, this app has also been approved by the U.S. Military and Department of Homeland Security and is said to be the best password keeper for BlackBerry devices due to its rich features and its secured storage system.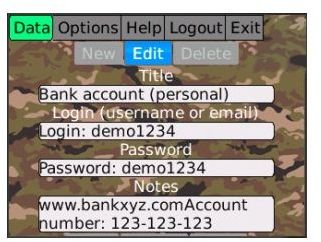 The app is very versatile because it is available in 9 different languages and has users in over 60 different countries. It can be easily synced wirelessly with your laptop, whether it is a Mac, Windows PC, or running Linux. You can also sync to your desktops, but the software for syncing is sold separately. There is no limitation on the number of records that can be stored within the app and it also includes a password generator to help you when you need it. If you want to customize your app to suit your style, you can do so by changing the themes and colors to accommodate your needs. If for whatever reason, you believe that your information may become compromised, you can set a self destruct application that provides you with protection against hacking or theft. The Keeper Password and Data Vault have quite a few other features that you can explore and download at BlackBerry App World and best of all, its absolutely free!
SplashID - Password Manager (4 out of 5)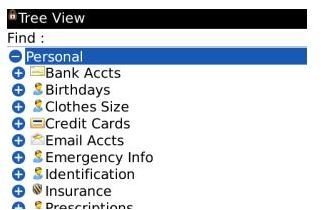 Splash have many apps that are highly rated and as such, the Password Manager did not disappoint as it has a 4 star rating that was awarded by its reviewers on Blackberry App World. This application allows you to store your usernames, your passwords, your bank account numbers and PINs and anything else that you need to store a password for. Often you generate a password and swear you will always remember it, until that special day when you really need to remember it and you keep coming up with blanks. Now you do not have to worry about forgetting your log-in information because you can now store it all in SplashID. Think of this BlackBerry password keeper as a safe, you will store and lock away all your important information and access it when you are ready.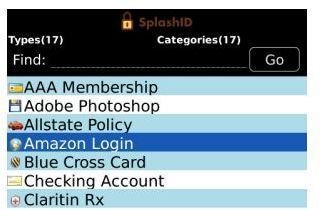 You are able to customize your categories and record types, back up, and synchronize your information between your desktop PC and your BlackBerry. The syncing software is, however, sold separately. Now that you have software to store your passwords for you, you can create stronger passwords or have the password generator create them for you. This is also a CNET reviewed software app where it was awarded the full 5 stars and it can be downloaded from this Download Link for $9.99 USD.
Ascendo DataVault Password Manager - BlackBerry and Desktop Bundle (5 out of 5)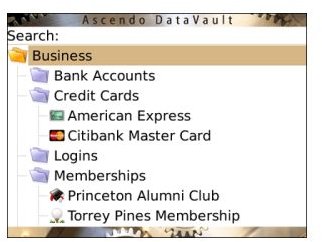 As the name suggests, Ascendo DataVault is a vault that stores your sensitive information including your usernames and passwords, your credit card and banking information, your PINs and any other log-in information that allows access to your important accounts and files.
DataVault claims to be the most comprehensive Manager and Password Keeper for BlackBerry®, with rich features such as extensive browser integration, advanced security options, email encryption, tree and list view types, desktop synchronization and many different ways to customize. This app also supports touch screen BlackBerries including the Storm. For extreme customization, you can choose from a list of 25 templates or even create your own if none of the predefined ones appeal to you.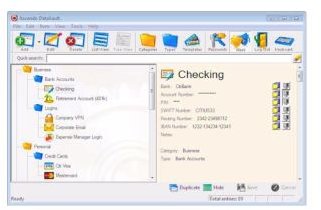 This is one of the few BlackBerry password keepers that actually provides you with the desktop software so that synchronization is possible right away. You can sync both ways and import from Firefox, eWallet, KeePass, Roboform and more. This password keeper for BlackBerry is well equipped, but it has to be because it is priced at a lovely $29.99 and the built in features need to justify the price. Support is also available and for those people who wish to synchronize, they can visit the FAQ Page at the developer's website to find the registration information and troubleshooting tips. The app can be purchased at this Download Link.
InfoSafe Plus (4 out of 5)

InfoSafe Plus is an ideal BlackBerry password keeper, as a matter of fact it is a great information manager as it stores - log in information, passwords, PINs, access codes and serial numbers for almost anything. It is your convenient information management software and is very secure and user friendly. Store your website login information, your ID Numbers, your serial numbers for your software and devices, your banking and credit card information, and much more. It has an inclusive password generator and 128 bit encryption. The InfoSafe Plus also includes the desktop companion for free so that you are able to sync with your PC, however, you will need to download the PC software separately before using.
The PC companion software includes a password generator, 12 different fields to enter information which can be customized to suit your needs, customizable category lists and a self destruct or delay feature that you can set to activate after a specified number of failed attempts. Read the Getting Started PDF guide after purchasing via this Download Link for $29.99 USD.
SBSH SafeWallet Pro (5 out of 5)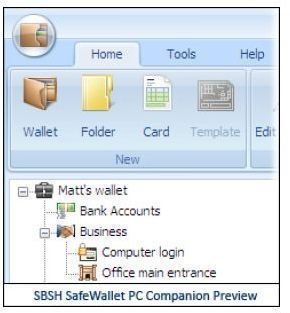 SafeWallet is a secure password keeper for BlackBerry that has been developed to aid in the organization of passwords and other sensitive information. You will be able to store your credit card information, your passwords, your bank account, and pretty much anything that requires passcodes. Now you don't need to memorize all your passwords and you can access them on the go on your BlackBerry. This software uses 256 bit encryption and is very easy to use. You are now able to synchronize different wallets and your PC by using the PC Companion which is available separately from the SBSH Mobile Software web-site. The PC companion is retailed at $14.95. This BlackBerry password keeper also integrates a password generator and is compatible with both touch screens and non touch screen BlackBerry smartphones. Download SafeWallet Pro for $5.99 USD.
Vault (5 out of 5)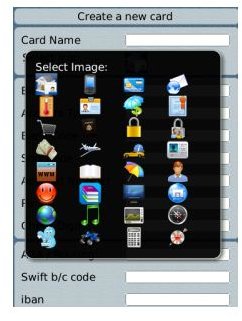 The Vault is one the most user friendly password keepers for the BlackBerry. It has 18 predefined categories with forms/cards that allows for easy organization. You can store all your password and log in information for your bank accounts, websites, electronic devices and pretty much any code, text or word that is sensitive and needs to be secured. The fields can be modified to suit your own needs and then you can also associate your cards/forms with different predefined icons that will allow you to quickly access the form.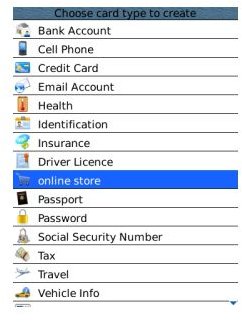 There are 32 icons in total that are easily identifiable and simple to use. Feel free to backup and restore your features when you see fit. Get Vault for your BlackBerry via BlackBerry App world for only $2.99.