The Best BlackBerry Runner Log App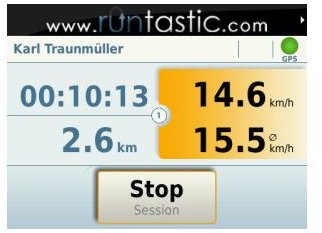 BlackBerry Apps for Runners
There are a lot of people who run because it is an activity that is necessary for their fitness regime, and there are other people who run just to clear their minds. There are even those who run for both reasons, but the fact is that running is a healthy activity to take part in and finding a runner app for your BlackBerry can help. With a BlackBerry runner log app runners are better able to keep track of, and calculate: their speeds, their heart rate, their routes and even their necessary fluid intake. How great is that for a BlackBerry runner log app? This article will list a few of these applications and the different features that each one comprises. Additionally, at the end of the article you will find out which app is dubbed the best of all.
Runtastic GPS Sports Assistant (4 out of 5)

The BlackBerry runner log app Runtastic claims to be an all inclusive app that provides exercise assistance that is designed and developed to allow you to maximize the results for your exercise regimen. The aim of this app is to prevent the user from purchasing a different app for their BlackBerry for each individual exercise they want to monitor. The Runtastic GPS Sports Assistant tracks your running through the use of GPS and will record your time, distance, speed, calories burned and even elevation, automatically. You can always stop to view where you are on the map and the route that you are taking. The app also does computations and you can calculate your calories. In addition a training diary is included where you can view the history of your running exercises and decide if and when you need to step up your game. If you are a true fanatic, you can even upload your activities to the available Runtastic portal at https://runtastic.com and share and compare your personal victories with other Runtastic users.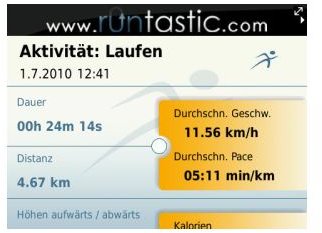 If you often engage in other sporting activities, such as; cycling, strolling or even parachuting, you can still use your app to guide and monitor your progress. To get the Runtastic GPS Sports Assistant, visit this Download Link where it can be acquired for only $3.99 USD.
Running Log (5 out of 5)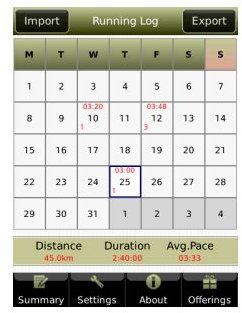 Running Log is a BlackBerry runner log app that aids in monitoring your calisthenics and keeping the logs on a built in calendar. You can record your different regimes and days for resting and review your history, trends and statistics on the calendar. It is able to provide you with logs for the entire year as all months are included. This is a good application for a fitness New Year resolution as you can monitor your improvements and keep yourself motivated to perform your daily runs.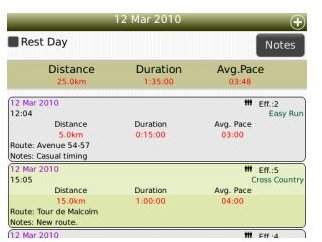 For each day on your calendar, you will be able to record and review your distance covered in Kilometers or miles, the duration of your run, the level of effort that was expended, the type of run that was performed (races, cross country runs etc.) and the name of the route that you ran that day. Other information can also be acquired, but you will have to take a look at the app for yourself at this Download Link. It can be purchased for $3.99 USD. It is recommended you back up your log and clear the data frequently so that your app will always load quickly.
RoadRunnerGPS (4 out of 5)


If you are a walker, jogger or full fledged runner, RoadRunnerGPS is the BlackBerry runner log app that you need. As a matter of fact, you can use this app for other activities such as cycling, skiing and kayaking or canoeing. As the name suggests, it uses your phone's GPS to analyze your exercise regime in a real time environment and subsequently provide you with progress reports. The user interface is easy to navigate and you can use it to acquire information on traveled distance, time elapsed, your average pace and speed, and the calories that have been burned during that activity.
The GPS feature allows you to map a path and view your current location and travelling direction. Additionally, your app will periodically chime in to tell you the time and the distance that you have already covered. As with many of the other runner apps for the BlackBerry, you can upload your results at the end of your routine to the app's server and share them with friends via your social network, namely Facebook and Twitter. The history is always there and you can look back at it on your device or on the server. After you have accumulated more than one complete workout, you can graph your statistics to further analyze your progress. You can download the latest version as well as acquire a 14 day free trial at roadrunnersgps.com or get it at BlackBerry App World for $4.99 USD. Similar to other fitness apps that utilizes GPS, it is recommended that you test to see if your network allows your GPS to utilize third party apps. It is best to download the trial version and see if everything works as the trial version is not limited in features.
Runner & Fitness Cog (5 out of 5)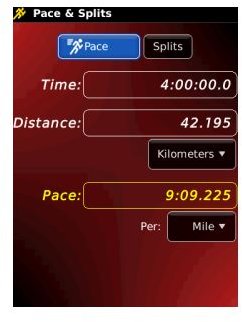 Imagine a running and fitness application that houses 11 different utilities that provide various calculations for fitness regimes. This is what the Runner and Fitness Cog app does. All utilities are able to provide you with the American standard measurements as well as the metric systems. You can even change the color of the interface to match your favorite color or your mood as there are 9 colors to choose from. The is the ultimate calculation and log app for a runner because you will be able to calculate your body fat index, your body mass index, the number of calories burned, the distance covered, your ideal weight, the weight lost, your target heart rate, your nutritional and calorie needs and the amount of water that you require.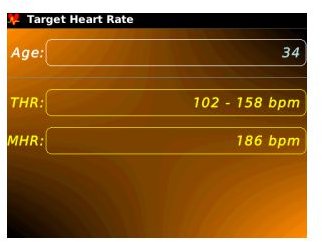 If that is not enough, it will also calculate your pace, time and distance in one go and will also show split times. Furthermore, you will know when it's time to get a new pair of running shoes as this app will track the mileage of your shoes usage. Get this app through the BlackBerry App World on your device or get it at this Download Link for $2.99 USD
TrackMeRun (3 out of 5)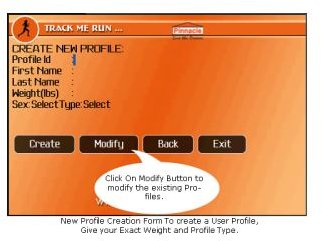 TrackMeRun is a fitness app that aims to make logging and tracking fitness activities easier, and maybe a little bit more fun as well. The idea is to limit the need for external devices or dedicated fitness gadgets; this is aimed at making your BlackBerry even more multifunctional. The TrackMeRun is a runner app for BlackBerry that allows you to use your GPS feature to monitor your running and other fitness activities. This BlackBerry runner log app will track your duration, your distance, your pace, your burnt calories, your speed and your location and route via Google maps. In addition, they have their own website which allows you to save your data and monitor your progress and even share it with your friends via email or post it on your favorite social network. In order to do this you will need to visit https://www.trackmerun.com and log into your account with the same username and password that you will have already created within the app itself on your BlackBerry.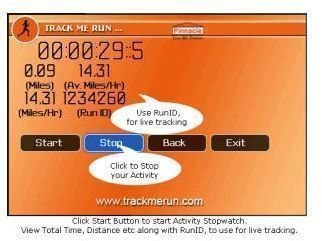 There have been some complaints from people who have bought and downloaded the app, where they state that they are unable to use it after they bought it, so there are a few things to consider before getting this app. You should ensure that your particular BlackBerry has integrated GPS because not all of them have this feature. Even if you do have the GPS feature, ensure that your network allows you to connect with third party apps and you should also have GPRS which is needed to connect to the TrackMeRun server when you are using the app. Another thing to note is that the current version does not fully support BlackBerry OS 6.0, so if your BlackBerry is newly released check to see which OS you have before downloading this app. For those of you who have made your necessary checks and would like to get the app, it can be acquired at this Download Link for $4.99 USD
The winner!
There can only be one super BlackBerry runner log app and the award goes to Runner & Fitness Cog . This application takes the lead because it provides everything that a runner needs to log and calculate his or her progress. You may find that some of the other apps that are mentioned above have a higher rating on some websites, but that is largely due to their GPS function. While that feature is indeed a big step forward, the apps that provide it rarely offer much else in terms of actually logging and calculating your progress.