What's New in BlackBerry App World 2.0?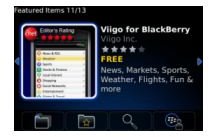 What is the BlackBerry App World?
For those of you who do not own a BlackBerry, what are you waiting for? On a more serious note, the BlackBerry App World is a downloadable application for every BlackBerry phone on the market today. Most BlackBerry phones come equipped with the application already downloaded and installed, which makes it easier for users to access the application. The BlackBerry App World permits users to browse for applications in various categories such as sports, news, social media, instant messaging, email, weather, entertainment and much more. These applications can be free to download or can cost anywhere on a scale of $1.00-$50.00 per application. It all depends on how much the application can do and what company offers the application.
BlackBerry App World 2.0
BlackBerry smartphones can do almost anything the user wants them to do including accessing the Internet, sending emails, chatting through instant messaging clients, checking the weather, checking flight times, talking to other BlackBerry users through the BBM client and much more. As more and more smartphones are introduced into the market, like Android smartphones and the iPhone 4, BlackBerry has had to improve their application offerings in order to compete because these new phones offer a wide range of applications.
Wi-Fi Accessible
One of the most important improvements in BlackBerry App World 2 is the fact that the application is now Wi-Fi accessible. This means that even if you do not have service on your phone, and you are in a Wi-Fi hot spot you will be able to access the Internet on your BlackBerry and use the application world to download apps.
Payment
Users of BlackBerry phones can still pay for their applications using PayPal but now they can also use carrier charges and credit cards to make payments on their phone. They can track their payments through the BlackBerry App World 2.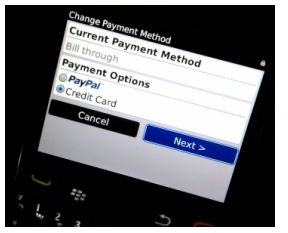 New Themes
Brand new to BlackBerry App World ver 2 are hundreds of new themes you can download to personalize your phone. The best thing with these new themes is that they can be found in a category of their own in the new BlackBerry App World. There are thousands of new themes from the BlackBerry App World ver 2 to choose from and they are organised into categories including nature, sports, entertainment, holiday, technology, transportation and much more.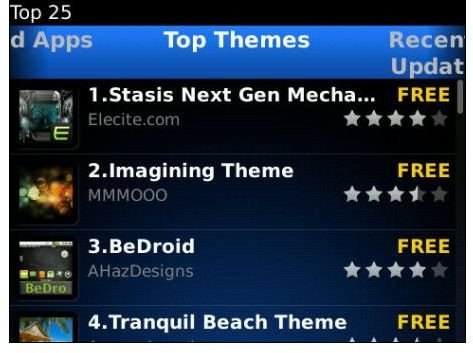 Barcode Scanning
Barcode scanning was previously permitted with the BlackBerry Messenger application on the newest BlackBerry smartphones. Barcode scanning allows users to scan other phone holder's barcodes to add them as a contact in your address book or BBM application. Now, the barcode feature is a new feature in the BlackBerry App World ver 2 to scan for applications, instant messaging applications, and for other forms of contacts.