BlackBerry Tips: Guide to BlackBerry Security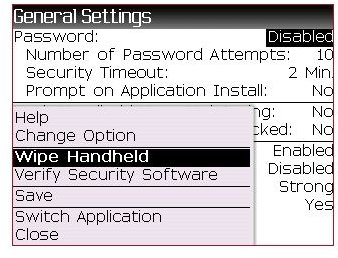 The Most Basic Step - Password Protect It
A staggering amount of people actually lose their BlackBerry phones each year. It is small and is very convenient to be left behind. If you do ever leave your BlackBerry behind, you will feel a lot better knowing it is password protected from prying eyes. It only takes a few minutes to set a password on your BlackBerry, and is very much worth your time.
To password protect your BlackBerry, select Options from the Home Screen, and then click Security Options, General Settings and change Password to Enabled. It also gives you the option to set how long your BlackBerry will sit before it locks up.
Once you set a password you can customize the number of password attempts you are allowed before it locks you out, the security timeout, and allow outgoing calls when your BlackBerry is locked.
Enable Content Protection
For one of the best tips on BlackBerry security, you need to enable content protection. Your BlackBerry will transmit information to a server securely, and this data is encrypted. The data on your BlackBerry, however, is not encrypted and anyone that gets their hands on your BlackBerry will be able to read it. The solution to this is content protection.
You can enable content protection on your BlackBerry by going to Options from the Home screen, select Security, and then enable Content Protection. You will also have to enter a password.
After you enable content protection, the data on your BlackBerry will be encrypted. This includes your emails, address book entries, and browser history. If you lose your BlackBerry and someone connects it to their computer, they will not be able to read the data if content protection is enabled.
Lock your BlackBerry and the data will start to encrypt. This can take some time to complete. You will see an open pad lock icon on your screen while the data is being encrypted. When it is finished, you will see a closed pad lock. From this point on, all new data will also be encrypted.
Most BlackBerry users store a lot of data on their media cards. Obviously, you don't want someone to look at this data so you will need to encrypt it too.
Click Options, select Advanced Options, and then select Media Card.
You have more than one option on how you can encrypt the media card.
Select Device for the Encryption Mode to encrypt files with an encryption key.
Select Security Password for the Encryption Mode to encrypt files with the BlackBerry device password.
Select Security Password and Device to encrypt files using both options.
Press the Menu key, and then click Save to save the changes.
There are also apps and other services you can sign up to, to help protect or locate your phone if it's stolen.
Wipe the BlackBerry Before You Sell It
When you are ready to upgrade to a new BlackBerry, you may want to sell your current phone. Before you do this, make sure you wipe it clean before it gets into anyone else's hands. Note that this process wipes out everything on your BlackBerry.
To wipe your BlackBerry do the following steps:
Click Options from the Home Screen.
Click Security Options, and then General Settings.
Hit the Menu Key and select Wipe Handheld. Follow the onscreen prompts to completely wipe the BlackBerry device. This process may take a few minutes to complete, depending upon how much data is on your BlackBerry, but when it is finished your BlackBerry will be completely wiped out.
Bluetooth Security
All new BlackBerry Smartphones have Bluetooth so you can connect wirelessly and for small data transfers. Many BlackBerry owners use Bluetooth, and it is something else that should be used securely.
To get to the Bluetooth options on your phone, you first have to turn on the Bluetooth radio. Do this by opening Manage Connections, and then check the Bluetooth checkbox. Next, scroll down and select Bluetooth Options.
One of the options you will see is called Discoverable. This determines whether or not you want your device to show up when someone searches for Bluetooth enabled devices. If you set it to No, no one will be able to connect or pair with your device via Bluetooth. You will have to manually connect to them. If you set this to Yes, anyone will be able to see your BlackBerry if they scan for Bluetooth enabled devices.
If you scroll further down the screen, you can select to allow or deny outgoing calls via Bluetooth, and enable the Bluetooth contact transfer option, which allows you to transfer your device contacts via Bluetooth. There is also a Security Level, where you can choose High or High + Encryption to protect data that is sent or received via Bluetooth.
Conclusion
You should not encounter any problems with the above steps, but if you do, leave a comment and I will be glad to help you out with anything you come across.
References
BlackBerry: https://docs.blackberry.com/en/smartphone_users/deliverables/6135/TLS_options_29082_11.jsp
BlackBerry: https://uk.blackberry.com/ataglance/security/knowledgebase.jsp#faq6
Credit Image: https://support.vzw.com/clc/devices/knowledge_base.html?id=20562