Best NYC Subway Map for BlackBerry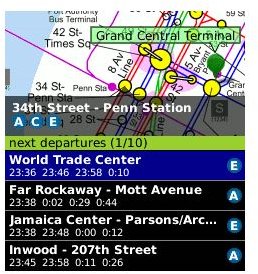 Need a hassle free way to get to where you're going and fast? These are the apps you need on your BlackBerry to do just that. Use comprehensive and fully functional maps, as well as detailed database and interactive interfaces, to search the fastest routes, time between routes, number of stops, current schedules, arrival and departure times and more, even while you're traveling underground. These apps are specifically designed to give you NYC subway maps for your BlackBerry smartphone, they are easy to use and loaded with travel information – a definite 'must have' app for the New York commuter.
NYC Subway – Trip Planner
Not only does this app provide maps so that you can find the stations closest to you,
it also helps you to locate the fastest routes between any two stations considering the current schedules. It also provides details on departure and arrival times as well as wait times between transfers.
The app has a trip planner and additional functions to look up locations on the map. You can view trip map and all stop times along the route and you can adjust connection times exactly to your preference. It works offline, which means you can use this app anywhere, everywhere – including underground in subways and tunnels while you are on the go.
This NYC Subway app is quite easy to use, especially on touch-screen models of the BlackBerry. Navigating is simple and direct and landmark retrieval is effortless. Its efficiency has much to do with its offline operation, however, its performance may lag a bit during the peak hours, since more trains run at those times, thus slowing down the system.
Tube 2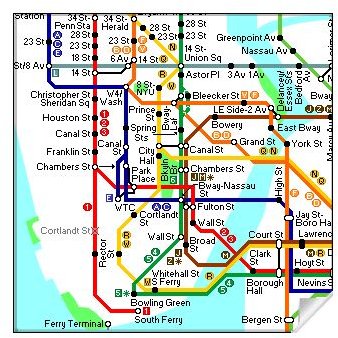 Travel the subway with ease and confidence with Tube 2 in hand. Once this app is up and running on your BlackBerry, you can get a scrollable and detailed map of the New York City MTA subway system, plus information on the quickest routes, line changes, platform directions and journey times. Route details include the direction of travel, end of line, towards information as well as the number of stops in each segment. You can select advanced journey options to discover routes with the fewest stops, get details on the return journey, and even avoid long lines.
Users can expect a comprehensive guide to help save time and efficiently plan their trips. Additionally, Tube 2 will provide the latest travel information on all the current conditions of the New York's MTA subway system directly to your BlackBerry. The system maps are easy to read, the journey overlay indicates the direction of travel, the color coded lines shows the route that you are traveling – this helps you to monitor and make informed changes along the way.
PocketMetro New York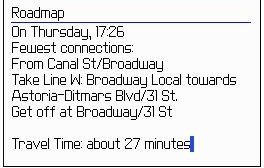 PocketMetro narrows in on guiding you with useful updates on New York subway stations so that you can plan your journeys in a smart and effective way. This application will give you important and relevant information on each station and line in the network and can compute the shortest travel distances between two tubes or rail stations. It provides a complete roadmap between the start station and the end station, including the line changes. Each roadmap is available in two versions – fastest routes and routes with the least changes. It gives you a precise estimation of the travel time, computes very quickly, and provides these updates free of cost.
PocketMetro maintains a current database in order to provide information on the existing day and time, so as to avoid closed stations, cancellations, line changes and such. The application does not work like WAP services, which means it does not use a remote server to find the best and shortest routes. Each route is integrally computed by your BlackBerry smartphone so that you can retrieve data in areas not covered by your carrier, especially when traveling underground.
New York Metro Network Map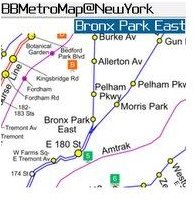 Another good NYC subway map for BlackBerry smartphones is this New York Metro Network Map application. Users can find their way through the complicated metro system with detailed maps and an intelligent and quick station locator. Simply type the station stats in the locator search engine and find the subway routes, schedules and so on. The maps are locally stored to your handset so that data recovery is efficient and free of interruptions. This allows the app to work in signal free zones – through tunnels and underground.
New York Metro Network Map may not be as equipped and comprehensive as other subway map apps, but it gets the job done. The functions are easy to access and map navigation is quite simple once you get the hang of it. For downloading to your BlackBerry, key the URL into the mobile web browser, follow the download link and install.
Métro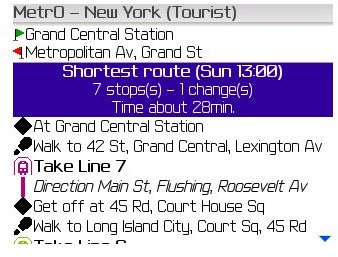 This app is your complete guide to public transportation systems worldwide. It covers the metro systems in over 400 cities including the hustle and bustle of the New York subway system. The functions are limitless and management is effortless.
Route searching is simple – through station name integration, the app locates specific routes for you before you can even finish typing in the full words. It provides arrival and departure information and stores this data for a quick reference and navigates back to it instantly when needed. A 'clear' button resets the page for new searches immediately. You can view the list of lines and each line's stations, the stops going and coming back, and also find out whether these lines are closed. Metros database even has POS (places of interest) for each city and provides directions from the subway stations for users. More amazingly, the app integrates an address book icon, where you can compute the route from or to contacts in your BlackBerry address book in one simple step.
You're in store for even more fantastic features to blow your mind. Métro facilitates transportation needs for an expansive list of places, for different modes of transport, and a long list of purposes with tons of functions and features, and it supports five different languages. As a result, it can significantly slow down the use of your phone. Also, setup is a bit lengthy – but bear in mind, you won't find another app as complete and widespread.
Looking for New York Subway apps for your iPhone? Check out - Top 4 Apps to Help You Navigate Those Pesky New York Subways
References
Image Credit - Screenshots courtesy of the respective app developers.