Great BlackBerry Apps for German Translations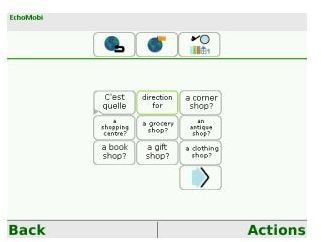 Whether you already speak German or need a translator to help you communicate in the language, these BlackBerry German apps will help. Here are a few apps that will translate German to English and many other languages and vice versa. With a few simple steps you will be talking like a pro and having great conversations along the way. Eventually, you will learn how to translate your way out of any situation. What are you waiting for – Lassen Sie uns in Deutsch sprechen!
English to German LITE
This app gets straight to the meat of the matter – after all, when you need a translation there is no time to be fumbling through a confusing interface. Users can translate a number of different languages with this app, so no matter who you are confronted with, there is help to get your words across fluently. There are 40 language categories and 10,000 customized phrases so you can communicate instantly and with ease.
This English to German BlackBerry app has a dynamic voice technology that will speak the languages to you in a clear, native tone to help you with pronunciations and sentence structures. Before you know it you will be hanging with the locals and speaking in German lingo.
English German Dictionary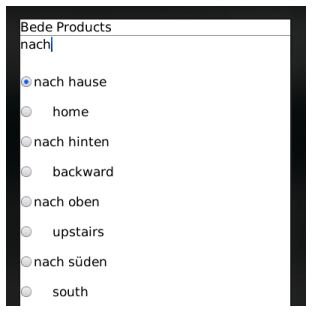 Not everyone speaks the same way and uses the same words to express themselves, which is why it's very handy to keep a dictionary close by. Often times we just can't find the right words to bring understanding or clarity on a matter we feel strongly about, so with this English German Dictionary app on your BlackBerry, users can do just that and more.
Not only will you be able to source the exact words you want to use, but also find the synonyms to understand the broader use of the word without the need for definitions or examples, this way you can feel confident when communicating. Also, the app has flashcard learning games to help build your German vocabulary without boredom setting in.
HNHSoft Larousse English German Dictionary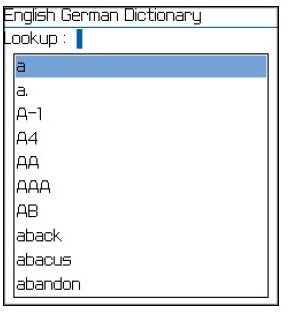 Whether you want an English to German translation or the German to English conversion, this app can assist. This mobile dictionary offers essential information on the new German spelling reform, with both old and new spellings. You will find a comprehensive list of idioms, vocabulary and other linguistic tools to help you understand and communicate effectively in either language. It features over 90,000 references and 120,000 translations on any subject matter ranging from culture to entertainment and more.
The interface is easy to use and helps you to organize and customize your own words and also frequently used translations. Users can count on this app as being a reliable source as well as a quick guide for travel and friendly dialog with foreigners. It is a great companion for students as well as business professionals touring in and around Germany.
Navita Translator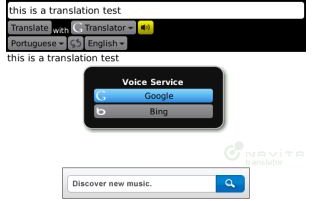 Navita Translator is one of the simplest language conversion apps you can find and a great BlackBerry app for German translations. No matter what you want to translate this app will provide the correct translation. Simply enter the word or phrase in its conversion engine and see how it retypes the translated version below and also speaks the phrase to you. A great way to use this app is to copy and paste text from emails, SMS and other messages written in German to the Navita template on your phone, then click the translate icon for a clear conversion.
It translates more than 50 languages and is capable of speaking languages like English, Portuguese, Spanish, Italian, French, German and Russian plus much more. Additionally, you will find that this app can be used to communicate with friends and family on Twitter, Facebook, MySpace and so on.
Speak German Audio Language Phrasebook Translator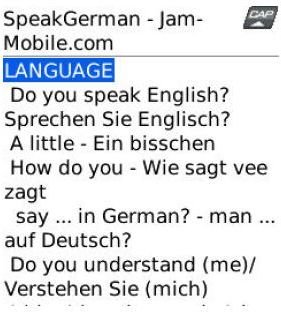 Some of us have difficulty reading and even pronouncing the German language. With no time to brush up on those skills this app will allow you to progress with fluent communication to get things done.
Users can simply select a word or phrase to translate and the app will speak it out aloud in an audible, native German lingo. You can also get support with directions, shopping, transportation, time & dates, emergency services, signs and numbers. It is easy to use and quite a reliable app so you can feel confident when talking to locals or fluent speakers.
References