Free Golf Apps for BlackBerry Storm: Best Free Golf Apps for BlackBerry Storm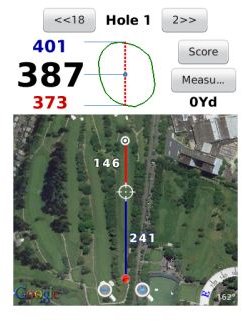 Golf Apps for BlackBerry Storm
Attention all Golfers! The best free golf apps for BlackBerry Storm have now been determined and rounded up for you. Choose from this dynamic list of free apps that you can download instantly to your BlackBerry Storm, they are guaranteed to work on your device to provide Golfers with intelligent golf course information and maps plus aid in easy, organized score recording and much more.
NRange Golf GPS
This app is a comprehensive range finder and scoring log for the BlackBerry Storm, it gives users automatic online access to nearly 20,000 golf courses in 22 countries and provides information quickly on distances through an overhead aerial map courtesy of your phone's built-in GPS. If there is a course that you would like mapped, their service will do this for you in as little as 2 days - this feature is available for users in the US and certain international territories.
The nRange Golf GPS app has a very smart and intuitive interface that allows you to pan and scroll through any featured golf course to see the distances to specific features on the course such as bunkers, water hazards, trees etc. Users can keep score for multiple players with the score card feature on the app and track detailed statistics on their play including drive distance, fairway hits, GIR, putts, penalty shots, and more. This way you can record your round history and average scoring/stats over various time periods to see how well you are progressing.
Free Golf GPS Range Finder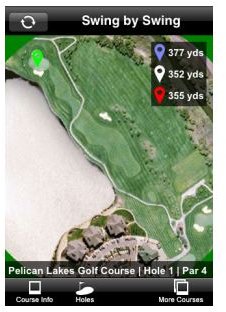 With this app, Golfers get a full-featured GPS range finder on over 1,000 golf courses, users can also add their own courses and favorites by logging on to the app's website to use an online interface and map courses themselves, there is also a professional mapping team that will enter a course into the system for you. The app uses satellite photos to show users a number of views on the course, for example the hole they are playing can be analyzed at any given time. It gives accurate measurements of your distances from certain POI's - by simply touching the phone's screen your distance from any point can be determined.
This app is easy to use and has very interactive interface, where a few taps grants access to information on the golf course making you feel connected to the game at all times.
AccelGolf: Golf GPS Rangefinder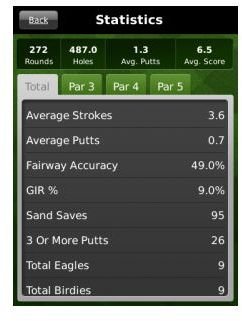 The AccelGolf app is a GPS range finder with access to over 24,000 courses worldwide. It has three modes of distance tracking - aerial hole view, aerial green view and landmarks view - these provide a comprehensive understanding of the golf course. Users can also get free course map requests and responsive customer support to help retrieve information on any of its golf courses.
AccelGolf also has a full-featured scorecard to record and track a player's statistics and performance so they can see their strengths and deficiencies during rounds. Ultimately, one can log their complete golf history with the app's scorecard and see their play pattern on certain courses, compare scores plus much more and eventually improve their play.
Golfweek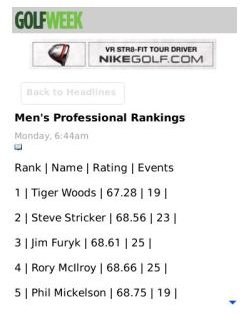 Golfweek is a complete news source for golf related reports, headlines, commentary and more. There is a team of diligent sports writers that target just about everything in the world of golf and deliver it to you in this amazing app - from golfing with the pros to college and juniors, golf equipment, travel and business. You can get breaking news and hard-hitting commentary that is accurate and thorough enough to fully satisfy any golf fan, collegian, professional or greenhorn. When using this app, you will find navigation simple through their quick and easy user interface.
Golf Theme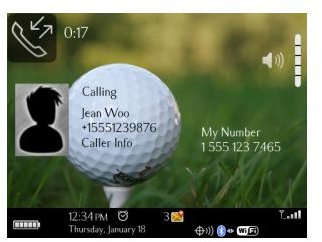 This is a great addition to this list of free golf apps; any true golfer or fan will enjoy this beautiful golf theme app for the BlackBerry Storm. This app features backgrounds depicting an array of golf balls, gloves and much more to give your phone a sporty look. You will love how sharp and clear the picture quality is and also the artistic photography this theme app has to offer.
The Last Hole
Remember there are a bunch of golf apps available from which you can purchase, they may offer more but these free apps are just as great and are comparable, they can make a world of a difference on the course. Feel free to download as many of these free golf apps as you like and see how they work for you. Here are a few more free golf apps for BlackBerry Storm users:-
Comcel My Golf ScoreCard - [Download Link]
Golf Channel Mobile – [Download Link]
My Golf Score Card – [Download Link]
References