Rundown of the Best Verizon BlackBerry Apps

gWhiz - Mobile Education Apps
With gWhiz there are numerous apps that let you test your trivia knowledge or they can help you prep for different exams, like Biology, English Language, US History, Psychology, and ACT Prep. You can also get Dr. Conrad Fischer's USMLE Disease Deck-Flash Cards and Reference Guides, or if you are working as an accountant and are prepping for the CPA exam, get FAR Notes - Wiley CPA Exam Review Focus Notes On-the-Go Financial Accounting and Reporting. gWhiz makes apps for a variety of mobile devices, so the cost of the Apps varies from mobile device to mobile device. Cost: depends on the App.
Ups and Downs
Ups: Many educational Apps are available.
Downs: No free trial period.
[Download Link]
Mobiola xPlayer Pro
Keep up with radio stations by using the Mobiola xPlayer Verizon BlackBerry app. This multimedia player delivers all major audio and video formats with Live Radio support. This allows you to listen to your favorite music on your BlackBerry, business news, sports talk, or podcasts. You can even watch movies and videos. Limitations? Well, there is one. Mobiola xPlayer requires a license for Live Radio and podcasts; however, all other functionality is absolutely free! Cost $9.99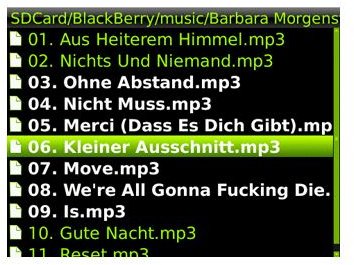 Ups and Downs
Ups: Turn your BlackBerry into a live radio. Customer rankings 5/5
Downs: Requires a license for Live Radio and Podcasts.
[Download Link]
PocketMac
If you've ever wanted to Sync your Blackberry to your Mac, then use PocketMac to do so. What does it Sync? Sync your Outlook 2011 data to your BlackBerry. This is a two-way sync, and it only syncs contacts. You can also sync Entourage 2008 data to and from your BlackBerry device. This includes contacts, calendar, tasks, and notes. Remember your Sticky Notes? They too can be synced to your BlackBerry. In fact, here is a short list of the items that can be synced: Daylite, iPhoto, iCal, and iTunes. Cost $29.95.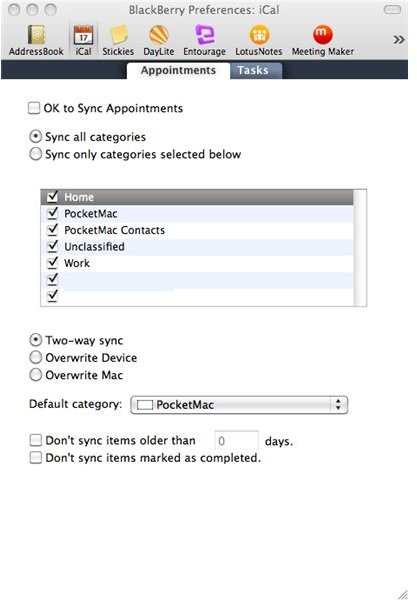 Ups and Downs
Ups: Good one touch sync program.
Downs: It is a bit buggy with Stickies. Sometimes it doesn't transfer all data fields. Price is a bit high for not being perfect.
Google Maps
The best way to navigate to an unknown location is with Google Maps on your BlackBerry. What's more, it will work with whatever type of phone you have. But with the Google Maps app for Verizon BlackBerry, you can see an often-updated picture of the street you're searching for. That's perfect for dealing with hard-to-navigate intersections and unclear locations. If you are not familiar with Google Maps, here are some of the more commonly used features: 3D Maps, offline reliability, Place Pages, My Location, Compass Mode, Directions, Traffic, and Street View. Cost Free.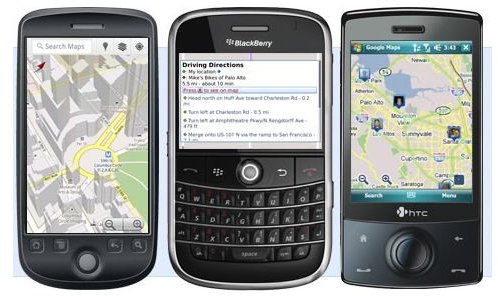 Ups and Downs
Ups: Has a lot of information available. Provides detailed information.
Downs: Not all areas are fully covered yet (although they are working on it).
[Download Link]
BeamSuite
Having a document reader on your BlackBerry is important, and one of the best apps for that purpose is the BeamSuite (formerly known as BeamBerry). With this app you can view your documents in their original setting (it supports (PDF, Word, PPT, XLS, and RTF). There is support for over 1500 different printers; and you have unlimited online document storage. Cost $49.95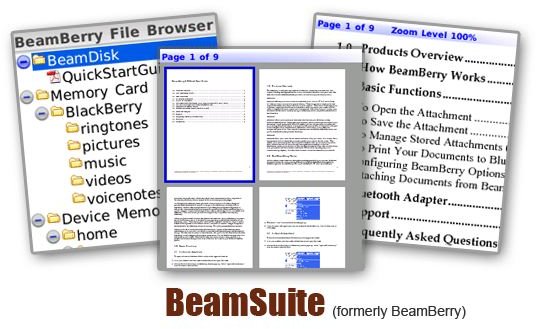 Ups and Downs
Ups: Very maneuverable. It's like working on your local PC from your Blackberry. There is a 10 day free trial worth looking into before making a commitment to purchase.
Downs: Customer rankings 3/5, which means that it is average. Sometimes it is slow or does not display the document correctly.
[Download Link]
Summary
We've looked at different apps on Verizon BlackBerry for different functions. Education apps are available through gWhiz. Live Radio support comes from Mobilia xPlayer Pro. PocketMac allows you to sync your BlackBerry to your Mac Computer. Google Maps lets you find your location, and Beamsuite lets you view and print documents. Because they are all different apps, no one stands out as better than the others. They have different operations, and only the user can fully appreciate what they will do.
References
gWhiz: image: https://www.gwhizmobile.com/gWhiz/Apps.php
Mobiolia xPlayer Pro: Image: https://store.bbgeeks.com/product.asp?id=27851
PocketMac: https://www.pocketmac.com/PocketMac_for_BlackBerry.php
Google Maps: https://www.google.com/mobile/maps/
BeamSuite: Image: https://www.slgmobile.com/beamsuite.html