A Guide to BlackBerry App Stores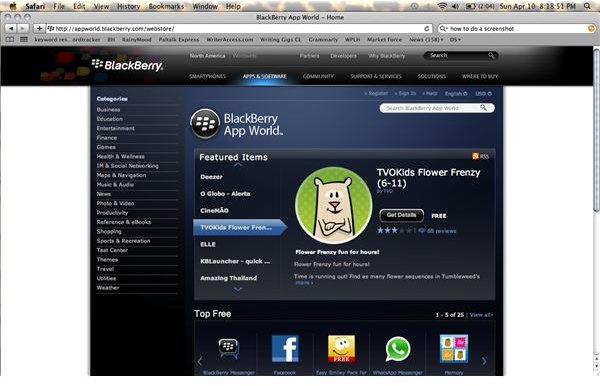 BlackBerry App World
With the BlackBerry App World, you can easily browse through thousands of apps and themes for your BlackBerry from the convenience of your desktop computer or directly from your BlackBerry device. The App World was made public in 2009 to keep up with its competition as iPhone users have the Apple App Store and Android users have the Android Market to download from. BlackBerry users needed a source to download from too, thus the creation of BlackBerry App World. There are other BlackBerry app stores out there as well, read on to find out what the choices are and how they measure up.
Desktop
Access the BlackBerry App World using your desktop computer, by visiting [https://appworld.blackberry.com/webstore/?lang=en]
There are three ways to view apps in the App World and download:
First, browse the apps that are organized into categories on the left hand side of the website. Secondly, browse the apps by, "Featured Items," "Top Free," "Top Paid" and "Newest Items." Lastly, search for apps using the search box in the upper right hand corner of the screen.
Choose an app to download and sign in with your BlackBerry user name and password. If you don't have one, click "Register" to create one.
Pay with PayPal for apps that aren't free and if you don't have a PayPal account, click here to sign up for one for free.
Follow the prompts to download apps to your device and grant the apps permissions when asked to do so.
To learn more about the best apps to download to your device read the top ten free apps for BlackBerry 8330!
Device
To view and download apps to your BlackBerry device, you must first download the BlackBerry App World. Using your BlackBerry's web browser visit [https://www.blackberry.com/appworld/download].
Click "Download" and follow the instructions on the screen and download the BlackBerry App World to your phone.
Click the "BlackBerry App World" icon to browse the available apps once it has downloaded. Once you open the BlackBerry App World, 'Featured Items' will be displayed on the screen. On the bottom, you will see four options: "Categories," "Top 25," "Search" and "My World."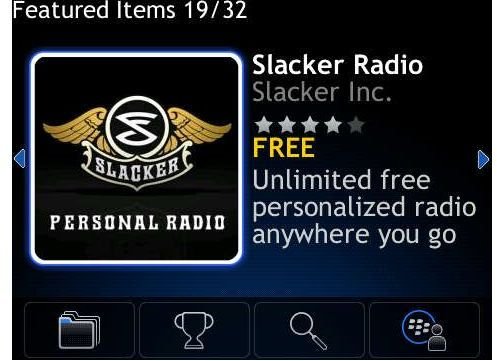 Click on an app you wish to download and follow the prompts to download it to your device.
Pros
Organized and easy to use interface.
Cons
PayPal is the only payment method to pay for apps, you cannot use a credit card.
Cannot use coupon codes.
Discounts are not advertised.
Crackberry Apps Store
Crackberry.com is an alternative way to download apps to your BlackBerry device. Although this site offers more options than the BlackBerry App world, it's not as user-friendly.
There are three ways to download apps from the source Crackberry.com:
Visit Crackberry Apps Store on your desktop computer [https://software.crackberry.com]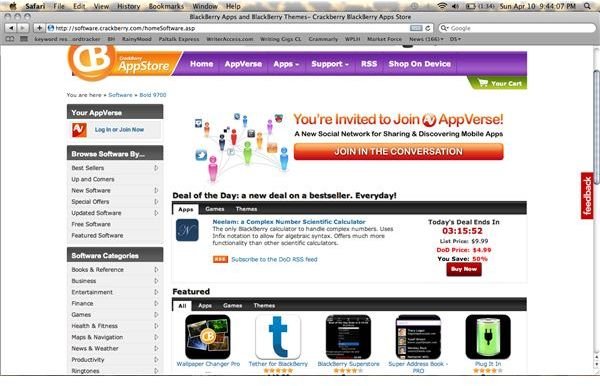 Here you can browse apps that are available to download including the Crackberry's "Deal of the Day." Depending on the BlackBerry device you have, depends on what "Deal of the Day" is available. You can pay for your apps by credit card or PayPal but coupon codes are not able to be used online.
Visit the mobile version of Crackberry Apps Store on your BlackBerry device [https://crackberryappstore.com]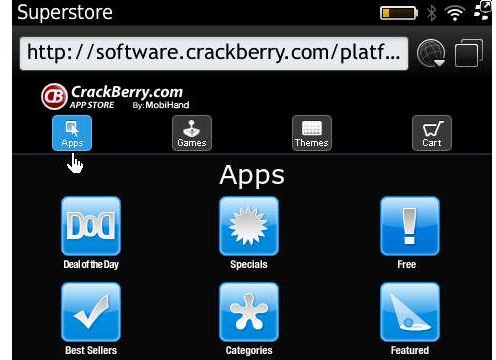 Navigate to the mobile version of the Crackberry site using your device to browse apps. Here you can pay with a credit card, PayPal and coupon codes.
Download the Crackberry "Superstore" App Store to your BlackBerry device [https://crackberry.com/appstore]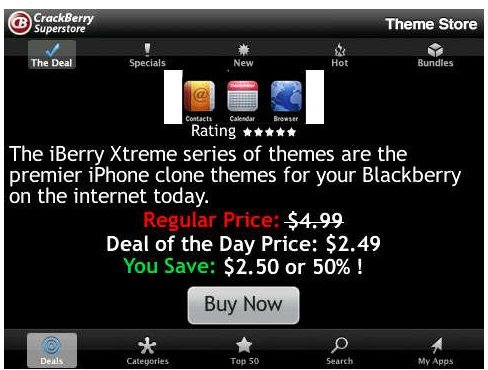 Once you download the Superstore App to your device, you can browse all of the downloadable apps. Here you can view the "Deal of the Day" and select the apps you would like to download and pay with a credit card.
Pros
"Deal of the Day" - Every 24 hours, an app is offered at a discounted rate.
Discounted and Bundle App packages are available to download.
Options to purchase accessories are available.
Cons
Free apps are difficult to find with the Superstore App.
Not user-friendly and difficult to use interface.
Superstore app doesn't always work as it should.
Download Website
The BlackBerry Download website is a free third-party site that provides you with free apps to download to your BlackBerry.
Visit the third party BlackBerry Download Website site [https://www.blackberrydownload.net/] from your desktop computer, and download apps to your phone using a QR code scanner. If you don't already have a scanner, view the best QR code scanners for your BlackBerry device. Simply hold the phone up to the QR code and the app will populate on the screen of your BlackBerry so you can download it.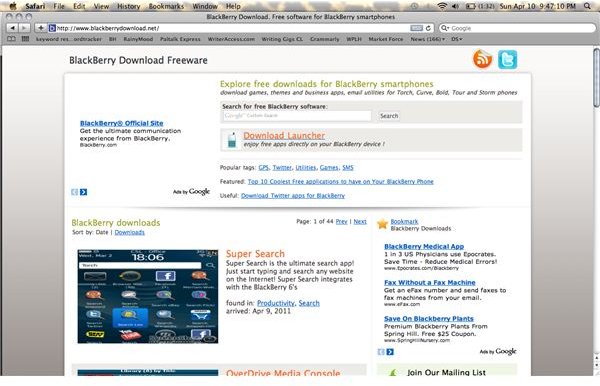 Pros
The site is easy to use and navigate.
Visit the site on your device to download directly from the Blackberry App World.
Cons
Limited apps to choose from, as only free apps are shown.
The BlackBerry App World is the #1 choice when downloading apps as it's easy to use for BlackBerry customers.
References