Top 5 BlackBerry Receipt Tracker Apps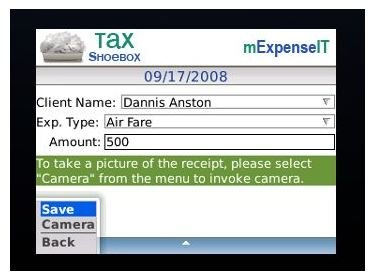 1. Tax Receipts Shoebox
Javadine Technologies offers up the Tax Receipts Shoebox app, a perfect app if you have many receipts and need them for possible deductions—whether it's business or personal. Now in Version 1.3.0 with a file size of 386 KB, this BlackBerry receipt tracker app will cost you only $2.99. It works with most BlackBerry devices but check the link above to see if your carrier is on the list, although most are. Your BB operating system must be 4.2 or higher to use this app.
From the main menu of this app, you simply click "Add Expense" and from there you can take a camera shot of the receipt, add amounts, and even time spent if you plan on billing or tracking that time. This app is handy as it allows you to organize receipts by type and offers up reports on itemized expenses. The built-in stop watch feature is great if you need to track billable time and you can e-mail, print or transfer reports and receipts in CSV formats as well as other. Upload your receipts to Quickbooks and even Sales Force!
2. ProOnGo Expense With Receipt Reader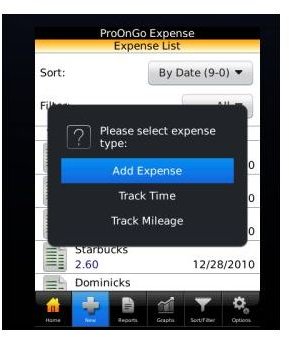 Offered by ProOnGo, this BlackBerry receipt and expense tracker operates much the same way as the Tax Receipts Shoebox—except it's free! Now in version 3.0.61 with a file size of 1147 KB, it supports all BB devices and carriers and requires a 4.2 OS or higher.
It took a little longer to download this BlackBerry app but it's geared toward almost any user for any purpose with tons of neat features. Use your BB camera and the app extracts the receipt amount instantly along with the name of the merchant and date of expense. All saved receipts are pulled into generated reports you can customize. You can export all receipts to MS Excel, QuickBooks Pro, e-mail or even fax to telephone numbers in North America.
If you need to keep track of mileage for annual deductions on your tax return, ProOnGo uses GPS to track mileage—a must have for the busy business traveler. If you travel abroad, this app offers a currency converter and possibly the best feature of this app is if you have your own receipt tracker template, you can e-mail it to them and they'll incorporate your template for free.
3. Expensify Expense Report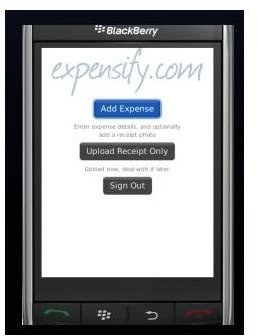 Expensify LLC offers up this easy to use and free BlackBerry receipt tracker app that is now in version 1.9.2 with a file size of 182 KB. It's compatible with all BB models and all carriers and much as the other receipt tracker apps, you must have a 4.2 operating system or higher.
Instead of a camera receipt, you can upload credit card charges via e-mail with the app's eReceipts feature and send other receipts via PDF files. It offers an export feature to Quickbooks. While it says you can "scan receipts on the go," this app is a little limited. For example each uploaded receipt must be $75 or under and the entire app will only track expenses up to $10,000 annually. This free app is better for personal finance tracking.
4. Expense Log Pro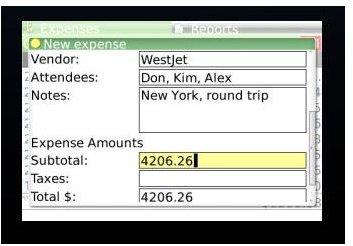 Motek Americas Inc. offers up Expense Log Pro now in version 2.3.5 with a file size of 293 KB. It works on almost all BB models and carriers and your operating system must be 4.2 or higher to utilize this BlackBerry receipt tracker app. You can try this app out for free for 30 days and if you like it, charges are $9.99 per year.
Expenses and receipts can be uploaded via e-mail or via the BB camera. Expense Log Pro offers detailed expense reports and also has a currency converter. You can allow others access to your expense and receipts via ExpenseLog.net—but this is what Motek calls "expand your device capability," so that probably means more money. You can customize expense tracking and this receipt and expense tracker is great for the busy person on the go that needs to keep track of receipts and submit to clients, the home office or their tax preparer. Although the app says "free download," make sure to check out other charges with this app such as the annual fee and upgrade options.
5. miBudget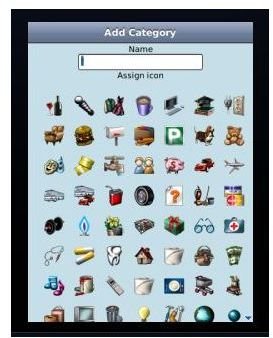 From loopSpin Inc. comes miBudget now in version 1.0.2 with a file size of 783 KB and a price of only $4.99. Although the app says it's great for business use, it's more of a personal receipt tracking, and budget organizer that is absolutely awesome.
The screenshot to the right (click to enlarge) shows the main menu of this BlackBerry receipt tracker app and you can see right away it is set up in a visual touch-screen format. Visiting the doctor and want to track medical expenses, simply hit the doctor's medical bag and start uploading receipt information.
The graphics and simplicity of this expense tracker app are so cool and expenses can be categorized easily because you're choosing the 'type' of expense with a little icon before entering information. Print out or e-mail receipt tracker reports for any expense category such as home expenses, medical or school expenses, etc. loopSpin offers constant updates and fixes to this app and it's worth the price.
References
Screenshots and Product Information courtesy of BlackBerry App World.