Must Have BlackBerry Apps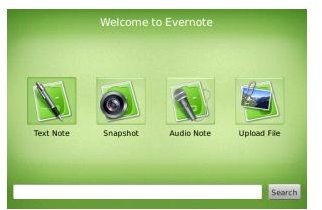 BlackBerry Applications
BlackBerry smartphones are growing in number and so are BlackBerry apps. We have dug out some of the best Blackberry apps across different categories to highlight what they offer users. Take a look!
Productivity and Utility
Here is the list of best productivity and utility BlackBerry apps currently out there.
Evernote is a free notebook application, which allows you to capture notes in an organized manner. Besides text, you can also record audio and image files from either your phone or your desktop on this app.
WorldMate Live is a free travel app that lets you search through the list of hotels, sorted by distance from your location, within seconds. The app also displays the price for each room and a page for booking one. You can also use it to sort itineraries, track flights, check weather, convert currency and look at maps.
amAze is completely free turn-by-turn navigation app that comes with features like weather check, local search and even a record of speed traps to steer you clear of the law. Read about the best BlackBerry navigation apps for more choices.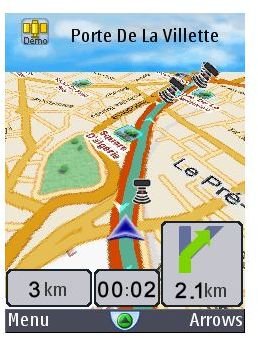 YouMail Visual Voicemail Plus provides powerful visual voicemail features including the facility to listen to your voicemails from any Internet connected computer. This BlackBerry app works with all major service providers, without any fee for usage. However, you have to replace your carrier's default voicemail service with it. If you want to stick with the default then check out our guide to BlackBerry voicemail.
Blurt Pro is an interesting app that connects your BlackBerry device to your computer via Bluetooth. The app allows you to read and respond to text messages, receive and make calls, and even display caller ID, all on your computer. You can buy this app for just $5.99.
WiFi File Transfer allows you to easily transfer data between your BlackBerry device and your computer. An IP address will be provided to you while using this application on the BlackBerry, you just have to use that IP address on a computer and you can transfer, view and edit files between your BlackBerry and your computer. This app is available for $4.99
Opera Mini 5 is a free BlackBerry app that turbo-charges loading speeds by compressing web pages before loading them on to the screen. It also offers a more powerful interface than the default BlackBerry browser.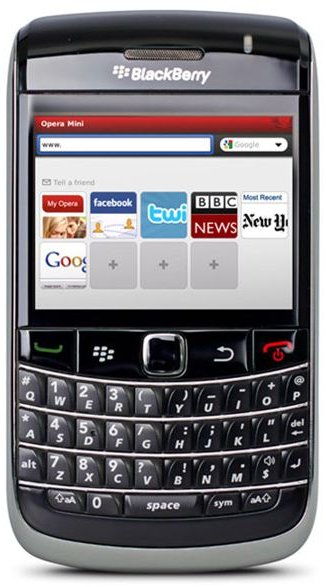 Trapster uses the BlackBerry's built-in GPS capability to provide you with a user submitted dotted map that warns you about the red light cameras, speed traps and other wallet hazards, allowing you to steer away from the traps. And it's free.
Now, you can block unwanted calls just for $2.99. Call Blocker Professional can block numbers that are not in your contact list, specific numbers, block numbers by area code, and even white-list specific numbers so that they always ring. It provides you with the options to hang up or send to voicemail for calls you block.
MultiAlarm Pro is a perfect alarm that makes balancing crazy schedules easier. You can set a number of separate alarms on different days and any alarm can be preset to go off only on particular days of the week. The time of the alarm is completely customizable, and you can also set countdown-style counters to go off in say, 15 minutes, rather than at a specific time. MultiAlarm Pro is available for $4.99. Find out about the best BlackBerry clock apps.
Check out page two for more great BlackBerry apps.
Games
Here's the list of must have games for BlackBerry smartphones.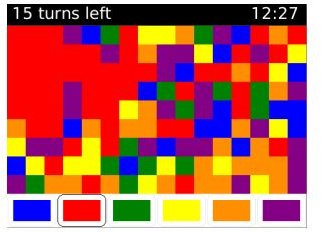 In order to win in Pixelated Plus you have you have to turn a grid full of diverse colored blocks into the same color by tactically switching the color of the square in the upper left. It's more or less like Minesweeper where you are required to complete the game in the fewest possible moves. You can get Pixelated Plus for $2.99.
Oregon Trail is a great role-playing game that will allow you to handle your family's possessions, hunt and meet challenges on the road west. The Oregon Trail is available for $4.99.
Ka-Glom can be easily mistaken for Tetris, but a simple twist sets it apart. Only some of the pieces falling can be actually combined. It's a little more challenging and strategic and offers normal, puzzle and time modes, in addition to a few hidden modes which can be unlocked. Ka-Glom is priced at $.4.99.
Blocked Traffic offers players a simple goal where they have to get a blocked car out of a square jam-packed with other vehicles. The only challenge it offers is that the vehicles can only move back and forward. Blocked Traffic is a free treat!
Music and Video
There several video and music apps for BlackBerry available in the market, here's a list of some of the best ones.
Pandora is the best music streaming app that does a superb job in playing the music you like based on artists you are fond of. This app is streamlined enough to play just fine over EDGE connections. This amazing app costs nothing for usage. Read more about radio on your BlackBerry.
The Slacker mobile version works very well and allows BlackBerry users to store songs for connectivity droughts. Simply, notify Slacker to cache a station and it will fill with songs when you have connectivity to ensure that Slacker continues playing when you don't have connectivity. This amazing app is free and offers over 100MB on tap for any given channel.
Scanner Radio offers access to over 1,500 emergency response radio frequencies like fire, police, weather and railroad channels via the web. Scanner Radio is available for $4.99.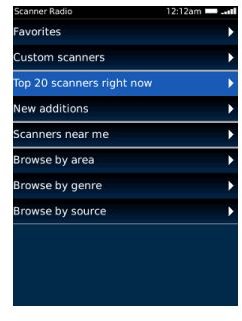 If you like a tune and can't remember who the artist was? Simply record a few seconds of the song and click "Tag Now," and send it to Shazam's database for identification. This free app will identify the artist name, song title, and album.
You can turn your BlackBerry into a media remote with VLC Remote Control which pairs with the popular VLC Media Player. Other than quick access to the standard controls, like play, stop, pause and fast forward, VLC lets you browse your computer files directly with your BlackBerry handheld to select what to play. This cool app works over a home Wi-Fi connection and can be purchased for $2.99.
Fun
There are load of fun apps available for BlackBerry handhelds. Here are the most popular ones.
This is a smartly designed BlackBerry app that lets you easily read the pointless details of other peoples' lives. This BlackBerry app integrates into your BlackBerry calendar, messages and contacts, making it possible to do many fun things. Then app comes for free. Find out if it is the best Facebook app for BlackBerry.
Buzzd is one of the most useful yet incredibly slick apps that combines the listings of CitySearch, Zagat, Flavorpill and Upcoming.org into one local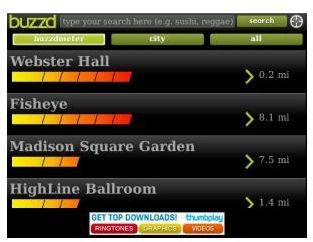 super search. You can even "buzz" local listings up or down to inform other users whether the establishments are good or bad. This free app will only get better when more people contribute and get buzzing.
Here's the ultimate Twitter client for BlackBerry that allows you to send tweets, upload pictures and videos, update GTalk status, include your current location via Twitter geotagging, see other Twitter users nearby, as well as experiment with various other sophisticated features. The app is free.